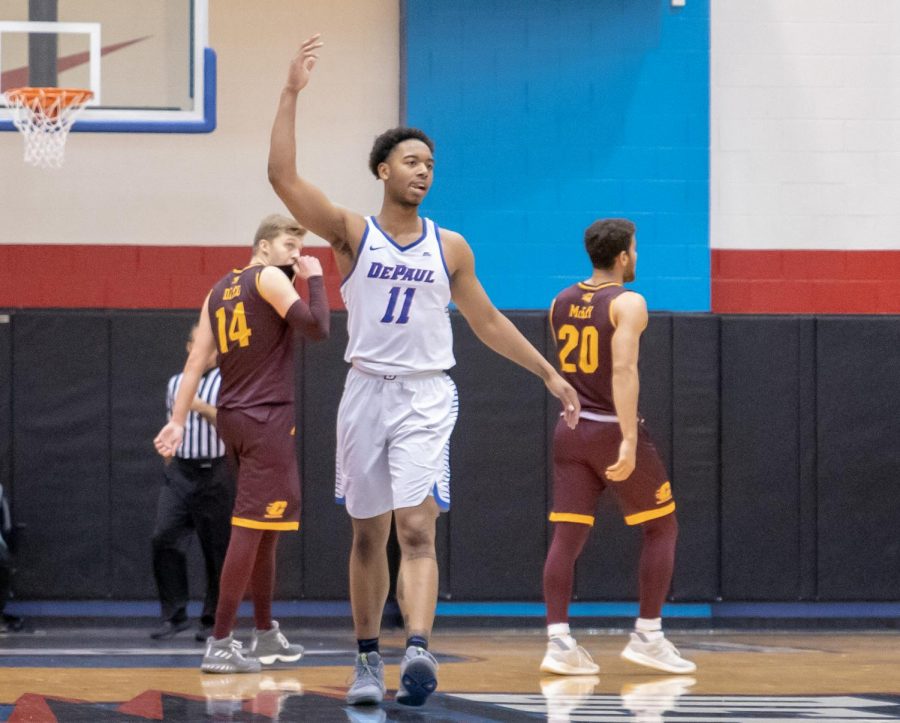 After being knocked out of the Big East Tournament after just one game against St. John's, both senior guards Max Strus and Eli Cain expressed hope after the game they would have the opportunity to continue playing past the Big East Tournament.
They got that opportunity to play a week later and took full advantage as the two combined for 53 points, eight assists and 12 rebounds as DePaul recovered from an early 12-point deficit to beat Central Michigan 100-86 Wednesday night at McGrath-Phillips Arena.
"It was special," Cain said of getting the opportunity to experience postseason play. "[This] being my last year I think it is pretty good way to go out regardless of what tournament we are playing in. We are going to keep the same mindset and try to win each game and take each game one-by-one and try to win all of them."
The scoring from both seniors was badly needed after Central Michigan jumped out to a 35-25 lead following a layup by Larry Austin Jr., but the Blue Demons would respond with a 13-0 capped off with back-to-back threes from Cain and Strus that helped DePaul take its first lead of the game.
Despite falling down by as many as 12 midway through the first half, there was no panic on DePaul's end as they began to find a rhythm following two early timeouts by DePaul head Dave Leitao.
"We've been through that before it was nothing to us," Strus said. "The team came out hot we knew what we had to do to stop it, so we weren't worried about it, coach called two good timeouts to settle us down and we found our rhythm after that so we weren't worried about it but we got to start off better next game."
The second half belonged to the pair of seniors who combined for 24 points as the Blue Demons shot over 66 percent for the half. With both Cain and Strus finding an offensive rhythm, they also opened up opportunities for others and that's when Leitao said the Blue Demons are most dangerous.
"Both of those guys we talked about for a long period of time of being frontline guys for us," Leitao said. "When they can do it together like they did it tonight, they did it against Georgetown, and other times, then it makes us a whole lot better because Femi [Olujobi] is not going anywhere and Paul [Reed] is not going anywhere so those guys have to be guarded and when you can combine it with Eli and Max having to be guarded in a lot of different ways both inside and out then it makes really dangerous but it makes them a real special part of what we're doing, particularly what I said at the beginning when they are seniors you want them to play the way they are playing and go out on a high."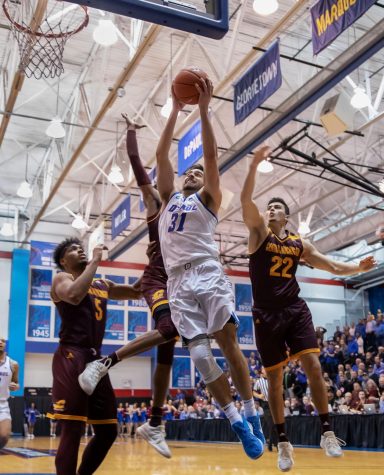 While it hasn't happened often lately, Olujobi was held in check with eight points and three rebounds, but the same could not be said for Reed who finished with 17 points and 10 rebounds.
It helped the Blue Demons got a big second-half performance from sophomore guard Devin Gage, who finished with 14 points in the second half.
The night though belonged to Cain and Strus, who showed their appreciation to a reported attendance of 1,173 fans that reached a fever pitch late in the second half after Strus followed up his own miss and knocked down a 3-pointer in the corner before skipping his way down the sideline back to halfcourt and then off to a timeout.
"I think it's good for our fanbase to see us play in the postseason," Strus said. "They hadn't seen that in a while so it's good to have that support. We really felt it today it felt like it was sold out, felt like it was packed and it really helped when we were down and helped us when we were up to keep going and that energy really helps so I hope we can play here the rest of the tournament hopefully."
This was the first postseason win for the Blue Demons since 2006-07. Having the opportunity to experience postseason play was important not only for future seasons in being able to get through tough moments in a season but Leitao added it was important for him to send his seniors out on a high note.
"I said this during senior day for the three different reasons they've been very instrumental to our programs in a lot more ways than show up on the basketball floor," Leitao said. "They've been tremendous representatives of our basketball program and this university. So to give them an opportunity to potentially finish at the end of this as a champion is something I would really love to do for them."
The Blue Demons will have a chance to extend their season once again when they return to McGrath-Phillips Arena Monday night when take on Longwood.