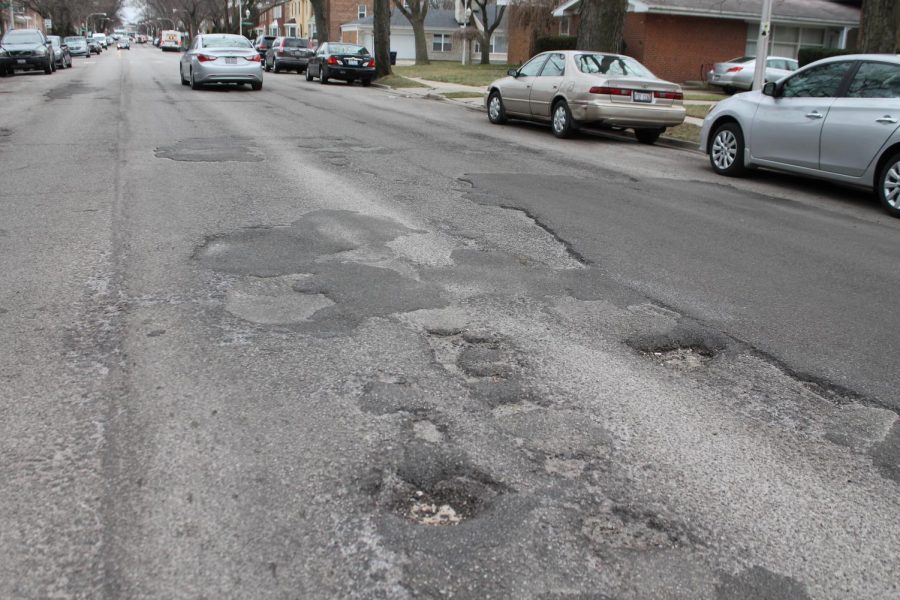 In November 2018, the pavement was damp with sleet rain as Rasheem Taylor commuted across Chicago on Kedzie Avenue to pick up a family friend in his vehicle.
It had been an average commute until his car jolted and he suddenly bounced up from his driver seat, nearly bumping his head on the roof of the car. Shaken, he pulled to the side of the road and got out of his vehicle to inspect what he had hit in the road.
Upon reviewing the situation, Taylor discovered that he had hit a pothole.
Taylor's story is not unusual. Many 311 calls to the Chicago Department of Transportation (CDOT) have been made to report sightings and unfortunate run-ins with citywide potholes.
According to data obtained through FOIA and the Chicago Data Portal, which tracks the repair of citywide potholes, between July 2018 and March 2019 there have been nearly 300 potholes patched along Kedzie Avenue. Similar to the state of hundreds of other major and side streets in Chicago, Kedzie has had its share of potholes repairs.
Taylor continues to commute in Chicago on a daily basis for work and now finds himself eyeing the roads more closely to avoid major potholes that appear more often now as snow and rain continue to wreak havoc on Chicago's driving roads, creating a nightmare for many motorists. 
"I just get so tired of dodging them during my commute," Taylor said. "It's crazy. I mean some of them are like a foot deep and I can't tell you how many I have had to dodge just this winter.
All the dodging that drivers have to do makes drivers even more dangerous to others on the road. You could lose control of the wheel or you could hit your head or anything. People can die that way."
According to public documents from CDOT, potholes are the result of moisture locked underneath road pavement. When the moisture — usually rain or snow — is frozen, it expands. Problems arise when the rain or snow begins to thaw during the warmer months, which causes the pavement to contract. Contractions in the pavement coupled with pressure produced from vehicles causes the pavement to buckle and usually results in the formation of potholes.
Oscar, an auto mechanic on Chicago's South Side, has seen his share of vehicle-related damage related to the city's pothole problem.
"There are several issues that could arise due to a car's contact with a pothole," Oscar said. "The front end and suspension system of a vehicle usually sustain the most problems. In some cases the tie rod ends, ball joints, axles, shocks and springs have to be repaired."
Sometimes the effects of potholes on a vehicle do not always appear instantly.
"Vehicles can be damaged at any time, as frequently as they come into contact with the potholes. This can cause differences in a vehicle's overall performance over time," Oscar said. "There is no real way to protect a car from pothole damage. The best that we can do is be fully alert as drivers. If you know that one street or route has too many potholes, try another one, at least for the sake of your vehicle."
CDOT said it is working rapidly to repair the potholes that plague city streets and roads which present constant danger for Chicago motorists. Daily and nightly crews are sent to various locations throughout the city to repair the potholes. Streets with the highest amount of motorist traffic receive immediate attention, while potholes on side streets are repaired on a later time schedule.
Documents from CDOT also show that the city's use of asphalt, rather than concrete, to repair potholes is a decision made to keep repairs at a low-cost.  Additionally, asphalt requires less maintenance and installation is more simple and time-efficient.
However, some Chicagoans believe the department should do more to reduce the number of potholes across the city.
Chicago's potholes made headlines in 2010 after the city was involved in a lawsuit following the death of 31-year-old motorist Carlo Kintanar. According to court records Kintanar was struck and killed while traveling on 2600 South Damen Avenue. After hitting a pothole that ejected him from his vehicle, Kintanar was struck by a vehicle. His wife, Jane Kintanar, sued the city of Chicago and was awarded $4 million.
According to the CDOT's database on potholes repaired in the previous seven days, the aim of the department is to have reported potholes within seven days after they have been reported. Between March 7 and March 12, over 1,300 potholes were repaired. However, data provided by the Chicago Data Portal shows that many pothole repairs have taken place but at a slow pace, with multiple streets having been under repair for as long as three months.
Overall, between July 2018 and March 2019, as many as 20,000 reports of potholes have been reported to CDOT, according to the Chicago Data Portal.
Despite the 20,000 reports accumulated within less than a year, the city's 2019 budget for pavement and pothole repair is significantly small when compared with the overall city budget allocated to CDOT.
According to Chicago's Annual Appropriation Ordinance for 2019 as proposed by Chicago Mayor Rahm Emanuel and provided by the City Clerk Office, the total budget for CDOT in 2019 is $543,060,487.
With a budget of over a half a billion dollars, less than $20 million is allocated to the repair of the city's potholes. The $14,169,665 budget for these repairs accounts for less than four percent of the total budget for the Chicago Department of Transportation in 2019.
This minuscule budget is meant to cover the repair costs of nearly 3,800 miles of Chicago streets.
Taylor has become frustrated at the condition of Chicago streets and hopes that more can be done as Chicago elects its new mayor.
"I don't know why [Mayor] Emanuel would think that this is okay," Taylor said. "I mean, have you seen these streets? It's ridiculous. But maybe our next mayor can do something different. I guess we'll just have to wait and see how it goes."