'Carry the Weight' aims to spark discussions of sexual violence on campus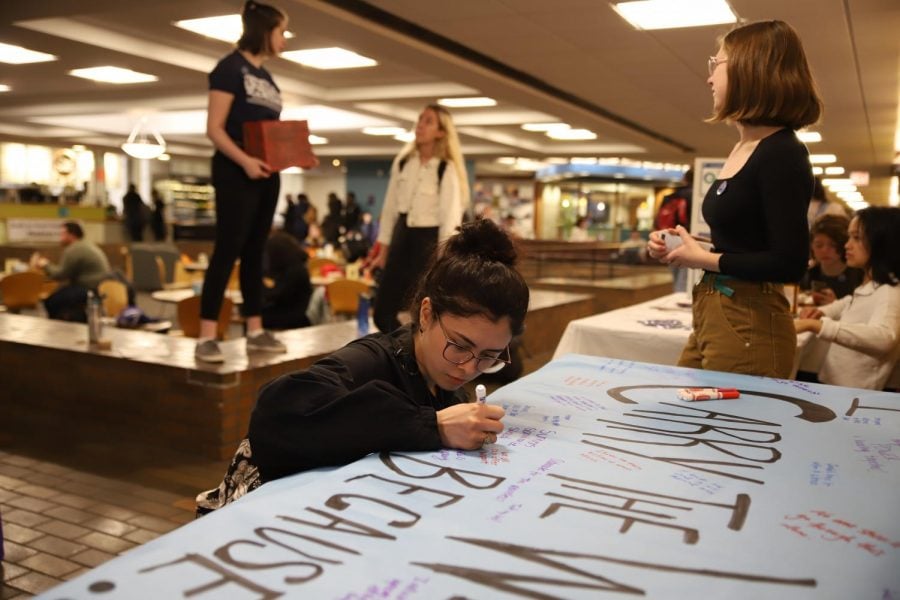 As students rushed through the Schmitt Academic Center on April 10, senior Grace Gubbrud stood silent and still. She took her stance on the edge of the "pit," holding a red-and-black painted box meant to symbolize a weight she carries with her every day — the weight of trauma that follows sexual assault.
The demonstration was part of an event from Advocates for Sexual Assault Prevention (ASAP) called "Carry the Weight" in recognition of Sexual Assault Awareness Month. Gubbrud held that weight from 10 a.m. to 4 p.m. while other members of the student organization handed out flyers which aimed to facilitate conversation around sexual violence on campus. 
She says that the idea for the event came to her in January at 4 a.m. and that seeing her idea become reality has caused a lot of mixed emotions.
"It is both exciting and terrifying that this is something so public," Gubbrud said. "As a survivor, I carry that weight every day, but it's just myself. [The event] is a very public display of me carrying that weight."
One of her primary reasons for putting on the event was to bring light to the problem of sexual assault at universities across the country.
"I think our group came to this campus and got started on campus because there is not a lot of awareness," said Martha Starkel, DePaul freshman and ASAP member. "It's a problem on a lot of college campuses; not many institutions get the word out to the entire student body about consent and assault and its prevalence on campuses."
Gubbrud agreed, saying the events are about raising awareness and bringing attention to the topics. She also said other events have been more policy-focused surrounding Title IX legislation.
Title IX is a section of the Education Amendments Act of 1972. DePaul's Title IX Coordinator, Jessica Landis, says its meaning can be boiled down to one sentence: "No person in the United States shall, on the basis of sex, be excluded from participation in, be denied the benefits of or be subjected to discrimination under any education program or activity receiving federal financial assistance."
"So when you break that down, because we allow DePaul students to apply for FAFSA and you can receive financial aid, that's why we have to follow Title IX," Landis said. "So what that means is we have to make sure that all of our programs and activities are accessible to everyone, regardless of their sex and gender."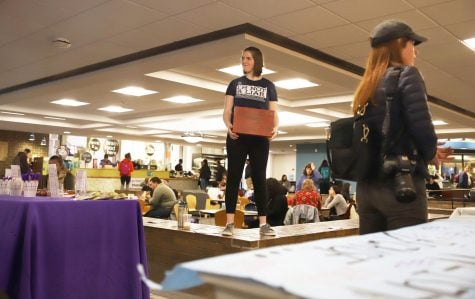 Title IX was not always synonymous with "sexual violence." Landis says it used to be applied most broadly to university sports, ensuring that women's teams had equally good equipment, facilities and opportunities as men's teams. It wasn't until the Office of Civil Rights and the Department of Justice issued the "Dear, Colleague," letter in 2011, which told universities sexual harassment and violence is also covered by Title IX that the two came to be considered interchangeable by some.
In her position as Title IX coordinator, Landis says that much of her day-to-day work involves responding to reports of sexual and relationship violence, discrimination and anti-harassment. Her job beyond that is primarily to ensure that prevention and response to those issues are happening on campus, and she works closely with the Health Promotion and Wellness office to achieve that.
"We really see our commitment to Sexual and Relationship Violence prevention as a response as a campus-wide effort," Landis said. "One person can not do it all alone."
But some students feel that the university's efforts are not adequate enough given the enormity of the problem.
"I know there is a lot that goes on in the dorms," said Ellie Bradley a DePaul freshman. "I think that DePaul needs to up public safety and make counseling more available. But I do think you can easily find resources."
With such a colossal problem like that of sexual violence on campus, many say they feel that a solution is too far out of reach. Groups like ASAP aim to use their platform to raise awareness and start working toward a tangible way to combat that mentality working from the students up. 
"I think especially because the problem is prevalent on every college campus in the country, it feels like the university should do more," Starkel said. "But that's why we're here."