Billy Garrett Jr. reaches NBA, reflects on DePaul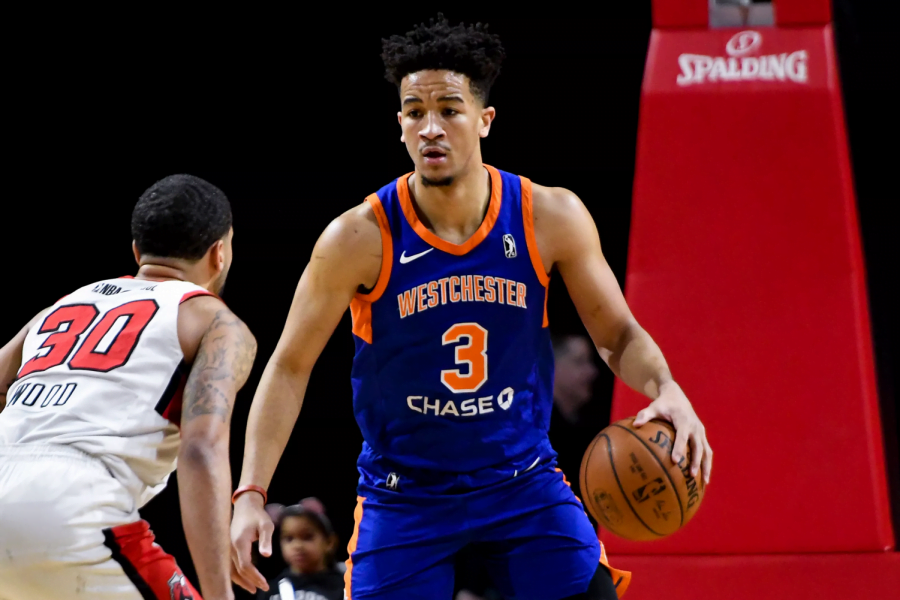 When the Westchester Knicks' G-League season ended after a second round loss in the playoffs, Billy Garrett Jr. was all but ready to head back home to Chicago. He didn't believe that he was going to get called up by an NBA team so late into the season, and that's why he had a flight a ready back to Chicago the next day.
"Our G-League season had ended a day before that, so I got back to New York and I thought I wasn't going to get called up by any team," Garrett Jr said. "[I was] just chilling and trying to figure out what I was going to do next. So, I started packing up things and it was Thursday and they got me a flight to go back home Friday."
Garrett Jr. had everything ready for his flight the night before, all his bags and belongings by the door prepared to go to the airport the next day. He then received a call at around 9:30 p.m. from vice president of player development and G League operations for the New York Knicks Craig Robinson, telling him that he was going to get signed by the New York Knicks.
"I'm ready to go, my bags are by the door because I was leaving the next morning," Garrett Jr. said. "Then I get a call at like 9:30, 10 o'clock that night, it was Craig Robinson telling me that they were going to sign me. So, it came out of nowhere. I thought I had a chance of getting signed with New York, but once our G-League season ended I thought my season was over."
Once Garrett Jr. found out that his dream signing with an NBA team was becoming a reality, he was speechless and filled with emotions.
"Honestly, I was just speechless for a while I couldn't find the words to say anything," Garrett Jr said. "I told [Craig Robinson] thank you and called my family to let them know and my emotions just all over the place."
"He said 'I got a call up' and I said 'a call up where?' And he was like 'I'm playing for the Knicks,'" said DePaul assistant coach Billy Garrett Sr. after he found out that his son was signing with the New York Knicks. "I didn't know if it was an April Fool's joke, so I didn't really buy into it. I wasn't going to get too excited. The next day, when I saw it on Twitter, I knew it was true."
When Garrett Jr. came to Chicago with the Knicks on April 8, his father was not going to miss the opportunity to see his son play in an NBA game. But there's a caveat.
"I probably looked at the first game, when I went to watch him in Chicago, more like a coach," Garrett Sr. said. "I wouldn't say I was critical, but that's how I looked at the game. Then when I went to go visit in New York just being in the Garden and the atmosphere with him being the home team, sold out game it was just electric at the Garden. It was more from a fan perspective. But I was really, really happy for him because that's one of his goals and he worked for that all his life."
When Garrett Jr. was at DePaul from 2013-2017 he went through, arguably, one of the worst stretches in DePaul basketball history and suffered through personal health problems. His father, however, believes being at DePaul has helped grow his son and taught him valuable lessons that he might not have gotten from going to another school.
"He's been a worker all his life, I know it's a cliche but you have to get better everyday," Garrett Sr. said. "I think he's a better person and player because of his experiences at DePaul. I don't think he would be where he's now being able to go that route if he hadn't learned what he learned at DePaul. I think the growth at DePaul both on and off the court set him up to be successful in his grind toward the NBA."
While Garrett Jr. was grateful for his time at DePaul he didn't exactly echo those exact sentiments from his father. He believes that winning a little bit more at DePaul would have helped his draft position. Garrett Jr. went undrafted in 2017 after spending four years with the Blue Demons and accumulating a losing record.
"It would have helped, but I can't guarantee that would have happened," Garrett Jr. said. "I'm happy for them and the success they have had, but I'm happy for me also. So, I can't say that I would have been drafted. But it would definitely would have helped, I'll say that."
In the four games that Garrett Jr. played with the Knicks' this season he averaged 6.5 points per game while playing an average of 15.8 minutes per game for a rebuilding Knicks team. The 6-foot-6-inch guard hopes to be in the NBA permanently starting next season and is going to take these four games as a learning experience to make himself a better player.