Review: Limp Bizkit performs 'crowd-pleasing' set at Aragon Ballroom Sept. 28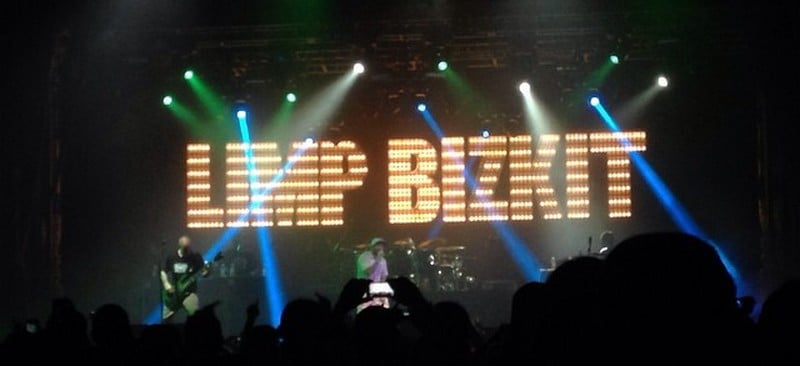 I think Limp Bizkit gets judged unfairly. This always happens in music. Someone says a band is bad, and from then on that's what they are known as without getting a chance from potential listeners. Limp Bizkit is one of these bands.
I never listened to Limp Bizkit. They were a "bad" band. None of my friends listened to them, so why would I?
My brother was very late to nu metal, unfortunately for him. The genre, which peaked in the late 90s and early 2000s, was pretty much dead and gone by the time he got into it in 2012. Limp Bizkit quickly became one of his favorites, much to my dismay. The more he listened to them, the more my dread grew.
"They're a bad band," I thought. "He's never going to be cool if they're his favorite!"
The Florida rap/rock band eventually started to grow on me. I could rock out to "Break Stuff" and "Nookie" under the guise of irony. It was cool to be ironic, so at least I'd still be cool.
Something happened to me about a year ago, though. I either completely stopped caring about what was cool, or I was so deep into my ironic tastes that I couldn't tell what I was really interested in and what I was only interested in to be funny. To this day, I still can't tell, but one thing I do know is I love Limp Bizkit.
Their concert on Sept. 28 at the Aragon Ballroom has only made my love for the band grow more.
The main opener for Limp Bizkit was Machine Gun Kelly, someone I had never heard of, but who had an incredibly large fan base all screaming, jumping around and waving their arms around for his 45-minute set.
As much as I would have judged Machine Gun Kelly a year ago, I couldn't bring myself to do it. Although I don't think I'm going to go listen to his music anytime soon, his fans were genuinely passionate and were so happy to be seeing him. It's impossible to dislike someone who brings that much genuine joy to others, even if it's through rap lyrics so fast that I had absolutely no idea what any of the words coming out of his mouth were.
Machine Gun Kelly's entire set was one of the most confusing things I have ever seen. He was standing on a podium that said "No Class." Did that mean he is classless? Does it mean I should drop out of school? He also had people on stage with him in the role of a hype man, but they didn't say a word. Were they really bad backup dancers? The most confusing thing, but also my favorite thing, about the Cleveland, Ohio native's set was an air horn that went off after every song and every time MGK said something. While other members of the crowd got annoyed to hear an air horn every minute, I thought it was hilarious. It proved that similar to Limp Bizkit, MGK doesn't take himself too seriously, which is one of the most beautiful traits a person can have.
Limp Bizkit took the stage and began "Full Nelson" and "Thieves," but didn't finish either song, which led into frontman Fred Durst leading the crowd into jumping and screaming as they played "Rollin'" then "Hot Dog" with Machine Gun Kelly helping Durst on vocals.
I realized about halfway through the set that when Durst addressed the crowd as "soldiers," (a term for Limp Bizkit fans) that I belonged. I was a soldier. I was done pretending that Morrissey didn't have a terrible voice and his music was listenable. I was done pretending shoegaze didn't make me want to fall asleep. I am a Limp Bizkit fan, for better or worse. I would take listening Durst scream about breaking stuff over listening to an 'art' band any day, and it made me so happy.
They continued to make the crowd happy by playing what seemed to be a greatest hits set, with "My Generation," "My Way," "Faith" and ending the night with "Break Stuff."
Limp Bizkit was not only a crowd-pleasing band, but they sounded incredible. The musicianship by the band was on point, and Durst's voice sounds just as good as it did in their heyday in 1999.
Although the band and Durst get terrible judgment calls made about them, they both made the crowd at the Aragon Ballroom's night. Durst continuously made sure the crowd was alright, threw close to 20 water bottles out to the crowd to make sure they were hydrated, and even passed around hand sanitizer.
Durst and the rest of his bandmates are genuinely nice people who try to help fans have a great time through their music. I am proud to be a Limp Bizkit fan.