DePaul organization invites conversation on Israeli-Palestinian conflict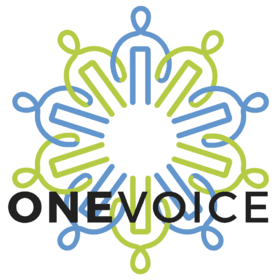 As debate surrounding the Israeli-Palestinian conflict grows at DePaul, one club wants to ensure the conversation continues once the controversy passes.
OneVoice on Campus is a multireligion, multipolitical affiliation fellowship program which emboldens students on campuses around the United States to start conversations surrounding the conflict on their campuses.
"I [brought the group to DePaul because I] thought there was a lack of voice that was more solutions-oriented rather than agenda driven," said Saad Ahmed, co-founder of DePaul's OneVoice on Campus chapter. "OneVoice really strives and excels in being an organization that brings together diversity and inclusion into the conversation."
Ahmed said he started OneVoice at DePaul in Winter Quarter 2016, and since then, it has grown to include students of varying religions and ideologies.
"There's people who are Muslim, Jewish, Christian, nondenominational—you name it," he said. "We really attract people who are interested in learning about the conflict as well as potential outcomes that could be a result of it."
OneVoice's on-campus events primarily focus on providing a space for open discussion on the conflict. Since the group started, they've had mayors, community activists, professors and a former IDF soldier, among others, visit to facilitate discussions for the club's members.
They also do movie screenings often, utilizing films made by "people in the diaspora or on the ground in Israel and Palestine that tell their personal stories and drive home the messages of how life really is like in Israel and in Palestine," according to Ahmed.
"You know, there are a lot of real people being affected by this conflict," he said. "But what's important to note is that we cannot progress as activists and as people involved with this unless we have open dialogues and have an open mind to accepting—and not even accepting—at least just hearing different perspectives, and there are a lot of perspectives on this issue."
KIND Foundation CEO Daniel Lubetzky founded the OneVoice movement in 2002 after realizing that there was a need to assist grassroots activists around the world who are trying to find a "negotiated and permanent solution" to the Israeli-Palestinian conflict, according to Ethan Bennett, OneVoice's national organizing director.
Bennett says that their work first began in Palestine and Israel. In Palestine, the movement is called "Zimam," which means "the reigns of a horse" in Arabic, while in Israel, the sister movement is "Darkenu," which means "our path" in Hebrew. Together, the two groups work with OneVoice to seek out compromise.
A few years after OneVoice got started in Israel and Palestine, they decided to grow the movement outward and to the United States. Bennett says the decision to grow their base on college campuses was a very conscious decision.
"We really took a look at the reality of our own country and recognized that the campus environment was somewhere that needed—and was right for—the One Voice brand of activism and education," he said. "Campus environments were—and continue to all too often—welcome really divisive discourse around the conflict, and on the campuses where we are active, we are addressing that."
Ahmed agreed that given the privilege that naturally comes with a college degree, universities are a good place to start.
"I think it's important for people who are given a platform to start these discussions and to promote the well-being of other people who may not have that sort of luxury, like people who are in an occupied territories," Ahmed said. "I think it's our responsibility to advocate for them and to promote their stories and just have their voices be heard and projected."
As of late, Ahmed says much of the group's discussion — alongside the rest of the campus — has surrounded the statements DePaul professor Jason Hill in an article made in The Federalist.
"I really believe that his language is divisive," Ahmed said. "It's derogatory and it has no academic or activist-oriented purpose that would have a constructive contribution to the dialogue."
Students on campus echoed Ahmed's frustration with Hill's rhetoric; many claimed this situation has made them view DePaul in a different light.
"[Professor Hill]'s statements made me feel really uncomfortable," said DePaul freshman Mahmoud Awadallah at a rally on May 1, where students protested the university and its choice not to censure Hill's rhetoric. "I really wanted to come here because of diversity. My sister told me about it and that it's a great university, but when I saw his tweet, it changed my whole image of DePaul."
Other students were shocked that the article came from a DePaul professor.
"[When the comments first came out], I was like, 'This is a philosophy professor at DePaul?'" said Rifqa Falaneh, DePaul junior and rally attendee. "I was confused and outraged."
Others have called for the university to do more when situations like these arise.
"I want the university to understand that they're not the people in power in this situation— we are," said DePaul senior Anais Donald. "You need to listen to us. There's a fundamental misunderstanding about who's paying who to do what."
The university is making an effort to do just that. At a faculty council meeting May 1, Acting Provost Salma Ghanem said that the university would host a panel discussion about Hill's comments and the response that followed, moderated by Carol Marin and featuring four professors. The event is set to be be on Tuesday, May 7, from 8:30 a.m. to 10 a.m., Ghanem said.
Ahmed says that he and other OneVoice members are looking forward to the university and students coming together to discuss how controversial topics can be tackled on campus and hopes that together, they're able to define what 'free speech' looks like at DePaul.
"I do think it's important to make the distinction that freedom of speech is absolutely important, especially on campuses," Ahmed said. "However, I hope this forum serves as something that marks a distinction between what is considered a conservative voice or a liberal voice and what is considered derogatory, discriminatory and just straight defamation."
Ahmed says he hopes OneVoice can be a leader on campus as students, staff and administration continue to discuss the Israeli-Palestinian conflict and free speech on campus.
"I think even in the name 'OneVoice' itself is super powerful, because we all come from different backgrounds and different life experiences, and we all have different things going on, but we sort of rally together behind this common purpose," he said.