St. Vincent's DeJamz
"Spinning fresh beats since 1581."
The question was simple: What song pumps you up? Below, The DePaulia staff answers.
Benjamin Conboy, Editor-in-Chief:
"Walk" – Pantera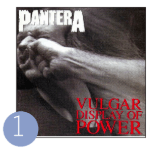 Late-90s heavy metal band Pantera has a knack for punchy, chunky guitar riffs. On "Walk," all it takes is four distorted notes from guitarist Dimebag Darrell (R.I.P.) to create something truly heavy. The chorus is just a single word, but it's the perfect choice to get anybody going. "RE!" vocalist Phil Anselmo screams. "SPECT!" he finishes. Before any job interview, big presentation or even a pickup basketball game, listening to "Walk" right before will make you invincible. If I were in the MLB, this would be my walk-up song. And I'd hit a home run every single time.
Shane Rene, Managing Editor:
"Basket Case" – Green Day

For three straight years in elementary school, I walked around my neighborhood on Halloween night dressed as Green Day frontman Billie Joe Armstrong. Nothing satisfied my preteen rage like that trio of pop- punk legends. And on the groups' classic 1994 album "Dookie" is one of my favorite pump-up anthems, "Basket Case." One of their most popular songs, this tune isn't as uplifting as most pump up songs. Fast-paced drums and distorted guitars rip through the background as Armstrong shouts on about his deteriorating mental state, running around in circles trying to figure out life. If you're a self- talking anxiety monster like me, this song is for you.
Mackenzie Murtaugh, News Editor:
"Gucci Gucci" – Kreayshawn

The "meme rapper" genre and its discredits only came into modern terminology around 2017, when Bhad Bhabie (Danielle Bregoli of Dr. Phil infamy) released "Hi Bich." But Kreayshawn's influence on trashy, satirical rap precedes the likes of Bregoli and Lil Nas X who charted big with his sleep hit "Old Town Road." Kreayshawn came at the time when we needed her – in 2012 when teenaged girls like me needed to be reminded that it doesn't matter which brands we wear or where we grew up, we still have "the swag and its pumping out [our] ovaries." I haven't forgotten my ovarian swag since.
Emma Oxnevad, Asst. News Editor:
"Only Angel" by Harry Styles

My pump-up song is not by an artist traditionally associated with getting hyped. However, whenever this song comes up on my Spotify, I can't help but feel more powerful and cool than is probably reasonable for me. Styles's solo work has been compared by some critics to The Rolling Stones, and that is in full force on this number, with slightly more respectful attitudes toward women. Only Angel has all the components of a perfect 70s rock song: a raucous beat, a grooving bass line and swaggering vocals. "Only Angel" was my most-played song of 2018 and I don't plan on ever skipping it when it comes up on shuffle.
Brian Pearlman, Nation & World Editor:
"It's a Shame (The Reflex Revision)" – The Reflex

Nicolas Laugier, known as "The Reflex," is a French DJ who creates incredible remixes ("Reflex Revisions," he calls them) of oldies and classics that, in his words, are "entirely done from the original multitrack or stems." His take on the 1970 hit "It's a Shame" by R&B group The Spinners is one my favorites: an immediate head- nodding, foot-tapping pleasure. The bass positively pops and the brass instruments swell as lead vocalist G.C. Cameron excoriates an unreliable lover; Laugier's revision is a jazzy, catchy tribute to the original. A near-perfect song, that, yes, pumps me up.
Doug Klain, Opinions Editor:
"4th and Roebling" – The Districts 

I don't care where I am when I listen to 4th and Roebling — without fail, it'll put me in the driver's seat on the road somewhere with the windows down and wind blowing. This hit from The Districts is all about the feeling and emotion flooding out of the song's overloaded sound. The build is perfect, with the first chorus setting the table, the second chorus filling it out with more instruments and a hint at what's to come. Then, we have a quick guitar solo as things quiet down for a moment. The guitar keeps grinding and tension builds. Then the song explodes with the perfect auditory overload. For listeners, there's no choice but to join the sprint and practically shout the chorus before the song disappears. Quite the pump-up jam.
Ella Lee, Focus Editor:
"Zoom" – KYLE

Zoom is one of the few songs that can pump me up in a bunch of different settings and moods. Be it a party, job interview, good day or bad day, it never fails to help me zoom right past my problems and enjoy whatever moment I'm in, right then and there. The slow but driving bass keeps the song danceable while also being perfect for a morning commute or afternoon run, and its jazz-like undertones throw me all the way back to high school, when my friends and I would go to every jazz band concert and dance around to the music."
Marlee Chlystek, Design Editor:
"Crimson and Clover" – Joan Jett & The Blackhearts 

My DeJam is no doubt Joan Jett's "Crimson and Clover." Not your usual pump-up song, but personally, this song bumps. When I was little, my dad introduced me to Joan Jett and since then, I have definitely channeled her punk rock beauty whenever I need a pick-up in my day. Not only is Joan Jett my soul sister, but I love Crimson and I dig Clover and she sings it too well. Not embarrassed to say that I wanna dance with my soulmate to this song endlessly, and this is my No. 1 jam on the way to any event. Ask the many Uber drivers who have given me the aux.
Xavier Ortega, Photo Chief:
"Everybody's Something" – Chance the Rapper (feat. BJ the Chicago Kid, Saba)

Whatever mood I am in, there is one song that pumps me up and brightens my day every single time I listen to it, without fail. "Everybody's Something" by Chance the Rapper is that song. With the laidback beats and use of clever wordplay, something Chance is known for, the main message of this song is self- worth. When I listen to this song, it never fails to bring a tear to my eye because it makes me think of all the people in my life that support me and cheer me on. You are nothing to no one, you are something to someone.
Bianca Cseke, Online Editor:
"Shake it Out" – Florence + the Machine

Dramatic and genre-defying, pretty much any song by Florence + the Machine will pump me up. "Shake it Out," one of the singles from their 2011 album "Ceremonials," is no exception. It doesn't matter what mood I'm in—"Shake it Out" will always either help fix it or make me even happier. Florence Welch's voice is as haunting and powerful as always, and her lyrics emphasize letting go of whatever is dragging you down from your past. By the end, it's impossible not to hum along and want to scream the lyrics at the top of your lungs.