DePaul student government races go largely uncontested
Winning candidates in this year's Student Government Association (SGA) election were announced Sunday in a largely uncontested race.
Many of the candidates this year ran unopposed. Anna Pierce, SGA's election and community engagement coordinator, said that the lack of competitive races does not take away from the validity of the elections.
"In past elections, most of the positions have been bid on by returning members from student government," Pierce said. "The administration from this past year was filled with many seniors and students that intend to study abroad next year, which resulted in a lack of returning members. This was a major reason for the lack of a competitive race. But this in no way takes away from the elections. Each person that applied to run or submitted a letter of intent to be considered a write-in candidate was more than qualified to take on a position in the organization. We were really impressed with the group of candidates this year."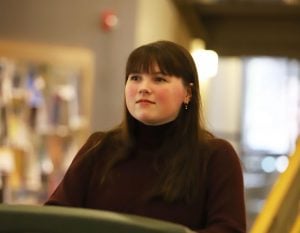 Despite the lack of contested positions, Pierce stated there was an increased number of candidates running for senator for mission & ministry.
"I think the biggest surprise we had was the large amount of interest there was in running for the senator for mission & ministry. In past years, we have had two people run for the position at most," Pierce said. "This year we had three official candidates as well as multiple write-ins. Being an organization rooted in the Vincentian Mission, it was exciting to see that the student body was eager to work towards that goal and represent the mission positively."
Giselle Cervantes and Landon Campbell were voted in as president and vice president, respectively, in another uncontested race. Cervantes stated that running unopposed gave the pair more time to fully commit to their campaign, and they were always aware of the possibility of a write-in candidate upset.
"I think running unopposed allowed us to focus on doing student outreach and listening to
student input in order to develop a strong platform," Cervantes said. "We knew there was always the possibility that someone could develop a write-in campaign for the president and vice president ticket, and we still took campaigning very seriously even if there wasn't another ticket on the ballot."
Campbell said that the pair hopes to bring meaningful change to DePaul through their positions and that they hope to increase communication with the student body.
"We are empowered to represent each and every student on our campus," Campbell said. "We plan on continuing the trend of great work from this year. It's a two-way street though. We want the student body to communicate with us so we can know how to help. More student engagement equals more representation."
Camila Barrientos, the newly-appointed senator for intercultural awareness, felt that her uncontested race took away from the democratic process of voting.
"Running unopposed was definitely easier," Barrientos said. There was no physical person that posed a challenge to me. This was obviously a positive thing for me because I did not have to worry about the position. The negative was that I did not have to work as hard, I did not get to truly participate in democratic processes and I really didn't have to do any convincing to the voters. Hopefully next year brings out more people; I'd truly like to take part in real campaigning."
Pierce stated that she hopes the newly-appointed officials will carry the principles of SGA with them as they navigate their new positions.
"We do not take on these positions for self-righteousness," Pierce said. "We take them on because we genuinely want to make the university a better place and to ensure the well-being and success of each and every student on campus. With that being said, our hopes for the newly elected administration is that they remain true to those sentiments and that they can continually make positive changes in our communities."