Branko's owner serves up home-cooked meals with a mother's touch
While most are hitting the snooze button and clocking out early, Mama is working.
Branko's owner Andja Branko, known affectionately to her patrons as Mama, clocks in 100 hours a week cooking and emotionally supporting DePaul students and Lincoln Park residents.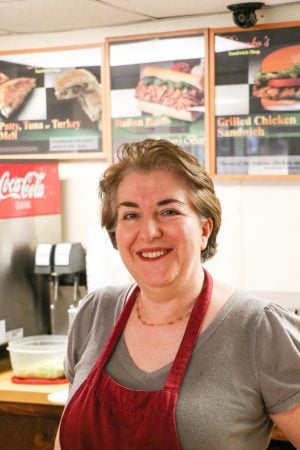 On top of this, she takes full-time care of both of her parents, who opened the restaurant up back in 1976.
Mama, 58, moved from the former Yugoslavia at age 15 and has been working in her family's restaurant for the past 43 years. She greets everyone with a kindness that can feel unfamiliar, an artifact of a bygone time when local family-owned restaurants were the staples of local communities.
"Pick anything you want, sweetheart," she tells her adoring customers. "It's all homemade."
Branko's oozes familial warmth. It has an old-school vibe, with wood paneling and a yellowing backlit menu board — all characteristic of an old-Chicago aesthetic that seems to be disappearing by the day.
"It's an incredible experience that starts with the service," DePaul student Abe Levinson said. "Mama treats all of her customers right."
Branko's, on the north side of Fullerton Ave. across from the Quad, is a student favorite and a prime example of the American Dream. The Branko family moved to America in hopes of finding a better life opportunity, so they met an uncle who lived in Chicago.
"Back home, we were always business owners for generations," Mama said. "And we knew what America had to offer, so we left our two businesses."
Mama's father originally opened Branko's after leaving the repressive, communist former Yugoslavia when it was in the throes of an economic crisis. He enjoyed the freedoms in his new country, something they didn't have much of in his home country.
Despite the hardships he experienced, Mama's father was a friendly man, a quality she says fueled the restaurant's longevity.
It's Mama's positive strength in the face of adversity that makes her the person she is today. She recalled no one showing up to her 12th birthday party and then going to school the next day and saying it was a great party. This is what she wants to teach the students who enter her shop.
A student came in looking down one day, and cried when Mama sat down with them.
"Next time you come in here you're going to say, 'I'm super,' because when you say it you believe it," Mama said.
She went on to encourage the student to find passion in life. She recommended starting at a retirement home and making meaningful connections with the elderly.
"Bring a coloring book; you color a page then they [the elderly] color a page," she said. "People need each other."
Business has never been competitive for the Brankos. They instead view their restaurant as a home and their competitors as neighbors.
"It's very important to me that we're all supporters of each other," Mama said.
This is what earned Andja Branko the affectionate title of Mama. She wants her restaurant to be a safe place where anyone can go to decompress and get the feeling of a home-cooked meal.
"If you get sad, if you're away from home for the first time, I want you to know that I have room in this heart for everybody," Mama said.
This home-away-from-home experience has earned Branko's many repeat, and even lifetime, customers.
Karen Loiacono, DePaul's associate athletic director for marketing and licensing, became a Branko's fan when it first opened in 1976 and can still be found enjoying Mama's homemade chicken noodle soup even today.
"The food has been good since the beginning," Loiacono said. "And no other place in the area has stayed open this long."
Mama works so hard because she doesn't want to jack the prices for her loyal customers. Between taking care of her parents and running Branko's by herself, she doesn't have much free time.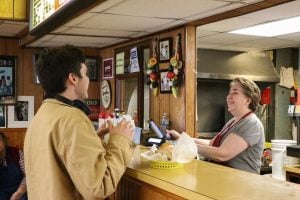 Even though Mama assumes the informal role of many students' comforting maternal figure, she has her own family to take care of, too.
Her son Angel, 26, works on the business side of the operation while Mama works inside the restaurant and her daughter Marjan, 30, received a degree in mathematics and now works as an accountant.
Her husband is a strong family man who supports the business however he can.
Mama has loved dance her whole life, as it was instilled in her from a young age. The family bonds over their mutual love of traditional dance in different European countries' style.
Whenever she's not working, she finds time to learn her dance team's new routines or travels to watch her nationally ranked son dance. She calls dance her true passion. Her dance team, Balkanske Igre, performs around Chicago.
Unfortunately, she doesn't always have time for her performances because when you're committed to being everyone's Mama, there's not a lot of time for yourself.