Camp: the theme that means the most – or nothing at all
Many consider the annual Met Gala to be one of the most important events for fashion, with the Hollywood elite flaunting their wealth and status by way of what they choose to wear.
Every Met Gala has a theme to match the exhibit being displayed at the museum for the gala, with guests dressing in costume to match the theme of the evening. While last year's "Heavenly Bodies: Fashion and the Catholic Imagination" proved fairly straightforward – with guests opting to add a fashionable flair to Catholic incornrapy – this year's "Camp: Notes on Fashion" proved more puzzling.
Susan Sontag's 1964 essay "Notes on "Camp" served as the basis for the evening's theme. In the essay, Sontag describes the core of camp as "its love of the unnatural: of artifice and exaggeration."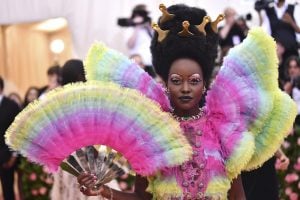 Sontag's article just scratches the surface of camp icons. Musicians like Prince, Cher, Lady Gaga and Nicki Minaj push the envelope with their bold fashion choices and array of onstage personas. In addition to musicians, drag queens like RuPaul, as well as Dorian Corey, Pepper LaBeija and Venus Xtravaganza – the subjects of the documentary "Paris is Burning" – are often thought of as pioneers of the aesthetic.
Camp's basis in unabashed over-the-top aesthetics appeared to promise an evening of bold fashion on a level unprecedented in Met Gala history. Despite the theme calling for tacky, shameless fashion choices, several guests arrived wearing black suits and evening gowns, looking more well-suited for the Academy Awards than an evening dedicated to bad taste.
Harry Styles, who served as a co-chair for this year's Met Gala, was recently deemed the "king of camp" by Vogue. Despite his penchant for bell-bottomed suits straight out of Austin Powers' wardrobe, Styles opted instead for a sheer black jumpsuit and slight heeled shoe, a relatively muted look for a campy event.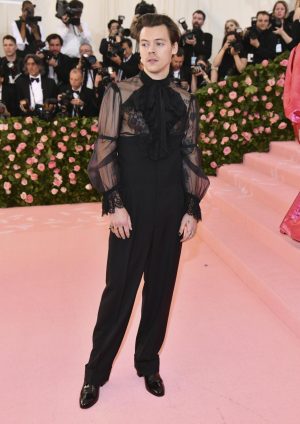 Alex Thimons, an adjunct professor of media and cinema studies, described two different fields of camp: intentional and unintentional. Unintentional camp is an instance in which a creator attempts to be serious and fails.
"Now, it's not really a good idea to assume a creator's intentions, but having said that, some 1930s MGM musicals, "social problem" films like Reefer Madness, the technicolor films of Maria Montez, many 1980s music videos and Jessie Spano's caffeine-pill storyline on "Saved by the Bell" are all camp to me, but again, your mileage may vary," Thimons said. "There is also intentional camp, in which the creators try to celebrate the frivolous and artificial. This is easier to identify: in this category you can put things like the 1960s Batman TV show, the films of John Waters, much drag, Cher and the character of Alexis Carrington on the 1980s TV show "Dynasty," played by Joan Collins."
Some attendants exemplified the theme expertly, from Co-chair Lady Gaga's four outfit changes to Billy Porter being carried into the event by a blockade of shirtless men like Cleopatra. However, the theme was not carried out as uniformly by guests when compared to the previous Met Gala.
Thimons suggested that an event as extravagant and exclusive to the rich and famous as the Met Gala was not well-suited for a theme like camp, which is meant to live on the outside of what is traditionally considered fashionable or acceptable.
"…Camp is also a way to build community on the margins of mainstream society – and so it is a sensibility closely associated with queer consumers of popular culture-which makes it inherently political, even though Sontag describes it as apolitical," Thimons said. "Because the Met Gala is the opposite of 'on the margins,' this political thrust of camp was necessarily lessened. This is not to deny the politics of seeing queer people of color like Billy Porter and Janelle Monae in this setting, but it is not marginal."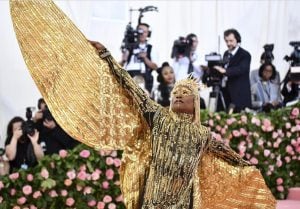 Despite its roots in the extravagant and tacky, some believe that camp can be encompassed in a more traditional way.
DePaul sophomore Yusra Shah, a journalism major with an interest in fashion, felt that the Met Gala was primarily a success, appreciating the more subtle incorporations of camp into the evening.
"I think for most Met Galas, people don't get the theme, but I think it was a lot better this year. I think that's also because the whole idea of camp centers around aesthetics and the vibe and just being extravagant," Shah said. "It doesn't have to be big to be campy, and I think a lot of people watching the Gala don't get that so they think everyone did a bad job. So I feel like even if someone didn't know what camp was they could probably pass as campy if they just did something slightly extra and not what they usually wear."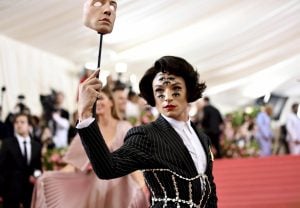 Dan Bashara, an adjunct professor of media and cinema studies, argued that there is no true definition of camp, and even its origins are open-ended.
"There's no agreement on what camp even is, and how you define it determines when you think it began," Bashara said. "I associate it most strongly with the pre-Stonewall gay community, but it has roots that go back centuries. For example, Susan Sontag, the most famous theorist of camp, places its origin in the 18th century."
While the jury may be out on the true meaning of camp and the acceptable way of expressing it, Bashara affirms the movement's importance to the LGBTQ+ community and its ultimate power.
"I view camp as a gay, or at least gay-adjacent, subculture phenomenon; historically, it's some gay people's refusal to take seriously the norms of a society that would rather they were not there," Bashara said. "That's the end goal of camp: to exaggerate and to drive style and mannerism over the top, not to be silly, but to unmask everything—especially gender—as a performance, to take what society accepts as natural and to reveal it as simply playing a role. Camp just plays its roles more fabulously."