No one-size-fits all experience for Venezuelan immigrants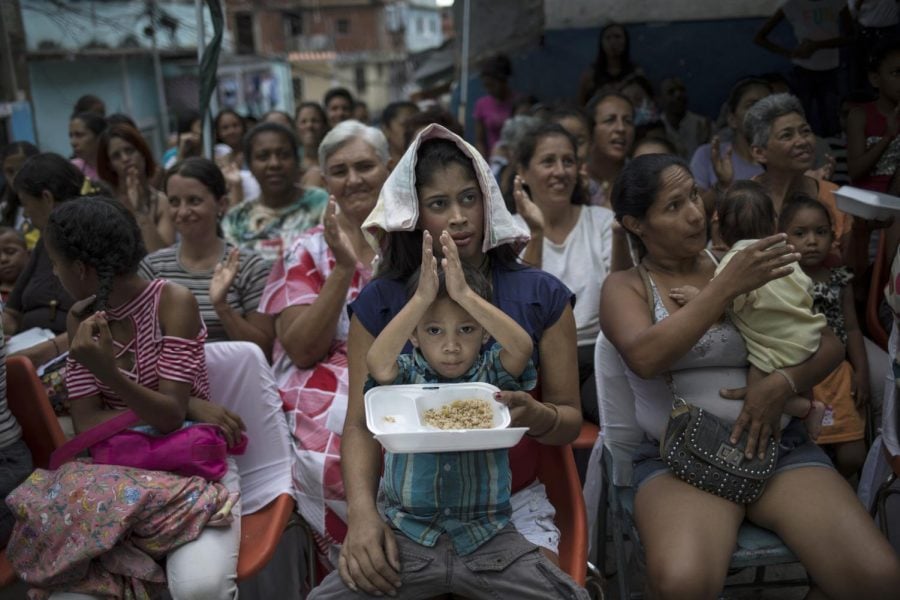 As inflation in Venezuela reaches catastrophic heights amid misuse of ample oil reserves in the country, widespread food shortages, economic desperation and a spiraling political crisis, Venezuelans in Chicago are reflecting on what it's like to leave their home and settle abroad.
As of 2017, there were about 3,000 Venezuelans living in Illinois. Around 3.7 million Venezuelans have fled the country, in many cases for neighboring countries like Colombia and Brazil; the United Nations Refugee Agency calls it the largest exodus in the recent history of Central America. Each have had their own unique experience adjusting to life in the United States.
After a polarizing election in May 2018, the nation has been divided between who has the right to the presidency — Maduro, who has been officially elected, or social-democrat Juan Guaidó of the opposition National Assembly, who claims to have been cheated from the position.
"Venezuela was always a recipient country of immigrants," said Patricia Juarez, who was once a psychologist in Venezuela and now works as a nanny in Chicago.
According to Ana Gil Garcia, a professor in the College of Education at Northeastern Illinois University and co-founder of the nonprofit Illinois Venezuelan Alliance, many Venezuelan immigrants come to the U.S. having held specialized jobs in their home countries. Because of this, they have had to make big changes to their lifestyle, including not eating out as much and working for companies like Lyft and Uber despite having a college degrees.
Garcia said there are unique features of the Venezuelan immigrant experience that can sometimes make them feel isolated — among them, the lack of U.S. protections or benefits that Venezuelans can apply for when migrating, including Temporary Protection Status or policies like the DREAM Act.
"Most immigration laws seem not to apply to [Venezuelans]," Garcia said. "For example, most are not eligible for DACA. They have not been here long enough."
DACA, or the Deferred Action for Childhood Arrivals act, was put in place by the Obama administration in 2012 and only applies to those who came to the U.S. before the age of 16.
"From my experience as a Venezuelan immigrant in the USA, it is a duty to express the migratory option that we have to apply for a status of refuge or asylum," Juarez said. "All this makes Venezuelans experience a feeling of isolation emotionally and legally."
Garcia said Venezuelans who migrate only have two options: apply for refugee status or political asylum, and the United States often doesn't comply with the former despite guidelines from the United Nations.
The UN and NGOs like Human Rights Watch argue countries such as the U.S. need to expand protections for Venezuelans escaping a humanitarian crisis back home and cease deporting them. There have been about 70,000 Venezuelans seeking asylum in the U.S. in the last four years.  According to the UN, 464,229 asylum claims have been made by Venezuelans worldwide since 2014. In 2018, Immigration and Customs Enforcement deported 336 Venezuelans back to the country.
Garcia said the Venezuelan community in Illinois is close-knit. Many Venezuelan immigrants prefer to settle in warmer states like Miami, she said. Florida is home to about 200,000 Venezuelans.
When Juarez suffered from burns on her hand and forearm that sent her to the hospital, she felt she had nowhere to turn for support.  She lived alone, with no family or close friends to help her recover. But she was later surprised at the unexpected support she received from the local Venezuelan community.
"I counted on the emotional, social and economic support of many Venezuelans I did not even know," Juarez said.
But Carmelo Alfaro, a Chicago-based personal chef and event planner, said the Venezuelan community has not defined his experience since arriving in the U.S.  
"Everyone is in their [own] affairs," Alfaro said. He that in his experience, the local Venezuelan community is itself made up of people from different backgrounds and lifestyles, leading to a dispersed group bound by different identities rather than a singular, close-knit one.
"The Venezuelan community that has arrived in the last few years … has a mixture of everything; that is, social, cultural and very different customs," he said.
Garcia said that even among the diverse identities of Venezuelans living in Chicago, she has also noticed a demarcation between those who have refugee or Temporary Protected Status and those who don't.
"They feel protected among themselves, sharing information, exchanging their own worries and creating their own niche, hoping that their legal status is clarified in order to function in this society according to the rule of law," she said.