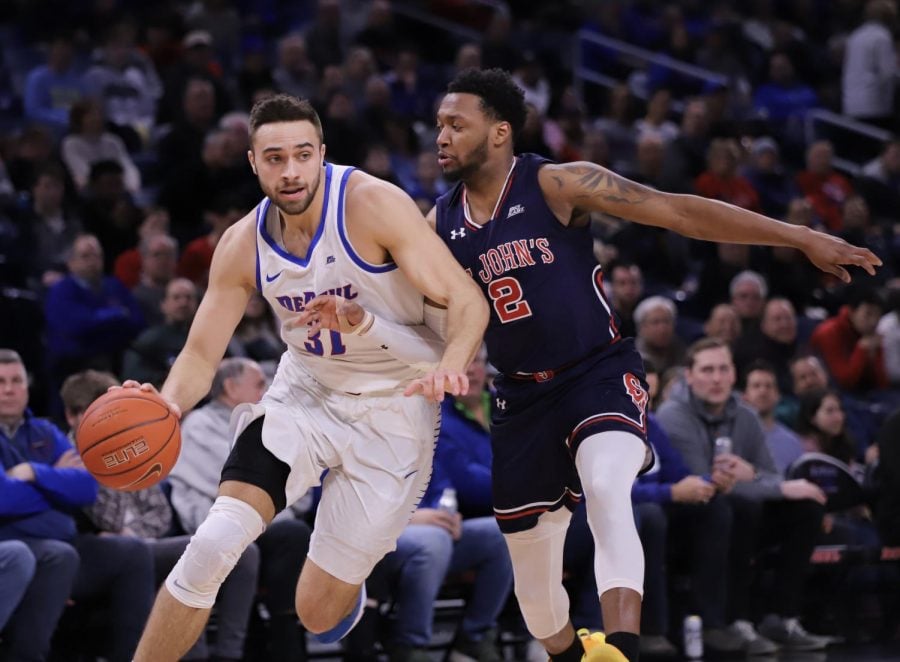 By the conclusion of the 2019 NBA Draft on Thursday, 60 players heard their names called by Commissioner Adam Silver and Deputy Commissioner Mark Tatumn, but former DePaul guard Max Strus was not one of them. Strus, however, wasted no time as an undrafted free agent, as he agreed to a two-way contract with the Boston Celtics early Friday morning.
"[I'm] very excited to announce that I will be continuing my career as a Boston Celtic," Strus announced on his Instagram. "Thank you to my family, friends, coaches and priority sports for helping me get here."
The six-foot-six-inch guard went into this year's draft with a slim chance of getting drafted after  multiple mock drafts had Strus just outside the second-round. But, Strus, who had a pre-draft workout with the Celtics and a couple of other teams, was likely going to have at least one team wanting to sign him.
This past season, Strus averaged 20.1 points, 5.9 rebounds and 2.2 assists per game and helped lead the Blue Demons to their first winning season in over a decade. Strus, also in his senior season, led DePaul to a second-place finish in the CBI championship series, falling just short in game three to USF in the best-of-three final series.
After his junior season Strus decided to declare for the 2018 NBA Draft, but following the pre-draft workouts Strus pulled his name out of the draft and returned to DePaul for his senior season.
The native of Hickory Hills, Illinois transferred to DePaul from NCAA Division II Lewis University after his sophomore year, after sitting out his first season at DePaul because of NCAA rules, Strus ended up playing two seasons for the Blue Demons. He finished with 1,226 points at DePaul, which ranks 29th all-time in program history, and ranks second all-time in 3-point field goal attempts with 554 and third with 194 3-point field goals.
Strus will now have a chance to showcase his talents at the professional level starting at the NBA Summer League, which begins on July 5 in Las Vegas.