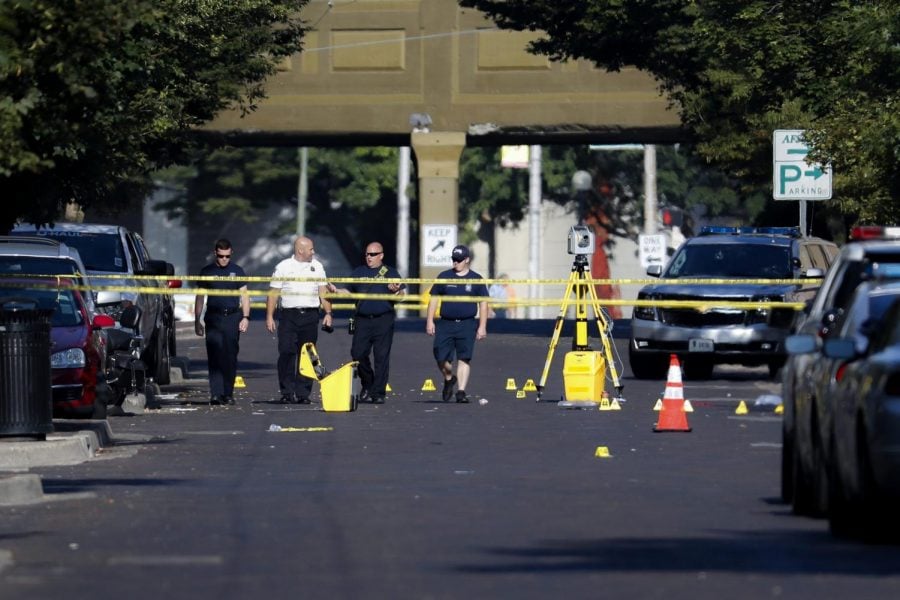 AP Photo/John Minchillo
Police say the 24-year-old white man behind a mass shooting in Dayton, Ohio, killed his sister and eight others before he was fatally shot by police.
Authorities say Connor Betts was killed by police less than a minute after he started shooting a .223-caliber rifle into the streets of a popular Dayton nightlife area around 1 a.m. Sunday.
They say his 22-year-old sister, Megan, was the youngest of the deceased victims, who were all killed in the same area. The others were adults ranging in age from 25 to 57.
Mayor Nan Whaley says Betts was wearing body armor and had additional high-capacity magazines.
Investigators haven't publicly discussed a possible motive.
It was the second U.S. mass shooting in less than 24 hours.
President Donald Trump is ordering flags at half-staff in remembrance of the victims of two mass shootings in less than a day, which killed at least 29 people.
A proclamation released by the White House on Sunday says the nation shares "in the pain and suffering of all those who were injured in these two senseless attacks."
The first attack Saturday at a shopping area in El Paso, Texas, killed at least 20 people. That was followed by another shooting in a nightlife district in Dayton, Ohio, which claimed nine lives.
Trump has been out of public view since both shootings. He has reacted to the attacks on Twitter.
Ned Peppers posted Sunday on its Facebook page that it's "confused" why this shooting occurred in their "safe entertainment district."
Authorities say the shooter opened fire in the popular nightlife area called the Oregon District where Ned Peppers is located.
The post said that police regularly staffed there "engaged the shooter and neutralized the threat."
Ned Peppers said the bar is assisting police in any way they can. The bar remains closed.
The bar also posted that a bouncer was being treated for shrapnel wounds.
A message seeking further comment was left with staff.
Mayor Nan Whaley says many more people might have been hurt if police patrolling the area hadn't been able to respond in less than a minute to the shooting. Investigators haven't named the shooter or shared any other information about a motive.
Whaley says a community vigil is planned Sunday evening.
Attorney General William Barr has briefed on the deadly shooting in Dayton, Ohio, and the Justice Department is providing federal resources.
That's according to a tweet Sunday morning from department spokeswoman Kerri Kupec, who calls the shooting a "senseless, evil attack."
A witness described the chaos that unfolded on the streets during the shooting.
Anthony Reynolds says he and his friends were leaving a bar in the Oregon District around 1 a.m. Sunday when they heard the first gunshot.
He says the gunfire was "rapid" after that and "people were just falling."
The 31-year-old Reynolds says he got a glimpse of the shooter, who he says was dressed in all black and carrying a large gun.
Dayton Mayor Nan Whaley says the shooter was wearing body armor and had extra magazines for his .223-caliber rifle.
Democratic U.S. Sen. Sherrod Brown of Ohio says "thoughts and prayers are not enough" after a shooter killed nine people and wounded dozens more before he was killed by police in Dayton.
In a statement Sunday, Brown says he is angry that state and national lawmakers won't pass more gun safety laws.
Several proposals have been introduced in the GOP-led Legislature this session that would tighten requirements on firearms sales, transfers and storage. A gun safety group is also pushing to change state law to require background checks on nearly all guns sales.
The Republican who leads the Ohio Senate also shared a statement praising the quick response from Dayton police.
Two women who were in a bar across the street from the Dayton, Ohio, shooting say they are in shock.
Nikita Papillon says she heard the shooting and ran out of Newcom's Tavern, where she saw bodies on the ground.
The 23-year-old says people her age "don't think something like this is going to happen."
Tianycia Leonard says she heard "loud thumps" she initially thought were people pounding on a dumpster. The 28-year-old says she then realized "it was gunshots and there was a lot of rounds."