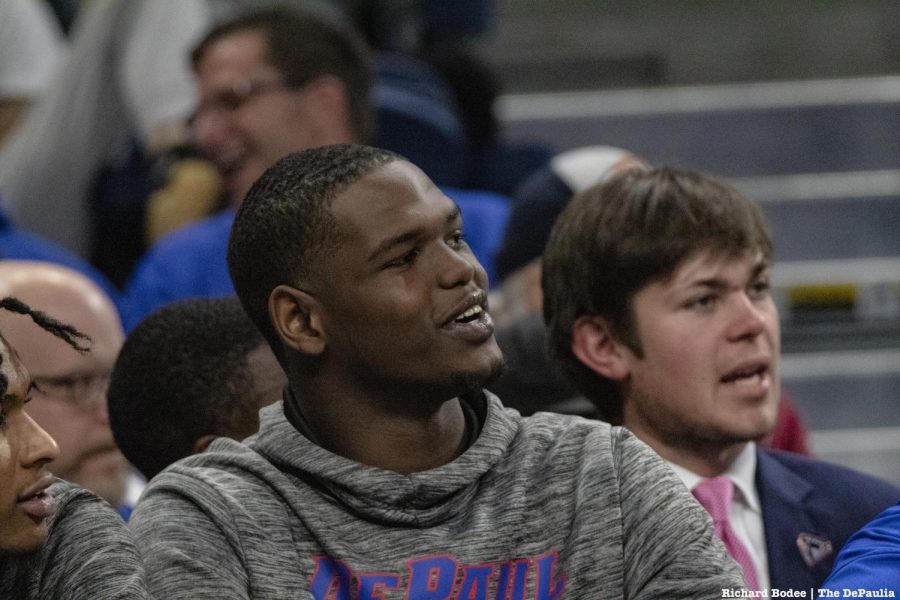 Richard Bodee I The DePaulia
Junior forward Carte'Are Gordon, who transferred to DePaul University from St. Louis in January, has entered the transfer portal once again and will be looking to join his third school in 2019.
Gordon didn't play a single regular-season game for the Blue Demons last season due to NCAA transfer rules, but featured in three games for DePaul in their recent trip to Europe.
The former No. 75 recruit in the country in 2018 only played 13 games for St. Louis, where he averaged 8.9 points and 4.1 rebounds per game, before announcing on his Twitter on Jan. 3 that he was leaving St. Louis "due to personal issues with my family and focusing on what's best for me and furthering my career…"
Two weeks later Gordon announced he was signing with DePaul and was adding to an already talented 2019 recruiting class for the Blue Demons. 
While he has shown immense talent on the court, what city Gordon has had trouble staying on the court at times due to his disciplinary problems that date back to his high school career. 
During his senior year at Webster Groves High School just outside St. Louis, Gordon incurred two suspensions. The first one resulted from an altercation with a teammate. The second suspension came when Gordon leaped off the bench and rushed across the court to celebrate with a teammate who had just dunked the ball and bumped into an opponent which resulted in an automatic one-game suspension. 
Before he got to Webster Groves High School, Gordon already had a past of getting suspended. 
At St. John Vianney, a private catholic school, Gordon got into a heated verbal dispute between him and his coach, earning him a suspension for half a game. 
Even with those issues Gordon, Head Coach Dave Leitao decided to take a shot on a talented player that was destined to play a major role for the Blue Demons this upcoming season. Not only was Gordon expected to be a vital player in the frontcourt for DePaul, but he was also joining a formidable 2019 recruiting class for the Blue Demons.  
What was supposed to be a fresh start for Gordon, ends with him looking for his third school in seven months. For DePaul, the team loses a player that was supposed to provide them with another option in their frontcourt a couple of months before the season starts, but still have the reigning Big East most improved player, Paul Reed, Jaylen Butz and newly transferred Nick Ongenda.