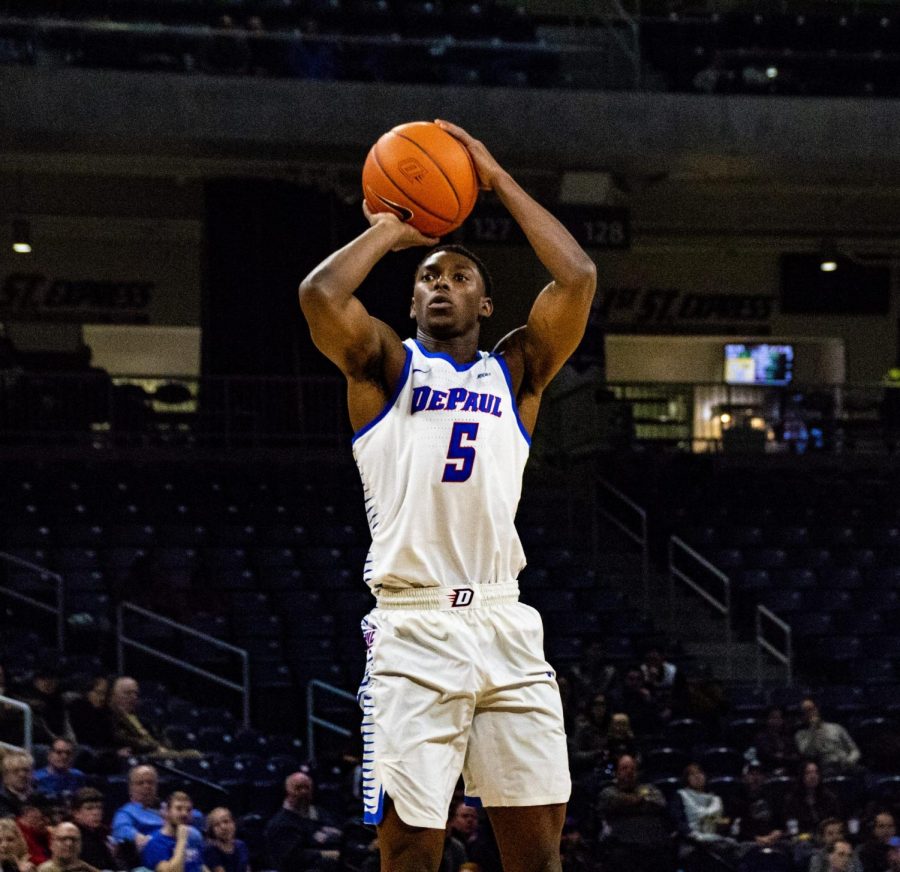 Richard Bodee / The DePaulia
DePaul men's basketball is about to enter their most pivotal season since head coach Dave Leitao returned in 2015. With the best collection of talent that Leitao has had since his first stint with the Blue Demons, the expectations are that the program produces back-to-back winning seasons and threatening to finish in the top five in the Big East.
With all that being said, one key element that can't be overlooked heading into a critical season is the strength of the schedule, particularly the nonconference schedule that will firmly test how good this Blue Demons squad is compared to other years.
Last season, DePaul finished with their first winning record in over a decade, at 19-17. While on paper that seems like Leitao has the program moving in an upward trajectory, there's also examples from last year to at least slow down that momentum, one of those reasons being that the Blue Demons played one of the weakest nonconference schedules in the entire country.
Out of 353 college basketball teams, DePaul's nonconference schedule ranked 342nd, according to KenPom. Rankings. In addition, the Blue Demons didn't play a single team last season in their nonconference slate of games who made the NCAA Tournament the season before.
DePaul only played four games against Power 5 schools in their 11 nonconference games, going 1-3 in those matches. The rest of the schedule featured teams like Bethune-Cookman and Incarnate Wood, who the Blue Demons were able to beat handly and went 8-0 against, but those types of teams don't provide a great test heading into Big East play.
A season later, DePaul's nonconference schedule looks tougher than a year before as it features five teams who played in the NCAA Tournament last season, including tournament runner-up Texas Tech on Dec. 4 at Wintrust Arena.
"In the inside, coaches and schedulemakers look at it different from the general public," Leitao said. "After recruiting, the schedule is the most important thing we do. So, there's a lot that goes into it and when you schedule teams sometimes three years in advance, you don't know how powerful they may or may not be.
"That being said we wanted to make sure and I think the league wanted to make sure that we are as competitive as we can possibly be. I think we wanted to challenge this group, more than any group we've ever had with our schedule. So, when you have a Big Ten challenge and a Big 12 challenge against a national champion runner-up, it creates a buzz. There are other parts that are really challenging as well, [such as] Buffalo, who is a tournament team. Local rivalries, Northwestern always is a great game for us, UIC always a great game for us. So, we feel like we are putting ourselves in a better position, so that when we get to March there's a conversation about where we need to be and where we will be based on our strength of schedule."
Every March, when the college basketball season enters its most important month of the season, the loudest and most heated debates on live sports radio and national sports shows are about which teams should and shouldn't make the NCAA Tournament. One of the strongest deciders on who gets picked by the committee to play in the tournament is strength of schedule.
In years past, the Blue Demons' nonconference schedule was ranked so low that any chance they had to make the NCAA or NIT Tournament was thrown out the window before the season even started. This upcoming season, however, not only is DePaul going to take on some of the country's best and well-known teams, but they are also more willing to face those teams on the road. Those teams are Boston College – who beat the Blue Demons at Wintrust Arena last season – Iowa and Minnesota.
"It gives us an opportunity before Big East play to understand adversity a lot more than just the comfort level of being at home," Leitao said. "So, we will be able to do that. Grow from it, learn from it and see how guys react to specific situations [in front] of a raucous crowd and the referees, all that kind of stuff that goes into adversity and that will help us."
From a fan's perspective, this year's schedule looks more appealing  because there are more recognizable teams on the schedule. A massive difference from last year compared to this upcoming season is how many weekend home games the Blue Demons have. Last season, DePaul only had one nonconference home game on the weekend which was against Boston College. In 2019, the Blue Demons will play four weekend home games before conference play.
"The amount of home games at Wintrust in the schedule is way better this season; no offense to those schools, but our only bad games this season are Alcorn State, Cleveland State and then we play Division III University of Chicago," said Joe Breslin, a DePaul men's basketball season ticket holder. "Every other game is way better. Last season at Wintrust, we had one nonconference weekend home game against Boston College. This upcoming year we have UIC, Cornell, Northwestern, Buffalo and we also have a home game against Texas Tech. It's just a much better schedule."
Leitao also agreed that for the fans this season's nonconference schedule is more appealing and, because of teams like Texas Tech and Northwestern coming to Wintrust, that will also bring their fans to the stadium and create a better atmosphere during those games.
In previous years, the question that constantly got asked about DePaul was if their roster was good enough to compete against stronger opponents. This season, the roster – on paper – seems to be the deepest and most talented the Blue Demons have had in a long time. So, with the roster not being a question mark anymore, DePaul now has to answer one more question if they are to return to their former glory days: Can Leitao get the best out of his team where they will be able to compete with the country's elite teams?
2019-20 Schedule:
Nov. 5 vs Alcorn State
Nov. 6 vs University of Chicago
Nov. 8 vs Farleigh Dickinson
Nov. 11 @ Iowa
Nov. 16 vs Cornell
Nov. 23 @ Boston College
Nov. 26 vs Central Michigan
Nov. 29 @ Minnesota
Dec. 4 vs Texas Tech
Dec. 8 vs Buffalo
Dec. 14 vs UIC
Dec. 18 @ Cleveland State
Dec. 21 vs Northwestern
Dec. 30 vs Seton Hall
Jan. 4 vs Providence
Jan. 11 @ St. John's
Jan. 14 @ Villanova
Jan. 18 vs Butler
Jan. 22 vs Creighton
Jan. 25 vs St. John's
Jan. 29 @ Seton Hall
Feb. 1 @ Marquette
Feb. 4 vs Xavier
Feb. 8 @ Georgetown
Feb. 15 @ Creighton
Feb. 19 vs Villanova
Feb. 22 vs Georgetown
Feb. 25 @ Xavier
Feb. 29 @ Butler
Mar. 3 vs Marquette
Mar. 7 @ Providence