'Organic process' of impeachment discussed at DePaul event
Since Speaker of the House Nancy Pelosi announced the official impeachment inquiry into President Donald Trump, there has been a surge of questions about what may happen next. 
To facilitate open conversation on the subject, DePaul's political science department held a panel discussion event in the Schmitt Academic Center on Wednesday, Oct. 2 to discuss the ongoing impeachment process of Trump. The event was moderated by Valerie Johnson, associate professor and chair of the political science department. The panel included political science professors Wayne Steger, Joe Tafoya and David Williams. 
Tafoya said that the discussion panel is beneficial for both students and professors to understand the views that peers have in such an important political event.
"It's an organic process where dialogue happens," Tafoya said.
The formal impeachment inquiry was officially announced by Nancy Pelosi. The inquiry resulted from a series of events started by a phone call with President Donald Trump and Ukranian President, Vlodymyr Zelensky. Trump urged Zelensky to fight corruption and suggested that he investigate Democratic nominee Joe Biden and his son Hunter Biden. At the time, Hunter Biden was working in Ukraine when his father was vice president and working with the Ukranian government. The formal impeachment inquiry was announced Sep. 24.
Professor Williams discussed the impeachment process as two-staged. The process is divided by the House and the Senate. Impeachment begins in the House. If the House votes yes on impeachment, the President is impeached but not removed from office. Removal from office depends on the Senate vote.
Impeachment exists because there must be "some measure of accountability to the people," Williams said. He described impeachment as an essential option to hold problematic leaders accountable. He related this purpose back to the Constitutional Convention in 1787 in which Ben Franklin described impeachment as a much better option than assassination.
Impeachment is unique in every case, as it has differed for every president who has undergone the process, Steger said.
"Institutional systems fundamentally differed in each of those cases," Steger said.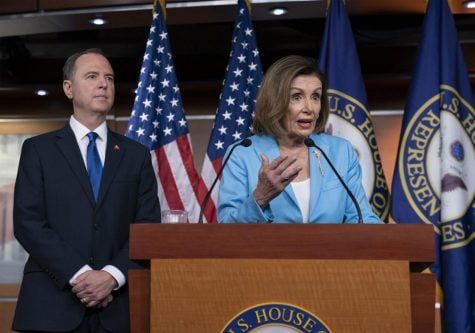 He discussed this by briefly describing the three previous presidents who have went through the impeachment process: Andrew Johnson, Richard Nixon and Bill Clinton. Steger said that, as impeachment is incredibly divisive, the inquiry on Trump is interesting due to the unique intensity of partisanship. He said that partisanship has surpassed race as the most fundamental divide in American society. People now perceive the world differently and even possess different sets of information.
Tafoya pointed to a graph from fivethirtyeight that not only showed the change in impeachment support since the formal inquiry, but revealed a truth about partisanship in America. The graph first shows a spike in support for impeachment after Pelosi's announcement. Just before the announcement, Sep. 23, support for impeachment was at 40 percent. Now, support has risen to 47 percent.
Tafoya then pointed to statistics that show the majority of the increase happened among Democrats. Support among Democrats has roughly risen 17 percent while support among Republicans has risen a mere 3 percent.
Hannah Hyman, junior, attended the event after hearing about it from the Political Science Department. She says that it is important for college students to be aware and this event allows them to hear from experienced professors while they are able to offer a unique perspective on the topic that comes from their experience as a younger generation.
"We are acutely aware of the kinds of trouble we face as a nation that other generations are not," Hyman said.
As the panel discussion moved to student questions, one student asked about Trump's ability to survive detrimental stories from the media as he did when the Access Hollywood tape of Trump having an indecent conversation about women with host Billy Bush. The student expressed his concern that Trump seems to be invincible when it comes to this sort of media, unlike presidents Nixon and Clinton whose own scandals resulted in their absence from office.
The panel discussion served to not only be informative but as a reminder of voters' responsibility.
"At some point we must inquire about ourselves as a nation," Johnson said as a response to the student's concern.