A free workout is an empowering one
Zumba, muscle work, HIIT and yoga are all classes that make you break a sweat while also breaking your budget. The Ray Meyer Fitness and Recreation Center offers the same classes for free every day of the week for all undergraduate DePaul students and those with memberships.
The Ray has fitness classes Monday-Sunday in studios A, B, C and D. There is a wide range of times – some starting as early as 6:45 a.m. and as late as 7:00 p.m.
Classes like Zumba can cost you up to $59 a month for unlimited classes or $12 per class, depending on where you go; prices can vary. Nonetheless, students can get the same experience at DePaul without having to pay, and let me tell you, they whip you into shape.
I decided to go to "muscle work," a fitness class that is a mix of everything. We did cardio, strength and core all in one class. It was a 45-minute class that absolutely kicked my butt. I completely underestimated the workout I was going to get.
It's been four months since I last worked out and trying to keep up with the instructor and others in the class was challenging. The instructor, Melinda Mendoza – who's been teaching workouts for over a year – made sure that we all felt comfortable and kept being encouraging the entire workout.
When I couldn't keep up with the lunges or planks, I didn't feel embarrassed or ashamed. Mendoza said we were able to rest if needed or do another exercise, making me feel better about being a bit out of shape. It also makes you feel better when even the instructor is winded.
Shailar Webber, a junior at DePaul, started taking Zumba classes her freshman year and now teaches classes herself every Wednesday and Sunday. She thought the energy in class was excellent and decided to get her license to teach. Webber said her classes get a decent turnout, but not many students have given it a chance.
"I love instructing Zumba at DePaul," she said. "I think the environment is really great. With the motto, "You belong here!" the Ray is a gym for everyone, no matter the amount of experience a person may have with fitness. This was especially important for me when I first started going because I didn't have a lot of experience in the gym, but now I go four times a week and always feel comfortable."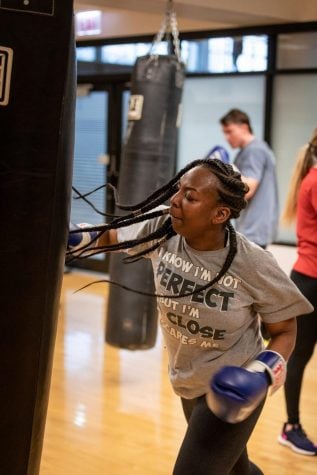 Going to the gym can be uncomfortable for those who are not used to it – making it even more challenging to attend a group fitness class. After going to one myself, I would recommend giving a fitness class a try. With 10-plus classes offered a day, there are plenty to pick from that each brings a different type of workout.
"People are scared to try group classes and so attendance is lower than I think it should be," Mendoza said. "My classes specifically are super welcoming because you can make the class whatever you want. You can choose your own intensity based on your fitness level. You can do a burpee, push up, tuck jump or you can just squat and plank."
There were only six people in the class I attended – granted, that may have had to do with the weather. Mendoza said her 9:15 "muscle work" class usually has about 15 people. Zumba and BODYPUMP seem to have the highest attendance because of the fast-paced workouts and dancing you're able to do to the music.
Anne Marquardt, a senior at DePaul, is one of the few who have gone to a class at the Ray.
"I have done the spin classes at the Ray before," she said. "They give just as good of a workout as some spin studios, as well as the same wide time range as real studios give."
These classes offer an alternative workout experience. Instead of walking into a gym and not knowing what to do, classes like "muscle work" teach you exercises you may not have known before. We did deadlifts, leveled squats, bent over barbell row and plenty of other challenging things that left my sweat towel drenched afterward.
I started my day with a fitness class, and it improved my mood immensely. Besides not being able to feel my legs at the end, I felt clear-minded and empowered.
"Seeing people challenge themselves and empower them to do things they had no idea they could [is amazing]," Mendoza said. "It's amazing to watch my regulars get stronger and fitter with each class they come to. It's been great to see people fall in love with fitness and exercise in a healthy way."