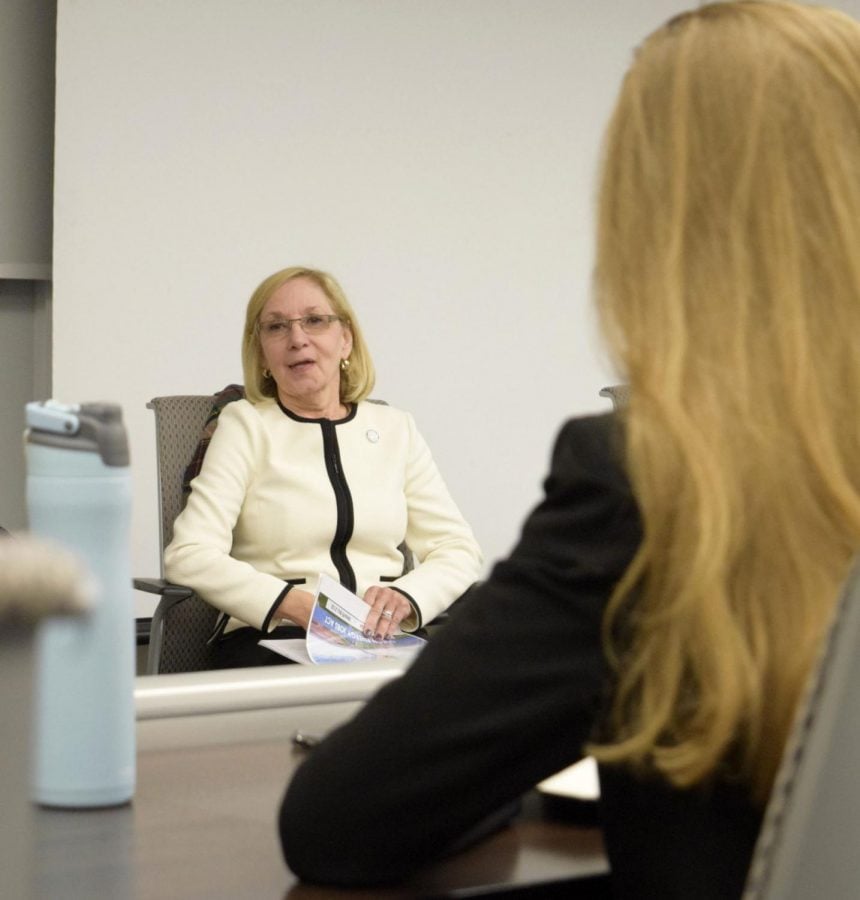 Amy Do / The DePaulia
DePaul College of Science and Health associate professor and department chair Mark Potosnak and associate professor Hugh Bartling of the College of Liberal Arts and Social Sciences mediated a climate change panel on the Lincoln Park campus Friday.
"The climate policies are currently at a crossroads," Bartling said. "Many states and municipalities have expanded their commitments to climate action …We thought that this would be the time to think about what can happen here in Illinois, in Chicago and in the region for climate policy."
The three panelists included Illinois 18th Legislative District State Representative Robyn Gabel; Cara Bader, deputy chief of staff of infrastructure and services for the Office of the Mayor; and Anna Wolf, senior project manager of urban resilience at the Center for Neighborhood Technology (CNT).
With the newly appointed administrators in Springfield and the City of Chicago, the panelists addressed the potential for new policy initiatives to confront the climate crisis.
Each panelist was given 10 minutes to give their take on what steps the state, the City of Chicago and outside organizations are doing to combat climate change. 
According to the Illinois Clean Jobs Coalition website, the Future Energy Jobs Act (FEJA) will allow Illinois to become a leader in clean and renewable energy while creating job opportunities for its residents. The bill is the primary legislation for Illinois to improve its approach to addressing climate change.
According to Gabel, the four goals of FEJA are: reach 100 percent renewable energy by 2050, maintain sustainable and equitable job creation, achieve a carbon-free power sector by 2030 and reduce pollution of the transportation sector.
"We've had the RPS [Renewable Portfolio Standard] for a number of years, but just more recently, we were able to pass the Future Energy Jobs bill," she said. "This was a comprehensive bill that really looked at a way to fix the RPS, which kind of got destroyed when we allowed for cities to get energy on their own."
Under the Illinois Power Agency Act, enacted in August 2007, the RPS requires "large investor-owned electric utilities and alternative retail electric supplies to source 25 percent of eligible retail electricity sales from renewable energy by 2025. Electric cooperatives and municipal utilities are exempt from renewable portfolio standard requirements," according to the U.S. Department of Energy website.
Because of the new initiatives outlined in FEJA, the state of Illinois is now able to work toward more attainable, long-term environmental action goals.
This effort on top of Gov. J.B. Pritzker's recent repeal of Illinois' Kyoto Protocol Act of 1998, which prohibited Illinois from taking steps to reduce carbon and other greenhouse gas emissions, is "empowering the people of Illinois to build a cleaner, healthier future," according to the Environmental Defense Fund's website.
At the local level, the City of Chicago is also working to leverage its existing resources in order to conserve its budget toward addressing environmental concerns.
Some of these citywide efforts include maximizing energy efficiency through reducing public transportation emissions by going electric, installing solar panels and transitioning to use LED lighting within the city.
"We're not making progress fast enough," Bader said.
However, through partnering with local and state governments, "the city can use its platform to increase a sense of urgency," she said.
According to Bader, talks with mayor Lori Lightfoot on climate change are based around improving communication with Chicago residents on the city's efforts.
Former mayor Rahm Emanuel's development of the 2017 Chicago Climate Charter is an "international pledge between municipal leaders to address climate change head on and cooperate to reduce carbon emissions," according to the City of Chicago's website.
The charter functions as a strong foundation to tackle environmental issues for Lightfoot as it pledged to achieve a percent reduction in carbon emissions in line with the Paris agreement, to publicly report city emissions and to partner with experts and other allies to develop environmental solutions for Chicago.
The Center for Neighborhood Technology, a Chicago-based agency, works to "advance urban sustainability and shared prosperity through initiatives in transportation, water, climate and public policy," according to its website.
The agency is working as a climate ally to the City of Chicago by optimizing current infrastructure for efficient cargo use, according to Wolf. 
"So, you're not rebuilding," she said. You're not expanding, but you're sort of upgrading the existing infrastructure you have."
Wolf said emphasizing change at a state and local level can "drive progress faster" and inspire a more coordinated and comprehensive effort to address climate change globally.