Offensive outburst lifts women's soccer over Seton Hall
On Alumni Day, DePaul's women's soccer team (6-6-3)  gave fans plenty to cheer about as the Blue Demons put four goals past Seton Hall (1-11-1) at Wish Field.
With the Blue Demons' recent offensive struggles going into their game against Seton Hall, only scoring three goals in their previous three games, DePaul got a much-needed boost from their attack in a 4-0 win against the Pirates. 
Junior midfielder Jade-Eriksen Russo was a menace down the right to start the game. When one of her passes was turned into a back-heel attempt on goal, it was a sign of things to come.
Junior forward Morgan Turner got the ball rolling as she lobbed the ball over the head of the opposing goalkeeper to open up the score. Minutes later, Russo doubled the lead following a scramble in the box off of a corner kick.
Halfway through the first half, Turner would add a second to her personal account, once again off a corner. With those two goals, Turner now leads the team with nine goals on the season. After not scoring the last two games, she bounced back in a big way, along with the rest of the team.
"It feels really good. I think our team had a lot of energy today and came out really aggressive and I think we were able to generate a lot of chances so I think it helped us a lot," she said.
DePaul did indeed generate a lot of chances to score, and the player setting up those chances was junior defender Jackie Batliner. She finished the game with three assists, including two from corner kicks.
"I think our team just executed really well. Obviously, we have a game plan and they did really well getting on the end of the balls and making sure they ended up in the goal," she said. "I think it's always our goal to score on set pieces. It's a nice chance for a restart and I think it's great we were able to finish on those because it's a great opportunity."
All the scoring took place in the first-half and Bina Saipi added the fourth and final goal off yet another corner kick.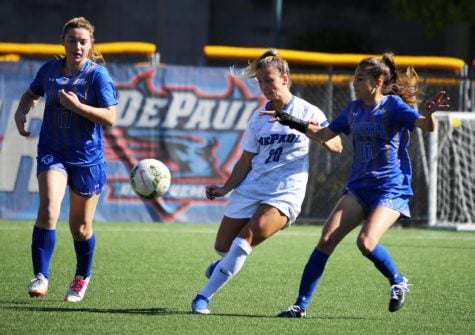 With the game all but over, the second half was more evenly matched, and DePaul gave credit to Seton Hall for making things more complicated.
"I think that we had a lot of momentum in the first half," Turner said. "I think in the second half we did a good job of attacking still and our chances didn't go in the second half as much as they did in the first half but I think it was still a solid performance through the whole game."
Getting back in the win column is something DePaul desperately after losing their two previous games. 
"It's definitely nice," Batliner said. "It's refreshing. We're excited moving forward. It gives us some momentum so we're happy with the win."
The win snapped DePaul's two-game losing skid and as both Turner and Batliner said, it was a solid performance on both sides of the ball. As impressive as scoring four goals is, it's equally important that the team also kept a clean sheet. It's their second straight shutout win at home, with the previous win coming against St. John's.
For DePaul, the short-term goal will be building upon the win and not resting on their laurels.
"Georgetown is going to be a really good team and I think we're really ready and I think it's really good for us to get four goals in this game, and I think that that'll carry us over into the next game," Turner said.
Head coach Erin Chastain will be pleased with her team's performance. They never let Seton get comfortable on the ball and reclaimed the ball quickly whenever they lost it. 
It was a game that DePaul needed to win and considering the opposition came in with a poor record, they took care of business and beat a team that they should beat. Not only did DePaul do that, but they did it convincingly.
It's a quick turn around for the Blue Demons as they will face the aforementioned Georgetown Hoyas on Thursday, Oct. 24, at 3 p.m. at Wish Field.