Argentina Elections: Peronist Party looks to regain power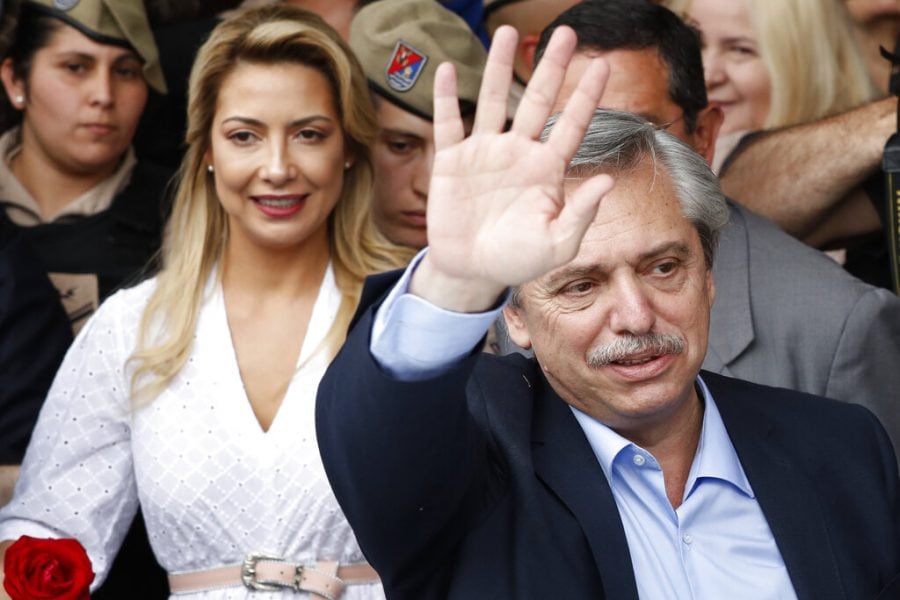 Presidential candidate Alberto Fernández and running mate Cristina Fernández de Kirchner headed into the general election Sunday with polls suggesting a landslide victory over incumbent Mauricio Macri, who has faced scrutiny and decreasing popularity amid the economic crisis.
Macri lost by an astounding 16 points back in the Aug. 11 primary, triggering market uncertainty that drove the peso to hit a record low the following day. Since then, the margin has continued to widen between front-runner Fernández and Macri, per the Federico González y Asociados polls. The crippling state of Argentina remains to fuel the gap between the candidates.
Voters' principle concerns approaching the polls Sunday largely revolved around the economy, social and ethical values and public works. The recession and soaring inflation rate plunged millions of Argentines into poverty which forced Macri to take a $56 billion-dollar credit line from the International Monetary Fund, the largest loan in IMF history.
"Economically, there is a lot of inequality and we see a lot of poverty, a lot of economic dependence," said Lucía Convertí, a 35-year-old lifelong political activist who lives in Buenos Aires. "What is happening to us, we need help to resolve the external debt and lift everyone up." 
Converí believes that all indicators point at a Fernández presidency.
Prior to announcing his presidential bid, Fernández had a long history with the Kirchner family. He worked alongside Cristina's late husband and former president, Néstor Kirchner, helping Néstor rise from the governor of the Santa Cruz province to the president of Argentina in 2003. Fernández was appointed to chief of staff in 2003, before resigning due to a political disagreement with the nation's agricultural sector in 2007 during Cristina's first term in office.
by Hannah Mitchell
Fernández was known as a relenting critic of Kirchner's time in office, but the dynamic duo have since put their differences aside and are edging closer to taking over office. At their campaign closing event in Mar del Plata last Thursday, Fernández put the blame of the current state of Argentina on business-friendly Macri's severe austerity measures.
"I told Cristina, let's do it together and let's do it right," Fernández said. "Let's do it together and show the best team in Argentina is this one. The one that thinks for Argentines. Four years have passed — four years of pain of seeing 43 small companies shut down a day, thousands of people without work, regional economies, our pensioners suffering, salaries dropping. All that happened with a government that filled the pockets of the banks."
Tomas Wetzel, a 24-year-old restaurant owner in Buenos Aires, said the jury is still out on Fernández. "He has been out of the political arc for 10 years, so it might be a good or a bad thing. We'll see."
The general election Sunday was Macri's last hope at seeking re-election. The Fernández-Fernández formula must receive 45 percent of the vote or 40 percent with a 10-percentage point spread over the challenger, to clinch the presidency and avoid a runoff Nov. 24. Whoever prevails will take, or maintain, office on Dec. 10.