DePaul dominates Marian in exhibition game with a 110-22 victory
Nate Burleyson / The DePaula
After months of anticipation about the men's basketball team, DePaul delivered on the expectations for one night against Marian in an exhibition game at Wintrust Arena. The Blue Demons defeated the visitors 110-22 in a game that wasn't close from the start. 
It took DePaul just four minutes to get in rhythm offensively, the Blue Demons' offense went to a different level when junior guard Charlie Moore came into the game. Moore, who started on the bench, came into the game after four minutes of game time and made his presence felt right away. He scored eight points and dished out a couple of assists in two minutes.
"Charlie adds a ton to our team, not just bringing the ball up, but his savvy, his experience, his skill, he commands a lot of respect from everybody around him," head coach Dave Leitao said. "As he gets more comfortable with his surroundings and his teammates, I think it will only get better and better." 
Moore, who transferred from Kansas to DePaul back in May, finished the game with 15 points, seven assists and five rebounds. 
"It was great," Moore said. "Being out there, competing with the guys. Like coach said, being able to play against someone else is big for us. I feel like we were excited and revved up to play. I'm just excited we came out with the win."
Moore wasn't the only DePaul player to have a major impact on the game, freshman Romeo Weems made his presence felt early on in the game with his athleticism and energy on the defensive end. Weems scored 12 points in the game on six-for-eight shooting, but his four steals helped create easy scoring opportunities for himself and his teammates. 
"I think all four of our freshmen have a chance to be really, really good," Leitao said. "Romeo in a few weeks has shown himself very well, particularly on one thing young guys struggle with which is defense. He puts a lot of effort into it, he talks, he moves well, he's aggressive and that's not always the case with a guy who's been in college basketball for three weeks or four weeks. So, good to see that."
While the Blue Demons' offense was explosive and showed flashes of the potential it has going into this season, their defense was as equally as impressive against Marian. DePaul held the visitors to only 16 percent shooting from the field, eight percent from the 3-point line and forced them into 28 turnovers.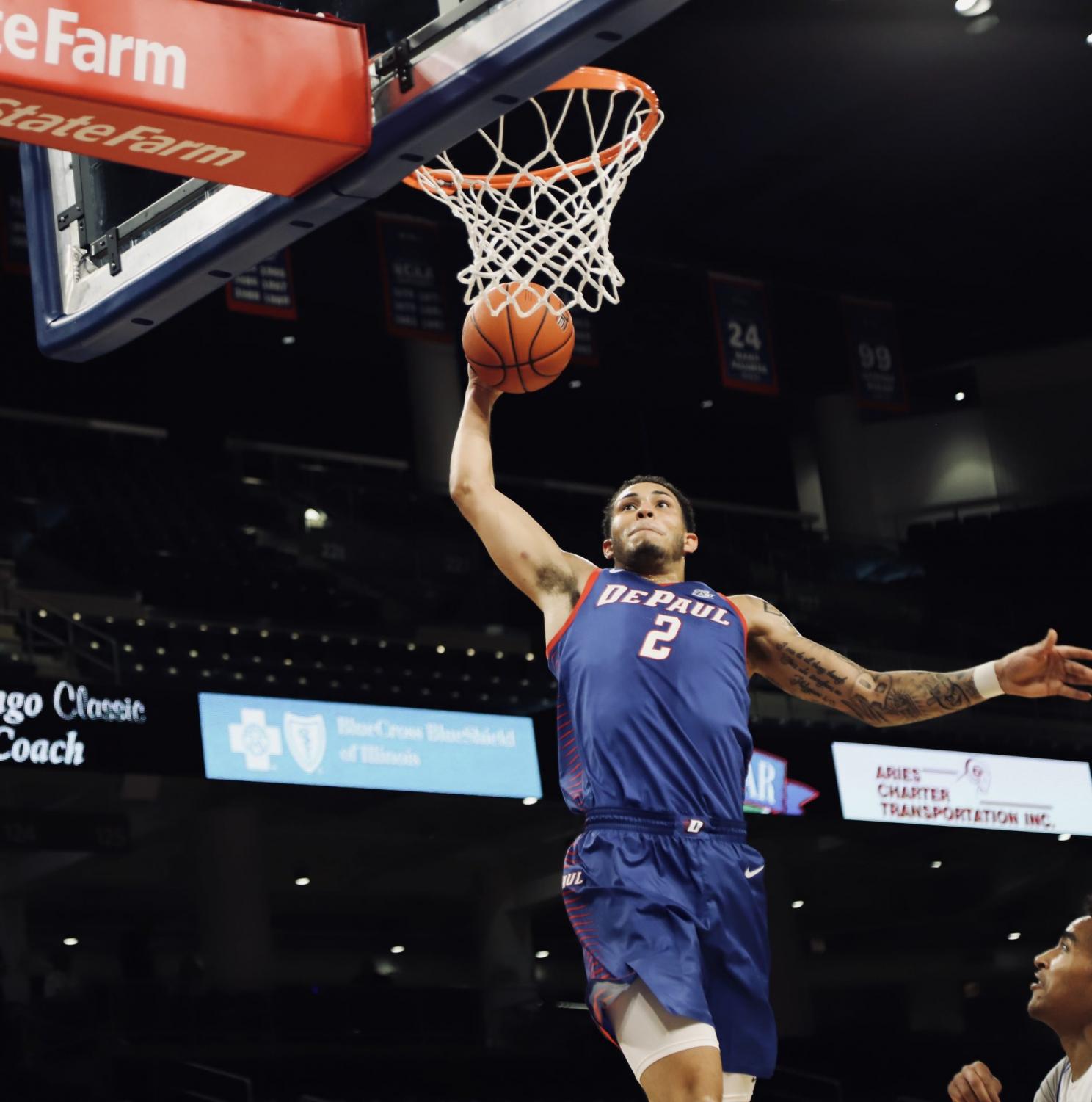 Throughout the entire night the Blue Demons would either get steals that would into easy points or force Marian into a shot-clock violation. But the one constant from the Blue Demons' defense was their relentless effort to not give the visitors any easy looks at the basket. 
"I think right now our defense is probably a little bit ahead of our offense in terms of getting more aggressive and using our length and athleticism," Leitao said. "So, I really like the fact that we challenged a lot of shots today. We've been talking about it a lot, especially lately. To be able to close out and challenge jump shooters is something we have to get a lot better at, but I thought we took a really good step from consistency standpoint. When a guy was taking a shot it was Markese [Jacobs], [Jalen] Coleman-Lands, it was a lot of guys challenging shots and I think that was big and it speaks to the potential we have."
While this game didn't present a major challenge to DePaul, it did give them a chance to play against another opponent and test out certain game plans and continue to build chemistry on the court. At least for one night, chemistry wasn't an issue because the Blue Demons combined for 19 assists. 
"I just like this opportunity for us to get on the court together," junior forward Jaylen Butz said. "Just being able to grow. Like coach talks about, being able to grow that chemistry and trying to figure each other and figure each others tendencies out."
DePaul will begin their regular season on Nov. 5 when they host Alcorn State at Wintrust Arena. Leitao is suspended for the first three games, and the team is still figuring out who will be the head coach for those three games.