DePaul improves to 5-0 after defeating Cornell 75-54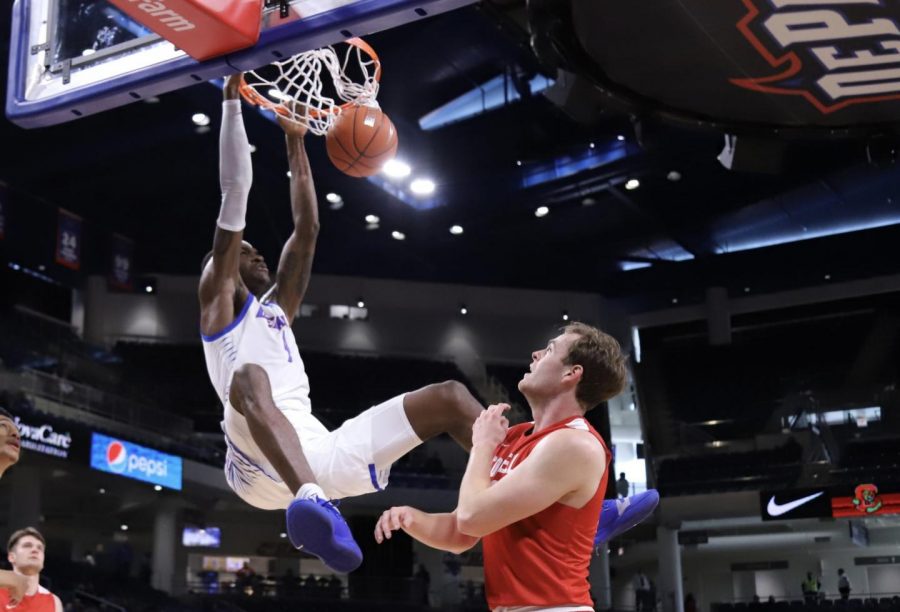 Coming off their first road win of the season against Iowa on Monday, DePaul made sure there was no letdown against Cornell on Saturday. The Blue Demons took care of business against the Big Red, defeating the visitors 75-54 at Wintrust Arena. 
After dominating Iowa in the Gavitt Tipoff Games, 93-78, the Blue Demons carried over that form against Cornell to win their fifth game of the season. 
DePaul got off to a quick start against Cornell, taking a 17-7 lead within the first eight minutes of the game. Junior forward Paul Reed scored eight of his game-high 18 points in that span, while also having three rebounds, two blocks and one steal. 
But after the Blue Demons' hot start cooled off in the following few minutes, Cornell was able to go on their run to take their first and only lead of the game. The Big Red, led by Jimmy Boeheim, went on a 14-3 run to take a 21-20 lead which prompted head coach Dave Leitao to take a timeout. 
"We just wanted to keep playing, I wasn't in any panic mode," Leitao said. "It wasn't like we were playing really badly. I thought we just had a few possessions in a row, as opposed to one here and one there, that we didn't do what we were supposed to do. We gave up some open shots and a couple of easy baskets. So, once we caught our rhythm back, and once we started subbing, and either the starters came back in or the guys that came off the bench came back in the second time they raised the level and allowed us to get the lead that we had in halftime."
After Cornell took a 21-20 lead, the Blue Demons followed that up by closing the first half on a 23-7 run to take a 43-28 lead into the break. DePaul's defense improved in the final 10 minutes of the half by pressuring and forcing Cornell to take tough shots. Junior guard Devin Gage came off the bench to ignite the Blue Demons on both ends of the floor, he had seven points and three steals in the first half. 
"Honestly, that's what we try to play off of our defense first and let everything else follow," senior guard Jalen Coleman-Lands said. "So, that's first and foremost, that's within our control and that's something we can always do."
The Blue Demons came out in the second half, maintaining their double-digit lead by continuing to attack Cornell inside the paint. DePaul used their size and length to take advantage of the Big Red by scoring 40 points inside the paint for the game. 
Coleman-Lands, who only scored eight points in the first three games of the season, had back-to-back games in double figures on Saturday. After only scoring three points in the first half, Coleman-Lands scored nine points in the second half to finish with 12 points.
"Honestly, it's just getting back to being myself, playing relaxed and my teammates trusting me," Coleman-Lands said. "Everyday in practice, do the same thing I do in practice and executing that on the floor. Just holding myself to that standard everyday."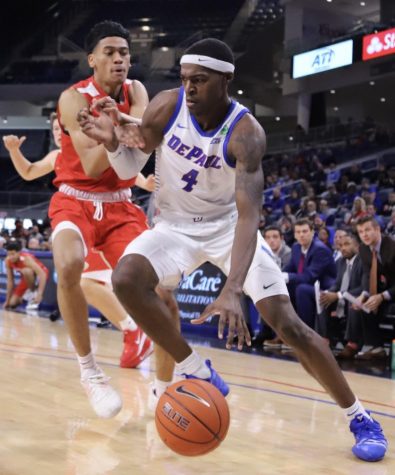 DePaul also managed to limit their turnovers to only 14 in the game after committing 21 turnovers against Iowa. They also dominated the glass for a second consecutive game by outrebounding the Big Red 42-29. 
"The first half we were lacking a little bit, giving them second chances and that's what I feel keeps teams in the game with us," freshman forward Romeo Weems said. "So, we tried to get all the loose balls, get rebounds, get out in transition." 
The Blue Demons had their most time off this season between games after the Iowa match, with Leitao saying that the team needed this extra time off to prepare both emotionally and physically.
"Sometimes it's good and sometimes it's challenging," Leitao said. "After four games in seven days we needed a break both emotionally and physically. But once we got to work, we actually took two days off which we hardly do, it was important to keep them fresh. This is a really difficult time because we are coming to the tail end of the quarter, and we want to make sure we finish off the right way academically. I want to make sure we have an opportunity from my vantage point to put the best group of guys on the floor emotionally and physically."
DePaul will get another lengthy break before their next game when they travel on Nov. 23 to face Boston College. The Blue Demons lost to the Eagles 65-52 last season at Wintrust Arena.
"We are completely different, they are completely different," Leitao said. "We were heavy on the three seniors, they had [Ky] Bowman and other guys. So, taking a brief glance at them they look really different. They are kind of like us, they spread the ball out, there's no one guy that they go to all the time, they are really energetic on defense. So, it will be a really good test but it will be different from last year because the personal on both teams is completely different.