Preview: DePaul looks to continue perfect start against Boston College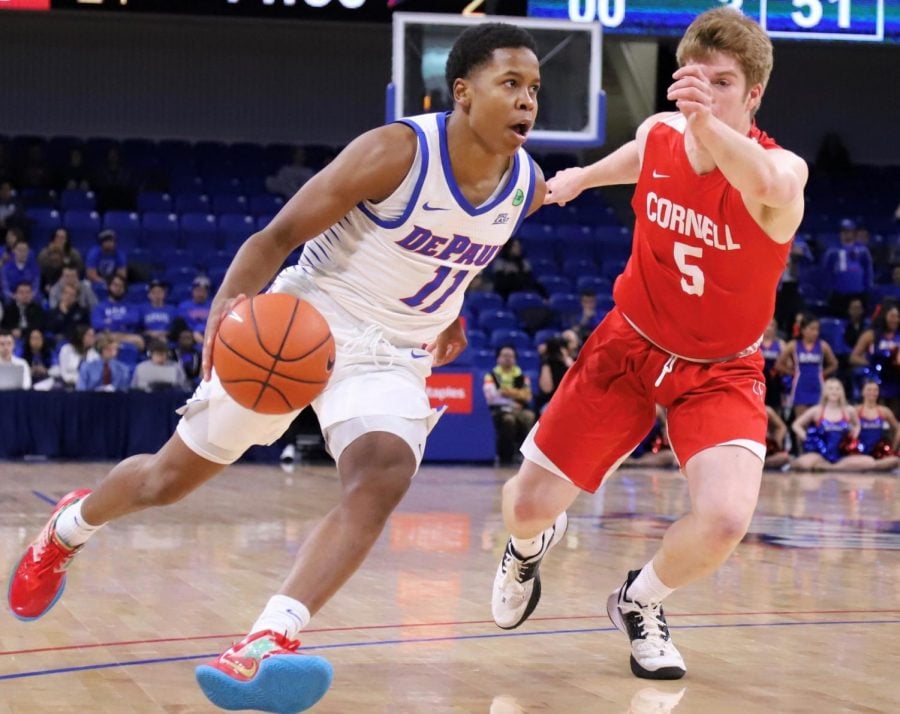 After beginning their season with five games in 12 days, DePaul had their longest break after the Cornell match to prepare for their next test. That test is a visit to Chestnut Hill, MA to face Boston College on Saturday. 
In their last game, DePaul knocked off Cornell 75-54 at Wintrust Arena to improve to 5-0. The Blue Demons have won their first five games by at least 11 points, and have held four of their first five opponents to under 60 points. 
Junior forward Paul Reed has begun the season by averaging a double-double, 15.4 points and 10.6 rebounds per game, and was named to the Big East Weekly Honor Roll last week. Reed's best game came against Iowa on Nov. 11 when he had 25 points and 12 rebounds to help the Blue Demons win 93-78 in their first road game of the season. 
Throughout DePaul's first five games, they have received contributions from different players in each game to help ignite the perfect record. In the first three games, junior guard Charlie Moore drove the team during head coach Dave Leitao's three-game suspension. Against Fairleigh Dickinson, Moore had 13 points in the final nine minutes to carry the Blue Demons to a 70-59 victory. 
But in the last two games, Moore only scored a combined 16 points — but other players stepped up during that period. Senior guard Jalen Coleman-Lands has recently found his shooting touch after struggling in the first three games of the season, against Iowa and Cornell the Illinois transfer scored a combined 29 points. 
Now, with their second road test staring at them in the face, the Blue Demons will need a complete effort from their team in order to prevail against an ACC team. Boston College comes into this game sitting at 4-1 after defeating Eastern Washington 72-68 on Wednesday. 
Here are three things to look out for.
Can Reed continue his hot start
When Reed was named the Big East Most Improved Player last season it was because he elevated his game substantially from his freshman season to his sophomore season. But now a junior, his numbers have skyrocketed due to the fact that he's been more involved in the offense. Last season, the team would call a couple of plays for Reed a game — but this season, Leitao is designing more plays for his forward and allowing him to dominate games from the start. 
Against Boston College, DePaul will need Reed to put in another game on both offense and defense. Reed will have his hands full with Boston College's Nik Popovic on defense, and will need to continue his dominance on offense in order for the Blue Demons to win.
Will Moore break out of his cold streak?
After beginning the season by averaging 19.3 points per game, Moore has cooled down the last two games by only scoring 16 games against Iowa and Cornell. With the Blue Demons not having much trouble dealing with those teams, Moore wasn't asked to play savior in those games. But if the game against Boston College is within a few points in the last couple of minutes, the Blue Demons will need their transfer guard to make and create plays for the offense in order for DePaul to have a chance in the end.
Which leads to the next question.
Did DePaul learn from last season's loss?
Last season, Boston College walked into Wintrust Arena and only held the lead for 32 seconds but that was enough to get a 65-62 win against the Blue Demons. DePaul controlled the entire game, but when it came to closing out the game — DePaul looked completely lost on offense and defense. Nearly a year later, against the same opponent, this will be a good test to check to see if DePaul has learned from their past mistakes. While the two teams are different this season, the way DePaul play in the final few minutes will be a major factor in deciding if the Blue Demons walk out with their sixth win or first loss of the season. 
DePaul goes into this game as a two-point favorite with tipoff scheduled for 11 a.m.