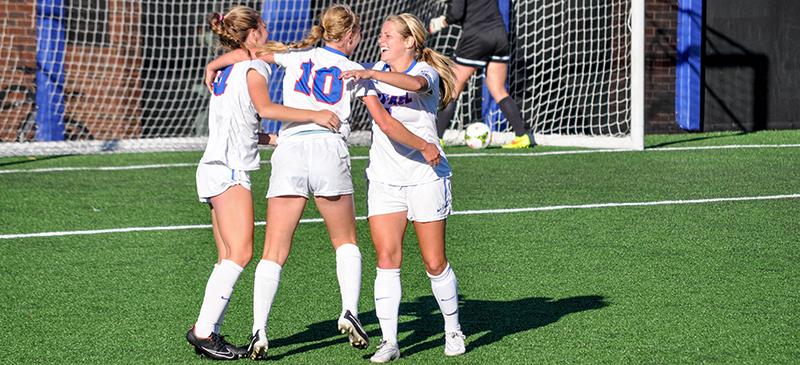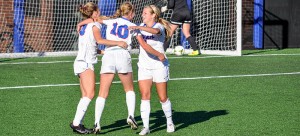 A loud standing ovation greeted the DePaul women's soccer team as they walked over to the stands to acknowledge the fans who came to watch them. DePaul had just beaten Creighton 2-0 off a strong defensive performance and improved their record to 12-0-2 on the year. 
Still undefeated.
The No. 9 Blue Demons are one of two remaining undefeated teams  left in the nation — the other team being No. 1 UCLA.
"I can't even describe it," junior forward Elise Wyatt said. "It's just such an amazing feeling to still be undefeated and to get a win on our home field, which propels us into our next game."
After two road wins in a row, DePaul came back to Wish Field on Saturday to take on a Creighton team situated in the middle of the pack in the Big East. The Blue Demons were able to put on one of their best defensive performances of the year, only allowing two shots on goal in their fifth shutout this season.
On the other side of the ball, Wyatt scored on a cross from Rachel Pitman in the 38th minute, her ninth of the year. Amber Paul scored her sixth goal of the year off of Alexa Ben's team-leading seventh assist of the year in the 57th minute. The variety of playmakers, Wyatt said, is a big part of the team's undefeated season.
"Last year it was hard to score goals, and I think that's what's special about this group," Wyatt said. "Everyone can score, everyone can put it away and everyone does their job."
Senior defender and captain Rachel Pitman said having a high-powered offense helps the defense as well.
"Just because we've never had so many people scoring, it takes the pressure off the defenders and the defense as a whole," she said. "We're trying to keep a shutout ,but it makes it that much easier if people are scoring for us."
In the midst of a stretch where the Blue Demons played four out of five games on the road, continuing to achieve solid results has boosted the team's confidence as they head into the final four games of the regular season.
"Our group is really focused game-to-game and we understand that there are good teams in our conference and any given team can win on any given day," DePaul head coach Erin Chastain said. "I think it's good for our confidence to get results."
"I think we needed a home win to bring everyone together, and when we get a shutout it's one of the best feelings because they couldn't break down our defense," Wyatt said.
As the confidence builds, however, the team is wary of going into games overconfident.
"Obviously we're very confident, but I think we take it a game at a time," Pitman said. "We're not overconfident in that we'll take teams lightly and that we can easily beat them because this conference is so tough."
With games against the two teams tied with DePaul at the top of the Big East, Marquette and St. John's, still to come, the Blue Demons are still coming into games with a hungry attitude.
"We get confident the more that we play and the more that we win," Pitman said. "But I also think that this team is a really humble team and no matter who we play, we always play like we're the underdogs."
Pitman said the underdog mentality has been a driving force in getting the team to their undefeated record and their standing atop the Big East conference. The same ideals of avoiding distractions or complacency, she said, will need to continue to be practiced.
"We're all together in saying that we don't want to get ahead of ourselves because, realistically, you can still throw it away," she said. "If you start to get complacent, that's when you can start losing games you should be winning."
With four matches to go, DePaul has their eyes set on more achievements to this already special season. There's still the Big East tournament to clinch a berth in and the chase for the regular season title, as well as possible entrance into the NCAA tournament. Chastain said that the team has realized their successes to date but are still searching to meet their goals.
"I really like our group, it's fun to be at training, it's fun to be around them and I feel lucky to be a part of this season," Chastain said. "But we're not satisfied with where we're at yet."