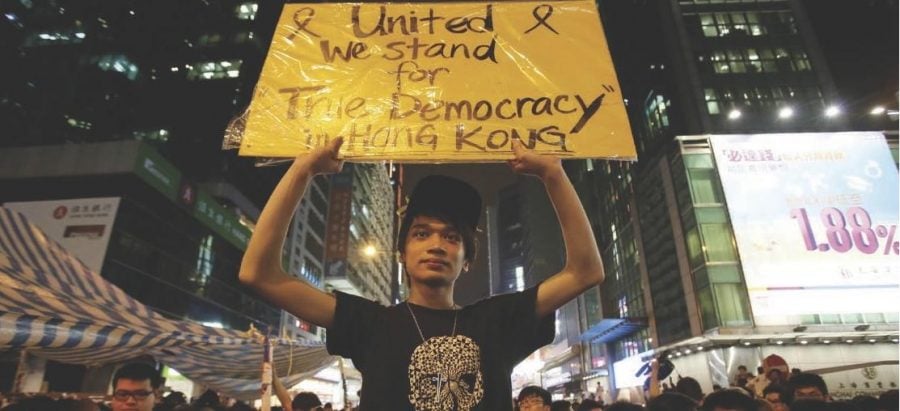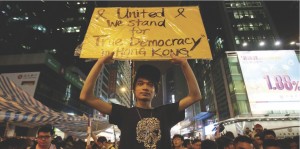 Pro-Democracy riots continue in Hong Kong, raise questions of stability
Long-bubbling discontent about issues of democracy in Hong Kong finally reached a boiling point, as tens of thousands of protesters have gathered throughout the last few weeks to cry out against the perceived injustices of the Mainland Chinese government.

The student-led protests, dubbed Occupy Central or the Umbrella Revolution, began in earnest on Sept. 22. They largely centered around Beijing's recent refusal of a proposal for Hong Kong to more freely elect its leaders by 2017. Although Beijing claimed to provide an alternate path toward free elections, they proposed a system whereby candidates for Hong Kong chief executive — its highest position of power — would have to be controlled by Beijing officials.
The total number of protesters has grown and ebbed throughout the past few weeks, but faced a recent resurgence and was estimated by Singapore based newspaper The Straits Times to number more than 10,000 people as of Oct. 10. Protests have effectively shut down parts of the city as they occupied many of the streets within the city's financial center. According to The Straits Times, the protests create an estimated economic loss of $38 million per week of continuance, and the stability of the area — a financial powerhouse that is the fourth-largest recipient of foreign direct investment in the world — has become a major concern for the international business community.
Police have not reacted kindly to the protests, at times utilizing equipment such as tear gas and pepper spray with seemingly little restraint. Additionally, many protesters had been attacked and injured by pro-government counter demonstrators. CNN reported that at least 56 people have been injured since the start of the protests, and at least 89 have been arrested.
Stan Hok-Wui Wong, a professor at Chinese University of Hong Kong, told Bloomberg Businessweek, "There are people in Hong Kong (who) fear if you push too hard then you may replicate the Tiananmen incident here."
On Oct. 6, the city government opened up a dialogue to negotiate with the student leaders. However, on Oct. 8, government officials called off the talks because of protesters' refusal to budge from their previous demands.
"Unfortunately, the protesters rejected the (government's) rational proposal and went back to their old position," Carrie Lam, chief secretary of Hong Kong, said. "This is sacrificing public good for their political demands."
Members of the community have grown increasingly concerned over student demonstrators' welfare. The president of the City University of Hong Kong sent a message to its students on Oct. 3.
"I understand that many of you feel strongly about political reform in Hong Kong, and that you wish to have your voices heard. … In the meantime, I appeal to our students to continue to remain calm and to support peaceful discussions. … Do not stay in areas where your personal safety might be at risk," parts of the message read.
Although international governments are unlikely to intervene in the situation because of China's economic clout, many members of the private international community have come out in support of the demonstrators.
Publications such as TIME have produced high profile feature pieces in favor of the protests.
Li Jin, DePaul's program director of Chinese studies, said that in addition to international media activity, "It has been reported that some American non- government organizations have been providing support to the demonstrators. However, eventually the responsibility for seeking a workable solution falls on the Hong Kong government and its residents."
Historically, Hong Kong was previously a colony of the United Kingdom, but was handed over to the Chinese government in 1997. Currently, the region is given certain unique economic freedoms and administrated as a "special administrative region" under a form of rule known as One Country, Two Systems.
Notably, full voting rights never existed under U.K. rule. However, many in Hong Kong had expected democratic rights to develop in the years following the handover. Chapter 1, Article 5 of Hong Kong's Basic Law document — which is analogous to their constitution — reads, "The socialist system and policies shall not be practiced in the Hong Kong Special Administrative Region, and the previous capitalist system and way of life shall remain unchanged for 50 years."
In the years since the handover, however, some thought that these ideals of civil liberty had been violated. In 2006, Hong Kong legislators had passed a bill giving the police wide authority to wiretap phones and monitor communications, and Reporters Without Borders have dropped Hong Kong from 18 to 61 in its Press Freedom Index since 2002, the first year of the Index's existence.
Reporters Without Borders recently stated, "China's growing economic weight is allowing it to extend its influence over the media in Hong Kong, Macau and Taiwan, which had been largely spared political censorship until recently."
"Hong Kong residents have (actually) held quite a number of protests in recent years," Jin said. "Hong Kong residents, especially the younger generation, are quite sensitive about the democratization process (they) are going through."
Despite these concerns, however, some doubt as to whether the protests will lead to any long-term changes in the way Hong Kong is governed.
"In China, stability is a very important concept for many, especially economic stability," Yuhao Chen, a DePaul grad student from Shenzhen, a Mainland city across the border from Hong Kong, said. "Although they have the right to assemble, most people may be more worried about harming the image of Hong Kong."
"In mainland China, it is likely that more than 50 percent don't ideologically support the protests," Chen said.
With animosity boiling, the eyes of the world will likely remain on the Chinese to see whether developments there will affect the long-term stability of this global financial center. Protest leaders have made their intents clear to continue protests indefinitely until satisfactory negotiations are made.
"(Let's) occupy every inch of the streets," 17-year-old student leader Joshua Wong said on Oct. 10