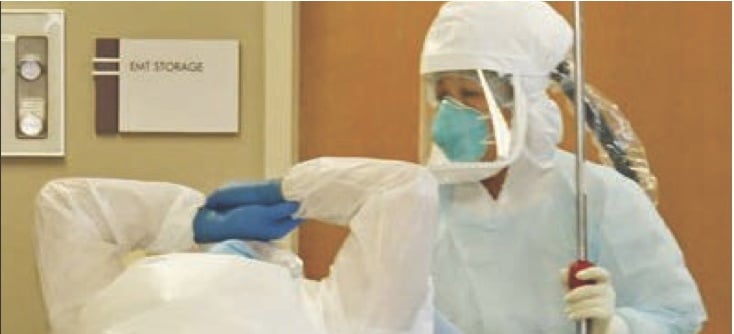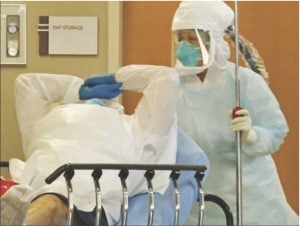 Treatment strategies pose questions of equitability between Americans, Africans
The first time his finances didn't stand in the way of his travels to the United States, Ebola did. Thomas Eric Duncan, 42, died in Dallas on Oct. 8 at 7:51 a.m.

Duncan, the first Ebola patient diagnosed in the United States, was a Liberian native. He left home Sept. 19, U.S.-bound for the first time. He was supposed to visit family and friends whom he hadn't seen in many years: his mother, fiancee and 19-year-old son, Karsiah Eric Duncan — who has no recollection of his father. Presumably in good health, he reached Dallas on Sept. 20. By Sept. 25, he checked into the emergency room on account of abdominal pains, according to The Washington Post.
He was sent home with merely a fever of 101.1 degrees. "(The problem is) we don't train our doctors in our health care system to think about diseases from other countries," Craig Klugman, DePaul's Chairman of the Department of Health Sciences, said.
Ebola, formerly known as the Ebola Virus Disease (EVD), first reared its head in 1976, taking its name from a river in northern Congo. Upon its discovery, however, it was found that the virus was divided into five strains: Ebola-Zaire, Ebola-Sudan, Ebola-Ivory Coast (Côte d'Ivoire), Ebola-Bundibugyo and Ebola- Reston — named by their areas of detection. Of the five strains, the Zaire strain was first observed and has proven itself most problematic, causing 10 large outbreaks with fatalities ranging from 57 percent to 88 percent.
Those who contracted the virus experienced symptoms of sudden fever, weakness, muscle fatigue, abdominal pains, diarrhea, vomiting and unexplained bleeding and bruising. According to the Centers for Disease Control and Prevention, it takes an average of eight to 10 days for symptoms to show, but they can start as early as two and as late as 21 days after exposure. The virus can be transmitted through bodily fluids (blood, urine, sweat, feces, vomit, breast milk, semen, etc.), infected animals and objects contaminated with the virus.
Experiencing the beginning symptoms of Ebola, Duncan was rushed back to the Texas Health Presbyterian Hospital Sept. 28. Two days later, he was officially diagnosed. Duncan was the first human patient ever given the experimental drug brincidofovir. "These are experimental drugs … so we have no idea if they even work," Klugman said.
The death of Duncan raised the question: Who gets to survive Ebola? Nearly all survivors thus far have been Caucasian Americans.
Patrick Sawyer, 40, the top official in Liberia's Ministry of Finance, was the first American to die of Ebola in July. He was taken to a local Nigerian hospital after collapsing, and died there five days later. Sawyer was an African-American.
Dr. Kent Brantly, 33, of the U.S.-based missionary group Samaritan's Purse, was the second recorded American to contract the disease, but the first whose story gained international coverage. As the medical director at a care center in Monrovia, Liberia, Brantly was unsure of how he contracted the virus. In July, around the same time Brantly contracted the disease, his colleague and dear friend, missionary Nancy Writebol, 59, also fell victim. The two were flown to Emory University Hospital in Atlanta for treatment, where they were given the experimental drug ZMapp.
Fellow missionary, Dr. Rick Sacra, 52, also contracted the virus in Liberia while delivering babies at a general hospital in Monrovia, CNN reported. Sacra received a blood transfusion, courtesy of Brantly, which contained antibodies that those infected with Ebola needed to help their immune system combat the fatal disease. He also received an experimental drug called TKM-Ebola, which was recently approved by the FDA for expanded use.
In stark contrast, the infected people in West Africa have received no experimental drugs and are confined to makeshift hospitals that are short on beds, resources and staff. Often family members are left to care for their loved ones, causing entire families to be exposed to the virus. A few foreign nations are working together to help send more aid, but their efforts often aren't enough.
"In reality, there is nothing we can do but provide proper support and care," Klugman said.
The latest World Health Organization statistics show that as of Oct. 8, 3,865 fatalities and 8,033 suspected or confirmed cases of Ebola have occurred in the West African outbreak.
"The way for us to help stop this from becoming an epidemic is to stop it at the source, (that means) prevention in Africa," Klugman said.