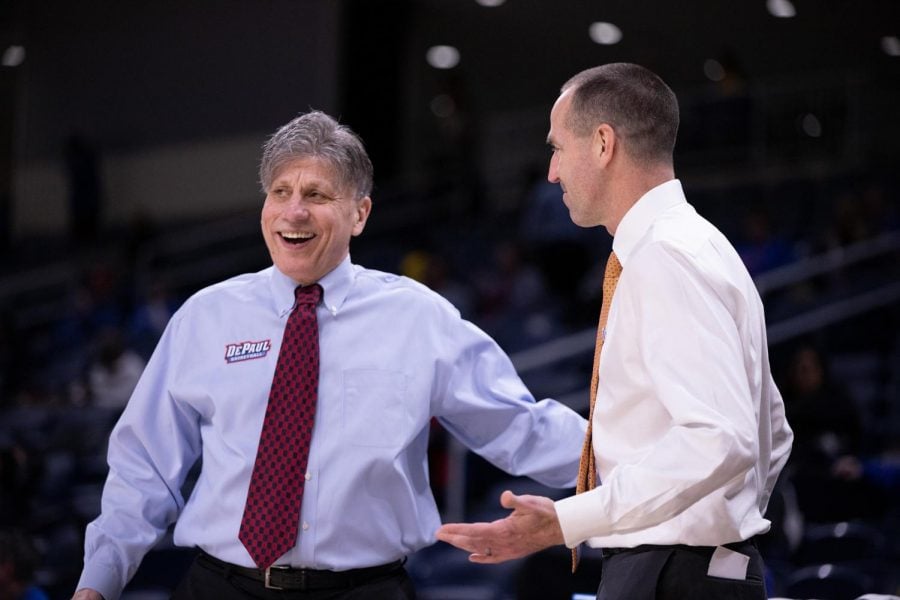 Alexa Sandler | The DePaulia
DePaul's women's basketball coach Doug Bruno was named one of the 12 finalists for induction into the Women's Basketball Hall of Fame, announced during an ESPN broadcast Thursday night during the Baylor vs. Connecticut game. 
Bruno joins Debbie Brock, Carol Callan, Swin Cash-Canal, Tamika Catchings, Sue Donohoe, Lauren Jackson, Lucille Kyvallos, Lisa Mattingly, Paul Sanderford, Bob Schneider and Carol Stiff as finalists for consideration.
Some of the 12 finalists will be selected as inductees to the Class of 2020 on Feb. 10 during the 6 p.m. ESPN2 broadcast of Connecticut vs. South Carolina. From there, the Class of 2020 will be announced at the Women's Final Four in April. 
This will be the 22nd class inducted into the Hall of Fame since the first ceremony in 1999. Bruno is one of four coaches in this batch of finalists.
Bruno's legacy at DePaul spans over three decades as a player, member of the athletic department, coach and figure of the university. He first coached the team in 1976 and took the team from 7-12 to 16-6 in two seasons. 
Bruno left to coach the Chicago Hustle, a professional team in the Women's Professional Basketball League. There, he coached in the first professional women's basketball game on U.S. soil. 
The Chicago native later returned home and spent eight years as an associate head coach with the Loyola men's team. Finally, after ten years apart, he found himself back at DePaul coaching the women's basketball team in the 1988 season.
32 years later, Bruno has lead the Blue Demons to 24 NCAA tournament appearances, including 17 straight. During his time at DePaul, he's racked up over 700 wins and numerous conference championships. 
Outside of DePaul, Bruno has made a lasting impact on the game of women's basketball. He won six medals with USA Basketball and has run the Doug Bruno Girls Basketball Camp since 1980. 
He also served two terms as President of the Women's Basketball Coaches Association.
Through all of his accomplishments, Bruno credits the people around him for helping him do his job. After winning his 700th game against Northwestern on Dec. 1, Bruno was not ready to take any credit.
"First of all, the wins are always about the players," he said. "The players win the games, and I've been blessed with great players through the years. I have been blessed with great assistant coaches, and I've been blessed with great administration. So, that's really why we win basketball games here at DePaul women's basketball."
One of his former players has stuck with him for his whole career. Current Athletic Director Jean Lenti-Ponsetto was the captain of Bruno's first team, and a colleague and friend over the past few decades. 
"It's been an incredible journey watching the growth of our women's basketball program under his leadership," Lenti-Ponsetto said.
Bruno's coaching style has been quite unique to him his whole career. He has been using the 3-point line way before analytics made it the norm in basketball. His teams press up the court and defend at 94 feet, a feat that not many coaches can get players to even attempt. 
Yet his masters degree in Education sets him apart. 
"He is a teacher by trade," Lenti-Ponsetto said. "He really understands people's learning styles. And I think that separates him from a lot of other coaches because not only is he a terrific motivator, but I think he really gets inside the nuts and bolts of how people learn and then he instructs accordingly."
His players respond to his style very well. When asked about their favorite "Bruno-isms," players' faces lit up, eager to talk about their coach's sayings. 
"He always says, wake up in the morning with a smile," senior forward Chante Stonewall said. "Show the world you're beautiful. Thank God for an opportunity to play another day."
He also influences on the court, as seen by the continued success of the team. Sophomore guard Lexi Held is only just into her second season at DePaul, but she's fit in seamlessly. 
"He challenges us to stay in the moment and I think that's important," Held said.
It isn't just about making his players better on the court, it's also about helping them through life. "Just competing in everything you do, so whether it's on the [court] or in the classroom, [he preaches] striving for excellence in whatever you do," senior guard Kelly Campbell said.
Bruno has always been about players-first. "It's more than just basketball when you play for coach Bruno," former player and current video coordinator Jacqui Grant said. "He would just give you a lot of confidence."
Coaching a team for this long is a lifelong mission and dedication that not many people are built for. Bruno's son Bradley is the current Director of Basketball Operations and he's known about that commitment his whole life. 
"This is my fourth season so after seeing how much time and effort goes into getting one recruit and winning one game and he's been doing it for 35 plus years now," he said. 
The idea of the hall of fame isn't too daunting to Bruno. His process-oriented approach to coaching keeps the team in the moment. 
"A Hall of Fame doesn't exist without players," he said after their game against Seton Hall on Friday night. "It's always about captains, leadership and seniors. It's about the players. We try to stay in the moment, coach game by game, minute by minute, day by day and then years pass and all of a sudden numbers accumulate." 
Numbers grow to over 700 wins, 24 NCAA tournaments, six gold medals, but it will always be about the moment. "But really it was about four minutes to go [against Seton Hall] and they scored seven straight tonight, then I wasn't thinking about anything but stopping the bleeding at the moment," Bruno said. 
That's just coaching, and that's just life.