Chicagoans swarm dispensaries in first week of recreational cannabis sales
By 6 a.m. on New Year's day, thousands were already lined up outside the many newly-minted recreational cannabis dispensaries across the state. Less than 12 hours later, most Chicago dispensaries were completely smoked out. 
January 1, 2020 marked the day that more than 250 new laws went into effect in Illinois. Recreational cannabis consumption and sale has proven to be the most popular with consumers. Adults 21 and over can now buy up to 30 grams — about one ounce — of cannabis flower. 
Residents can also buy no more than 500 milligrams of THC edibles and five grams of cannabis concentrate products. Wisconsin and Indiana residents don't need to be too jealous because non-residents are able to buy half of these amounts.
At Sunnyside dispensary in Lakeview, customers on opening day were lucky enough to buy cannabis products until its scheduled close at 10 p.m. — at least those willing to brave the eight-hour wait. Starting well before noon, lines stretched down the block and across the street before patrons were led inside Uncommon Ground restaurant and Greenstar Brewery, where the line continued for another four hours. By 3 p.m., Sunnyside had closed off the line to new customers. 
Sunnyside employees patrolled the lines all day handing out Sunnyside-branded water bottles, tote bags, lighters and free pizza. Local sandwich vendor Fat Shallot arrived late in the afternoon with a food truck sponsored by Weedmaps — a cannabis tech company with an app that helps medical and recreational cannabis users locate dispensaries across the country — stocked with free coffee, donuts and turkey sliders.
Aaron Burzak, a 29-year-old Chicago resident who has been a regular smoker for about 10 years, said he was excited to come out for the first day of recreational sales. His experience, however, wasn't what he had hoped. 
 "Grueling — I think grueling is a good word for it," Burzak said. "I was anticipating to spend a good amount of time in line, but it ended up being about two-three times more than that and that was a little disheartening. 
"But now we are on the other side and I feel like I accomplished something even though all I did was buy drugs," he said with a laugh.  
For customers stuck near the back of line come early afternoon, the frustration was growing. Customers groaned as the line inched forward while employees thanked them for their patience and apologized for a slow computer system due to the high demand. And to make matters worse for customers, Sunnyside managers set special restrictions on how much product customers could purchase in an effort to ensure all customers walked away with "something." 
"Remember, this is the first day of a long journey," one Sunnyside manager said to a large portion of the remaining line. 
Much like Burzak, most customers weren't angry about the wait, but disappointed in the transparency regarding exactly how long they would be waiting.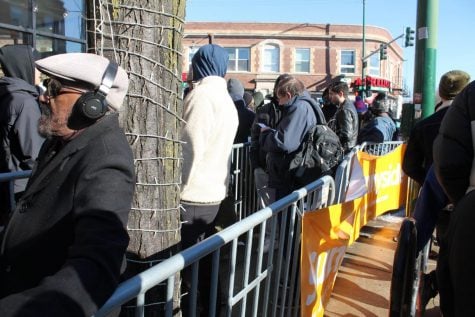 "I think the amount of people was probably what lead to the biggest issues, there may have been some other system issues that they aren't telling us," Burzak said. "But my biggest frustration was just being told the wait was going to be four hours and then being there for over eight. I just wish they had given us a more accurate estimate."      
The long wait wasn't the only factor that upset consumers around the state. Many have criticized the high taxes placed on the product, making it much more expensive than buying it off the street. 
At the moment, products with THC levels below 35 percent are taxed at 10 percent; those with THC levels over 35 percent are taxed at 25 percent. Any product with levels of THC over this are currently taxed at 41.25 percent in Chicago. 
NBC Chicago reports that Illinois has the second-highest taxes on cannabis of the 11 states that have legalized its recreation. The highest taxes are found in Washington state.
Illinois' relationship to cannabis has been a short one. Illinois first prohibited the use of cannabis in 1931, and not much movement came after that until 2013 when the Illinois General Assembly passed the law for the legalization of medical cannabis. 
In 2016, lawmakers reduced the punishment for anything less than 10 grams of the flower with a $100-$200 fine. Before, this would have gotten the user a misdemeanor. Finally, on May 31, 2019, the Illinois General Assembly passed the Illinois Cannabis Regulation and Tax act that would legalize recreational use starting this year. Pritzker signed the bill on June 25, 2019, and cannabis enthusiasts waited patiently until the day many deemed "Weed Day."
The taxes might not be the biggest worry to the consumer at the moment. Many of Chicago's cannabis shops have seen their product dwindle in their first two weeks open to recreational business.
The high demand for the product has caused a shortage in cannabis flower and other THC products, with Sunnyside closing all of its four locations last Monday to both give their employees a break and find their bearings before reopening. They opened to the public again that following Tuesday at 9 a.m. with a limited supply. 
By the end of New Year's Day, Illinois's cannabis shops pulled in $3.2 million in sales on the first day of business, selling out the majority of available products (Oregon is the only state to best Illinois' first day of sales, bringing in nearly $3.3 million). Five days later, that figure had ballooned to $11 million, and lines remained hours long at some dispensaries. 
Check out The DePaulia's interactive map of dispensaries accessible by the CTA here.