The Bean vs. Starbucks: DePaul students compare prices at the two competing coffee shops
Hang on for a minute...we're trying to find some more stories you might like.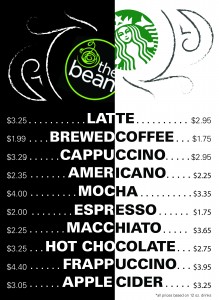 While cramming for a late-night study session or getting up early for that 8  a.m. lecture, many college-age students have felt that incessant need for coffee. DePaul's own stop for coffee, smoothies, or snacks, The Bean, is quite popular among students on campus. It brings up the question, however, of which is more popular: The Bean or Starbucks?
While there are seemingly always long lines at The Bean's Schmitt Academic Center location that often wrap around the room in the afternoons, the local Starbucks under 1237 West still seems to gather a large amount of business.
For many students, the reason for the large rushes of business at The Bean seems to be accessibility; students can stop by before or after class to grab coffee and already be in or near the location of their next class.
Starbucks, in contrast, is just far enough away that is it off campus and away from the busy lecture halls that students frequently visit during the weekdays. The Bean in the SAC is the busiest in the morning around 9 to 9:30am, and also in the afternoon, around 2 to 2:30pm, these being the prime times to grab coffee before or after common lecture hours. Starbucks, on the other hand, is busier with students in the afternoon around 3 to 4pm, because most people are there to study or relax, instead of rushing to grab what they need for the day.
Another reason The Bean is a frequent stop for students besides the study space is the financial aspect. The Bean is synced up with DePaul's meal plan, so any student who has one can freely spend their account money there.
"Honestly, the only reason is because it is covered with my meal plan, so I'm not paying out of pocket, like I would at Starbucks," said freshman Emma Givens. "It's close by to all of my classes, which is helpful."
In terms of quality, Givens said that The Bean is not bad, but that it cannot compare with the diversity of options Starbucks provides.
"The Bean isn't bad at all, but there are only a few select flavors if I'm looking for a good cup of coffee, whereas Starbucks has various roasts, which I like." Givens said. "If I'm looking for a smoothie or cold drink, I go to The Bean in the Ray (Meyer Fitness Center), because that's what I crave after working out."
For freshman Hannah Nicholson, however, Starbucks is the clear choice.
"I don't like The Bean as much as Starbucks because it's overpriced," she said. "You get bigger cup sizes for what you're paying at Starbucks, so if I get coffee I'm going to go there."
As it is for many students, proximity plays a role. Nicholson lives in 1237 West, much closer to Starbucks than to either Bean location.
"Well, I live at 1237 West, so my meal plan isn't my primary source of food," Nicholson said. "Since I buy my own groceries, it's not as big of a deal to buy coffee."
Comparing the price of 12-ounce drinks, The Bean's prices are slightly higher for most of the drinks. However, the difference is not very drastic.
"I like The Bean, but if money wasn't an issue I'd probably revert back to my Starbucks addict habits," Givens said.