Multicultural grains of flavor
A pot is sitting on the most used burner on the stove, waiting for a culturally filled staple food to grace its stainless steel walls. The water is at a roaring boil and is now ready to begin the cooking process. Opening up the cabinet and you see it – a bag of rice.  
Rice is one of the most transformable foods in the world, and is the most important food crop of the developing world, according to Ricepedia. Rice, wheat and maize are the world's three leading food crops and combine for more than 42 percent of all calories consumed by the entire human population.
Any part of the world offers a brand new way of eating rice. Americans eat 20 pounds of rice every year, but other parts of the world consume far more. According to the U.S. Rice Producers Association, people in Asia eat up to 300 pounds a year. Residents of the United Arab Emirates consume 450 pounds per year. Meanwhile, in France, each person consumes an average of ten pounds of rice per year. 
Rice is a staple food item that can be found in multiple different cultures. It can be found basically anywhere – except for Antarctica. It brings people together, whether it be breakfast, lunch or dinner. It can come in such variety and flavor and can be a side or an entire meal. The endless culinary possibilities of rice give it significant cultural depth. 
Hawaii has some very well know rice dishes such as loco moco and musubi. Hawaiians have the highest per capita consumption of spam in the United States. One popular dish in Hawaii is musubi. Delicious spam cooked in a skillet with soy sauce, sugar and oyster sauce. The sauces create a crust that gives a good bite to the spam. You put it all together with super wet fingers to form the sticky rice on the seaweed and then you have yourself a delectable Hawaiian creation.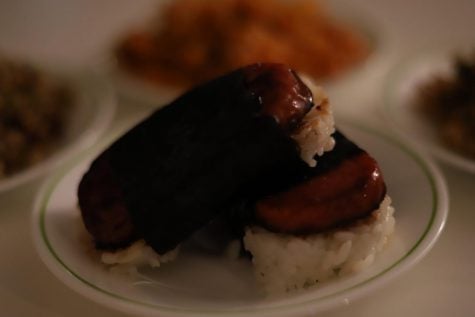 "When I was little, I would make musubis with my grandma after soccer practice," said Rebecca Ouchi, a Honolulu native. They're the perfect savory snack and can commonly be found near cash registers at convenience stores.
Ouchi said that she eats a musubi on her way to work daily. Musubis are so entwined in Hawaiian identity that is has become an icon in culture, with cartoon versions found as pillows, on stickers and more.
A popular Asian rice dish is fried rice and white rice. Nine out of every ten people in the world who eat rice are of Asian descent, according to ricepedia. China alone consumed more rice than any other country. It is used in almost every meal or just made to have by itself. 
Fried rice is simple yet creative. There are multiple options and possible combinations of ingredients. Oiling up a wok and cooking a chicken breast with salt and pepper is the start to this dish. After that, adding in some mixed veggies gives it more flavor and color. A splash of yellow fills the pan when the eggs are poured directly in. Fry the rice with all of the flavors in the wok and end with soy sauce, sesame oil and pepper to taste. Takeout will never be the same.
"I would say rice would be a staple of our culture, fried rice is just one of the many types of rice versions," said Yi-Hsuan Shih, a graduate student at DePaul. "It's convenient to make, the price is cheap, and fried rice could contain every kind of food you want, like meat, vegetables, ham, etc. all mix together. And there are many kinds of Chinese fried rice."
Spanish rice is a popular dish amongst the Latinx community. Spanish rice is an unknown dish in Spain and is not used by Mexicans even though it is called Spanish rice In Mexico. It is simply referred to as "arroz rojo," or red rice. It is commonly used as a side dish when placed next to other tasty dishes, such as tacos or enchiladas.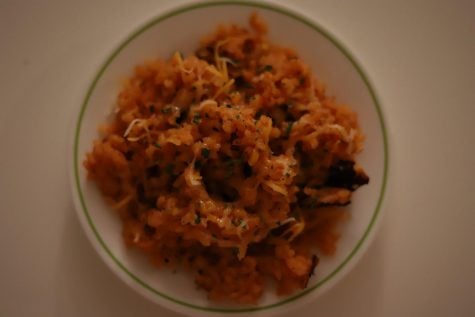 There are many different ways to make Spanish rice. One thing to always do is brown the rice in oil before putting in any liquid. After that, add water, chicken broth, or both, to the pot and mix in tomato sauce. Add in some seasoning to give it spice and a good kick. It's fluffy, soft and the leftovers make for the most delicious breakfast burritos the next day. 
"As a little girl, my grandma would make me rice and I would eat bowls of it," said Melyssa Martinez-Guzman, a senior at DePaul. "And now as I'm older and I want to learn how to cook I watch my mom and she lets me help. It's like if you know how to make that rice then you could learn how to make any dish."
Some easy and convenient rice dishes are ones that come right out of a box. Rice-A-Roni is a yummy meal that can be transformed into a meal with veggies and protein. Get yourself a box of beef-flavored rice and add in lean meat with carrots and you'll have yourself a perfect meal for lunch the next day.  
Those tiny grains of rice are unstoppable in any culture. Bringing an endless adventure of taste and excitement. Rice adds a different element to multiple dishes and one of the best things of all is the price. Enjoy incredible dishes and only spend three dollars while you do it.
View Comments(1)