DePaul's historic season sees new life with win over No. 5 Bulldogs
Saturday was a game that the Blue Demons needed desperately. Sitting at 0-4 in Big East play without a win since Dec. 21 against Northwestern, DePaul was due for a game like the 79-66 drubbing of No. 5 Butler.
Reeling after a four-game losing streak with the demons of their past knocking on the door, DePaul and head coach Dave Leitao made a statement that cemented them as a team to stick around in the Big East.
The skill of the Blue Demons is undeniable even during a losing streak. Questions could be raised about different parts of their game, but the 12-1 start to the season let everyone know this potential is there.
"If we come together, I've said all year that we can beat anybody," Leitao said.
On the opposite side, things can get ugly quick in this conference. And a loss against Butler would have continued the bleeding.
"But also if we don't [come together], anybody in this league can beat us," Leitao added after the game.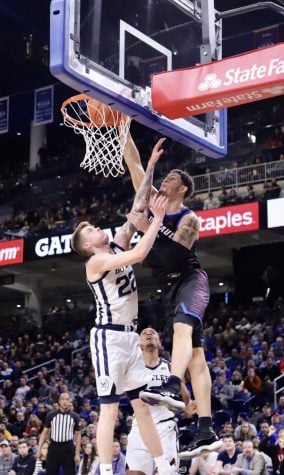 This caution and calmness has been typical of Leitao this season. It's one of the most promising starts and talented group of players he's had at DePaul. Even during the lowest points of the season, there has been a level of faith.
The defensive identity that the team took on is part of a system that the coaching staff drew up that the players bought into with such intensity. All five starters play their defense on a high level.
"I love playing defense," freshman Romeo Weems said. Weems has played a locked-in defense all season – the six feet seven inches wing had three steals and a block to go with his 11 points on 3-of-4 shooting from beyond the arc.
Most of the former Michigan Mr. Basketball's impact doesn't show up in box scores. "Going out and doing it for my teammates – trying to make the game easier – that's my role," he said.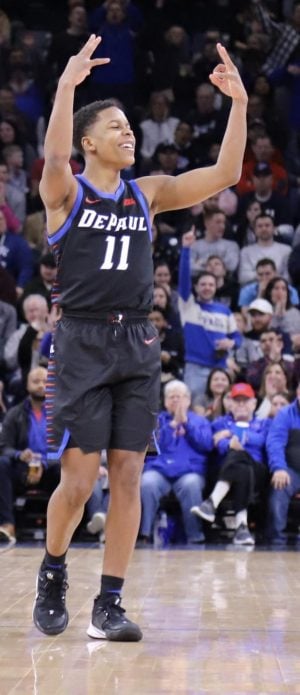 The Blue Demons played a gritty game reminiscent of their contest at Iowa on Nov. 11 where they blew the Hawkeyes out of their own building. Speed and athleticism were big factors for DePaul, who was able to get whatever they wanted against Butler.
Paul Reed was one of the biggest positives for DePaul. In games he has scored 18 points or more, he has shot 65 percent from the field. This efficient offense not only leads to plenty of points, but helps everyone else.
NBA scouts are looking at Reed for a reason. The third-year forward was the Big East's most-improved player last year and is averaging 16 points and 11 rebounds this year. He can score from anywhere on the court; pick and pops, drives, catch-and-shoot 3's, as well as his back to the basket game.
"As a big who can actually move his feet and be agile enough so it makes it a lot easier for guards, knowing that you got somebody like [Reed] right behind," senior guard Jalen Coleman-Lands said.
DePaul did everything they've wanted to do at the highest level they've been at all season. They opened the game on a 22-6 run with Reed sitting at 13 points after just eight minutes. The Blue Demons never trailed and stifled the Bulldogs to 33.3 percent from deep and 41.5 percent overall.
It's hard to pinpoint if the defense's success was more impressive or the offense more jaw-dropping. The 9-0 start saw the defense still ahead of the offense in terms of development. Saturday afternoon, the defense and offense were just two parts of the same well-oiled machine.
Winning in this league isn't easy. DePaul was picked by the coaches to finish last in the conference for the third year in a row.
The ten teams in the Big East right now all have the potential to beat anyone. Coaching and playing in the conference isn't for the faint of heart.
"With this league with all 10 teams being high-level teams as it stands right now, is going to come down to late-game execution," Leitao said after a 74-66 loss to Seton Hall on Dec. 30, a game in which DePaul gave up a 9-0 run down the last few minutes to lose.
That's the quote that's stuck in the air for DePaul. In their next few games, the Blue Demons lost all the games that were within eight points. A few plays here and there, and their Big East record looks completely different.
DePaul has struggled particularly with free throws and turnovers. Coming into Saturday's game, the Blue Demons ranked at the bottom of the conference in free throw percentage, turnovers and assist to turnover ratio. These three stats were glimpses at some of the problems in the flow of their offense.
On Saturday, DePaul had 16 assists on 22 made shots and the starters were 23-for-28 from the stripe. Getting to the line hasn't been the problem for DePaul, once they are able to convert from there, they are dangerous.
Now, DePaul sits at 1-4 in the conference, just 2 games back from the middle of the pack. With Creighton and St. John's coming to Wintrust this week, it's a prime time to make more statements.