DePaul men's basketball keeps repeating same mistakes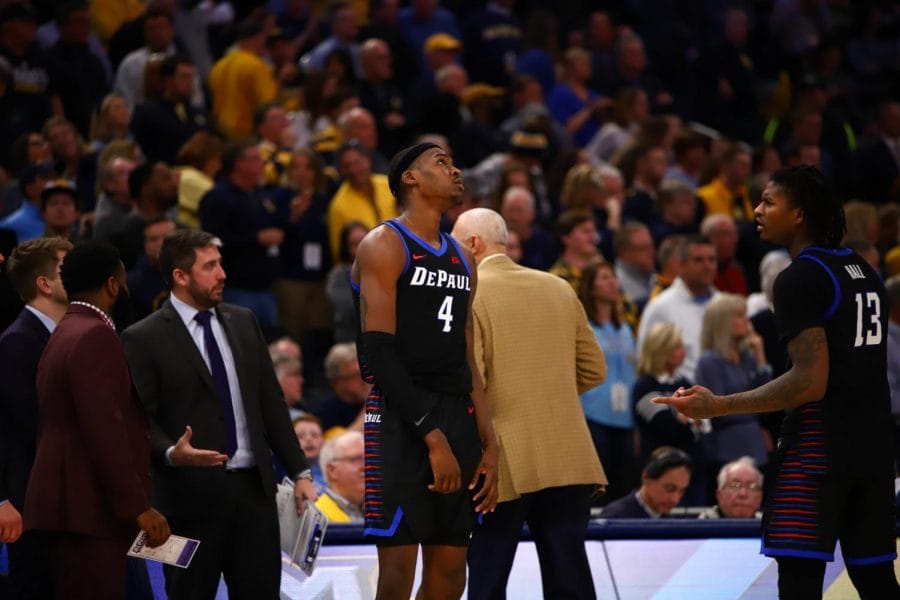 Copy and paste.
That is the only way to describe DePaul's first nine Big East games this season. Besides their one win over then-No. 5 Butler, the Blue Demons' games have played out eerily similar from game to game.
DePaul would grab a lead in the first half – sometimes a double-digit lead – and then give it away before halftime. But there have been games, like the one against Marquette, where the Blue Demons would be in control of most of the game, making it seem like they would come away with the win because they have shown to be the better team throughout the first 35 minutes. 
Nope. As soon as the game turns to the final five minutes, is when DePaul begins to turn into a different team. From being a confident, fearless team for most of the game, they lose all of that when the game becomes tight and it comes down to a couple of plays. 
Against Seton Hall on Dec. 30, DePaul possessed a 66-65 lead with two minutes to play at home, and let the Pirates go on a 9-0 run to escape with a 74-66 victory. Five days later against Providence – also at home – the Blue Demons gave away a foul with 1.1 seconds to play to lose 66-65. Then on Jan. 14 at Villanova, DePaul had a 21-8 lead in the first half, gave up a 22-7 run to close the half and eventually would lose 79-75 in overtime. 
Now come, arguably, the two worst and deflating losses for the Blue Demons in the conference this season. When they went to face No. 10 Seton Hall for the second time this season on Jan. 29, DePaul had a nine-point lead twice in the second half, was up 50-46 with seven minutes to play only to succumb to a 18-7 run at the end game. And only to follow up that heartbreaking loss with an even more draining loss against Marquette on Saturday, the Blue Demons led for nearly the first 39 minutes of the game and still lost 76-72. 
"They made shots, they executed," junior guard Charlie Moore said after the Marquette loss. "Made shots, you know, they played hard."
Late-game execution has been an issue for DePaul in the Big East this season, in most of their eight conference losses this season, the Blue Demons have been in games towards the end but they have struggled to make the necessary winning plays down the stretch. That's the biggest reason why they are 1-8 at the midway point.
Free-throw shooting, where DePaul is only shooting 65 percent per game, has been an issue, and defending and shooting from the 3-point line has been a problem all season long as well. 
"I think we got better at it, but execution is holistic," DePaul Head Coach Dave Leitao said after Saturday's game. "The shot goes up execution is going to box out properly and rotate properly. And I think there's defensive execution, late in the shot clock we put at them at the [free-throw] line too much probably when we didn't need to. So, execution is more holistic than just we run in the right play and we're getting the proper shot."
Leitao can certainly tell himself and his team anything he wants to, but DePaul has not gotten better in the late-game execution. The same issue has prevented them from winning more conference games this season, the only thing that changes from game-to-game is how the Blue Demons give the game away. The Blue Demons are now 26-41 in games decided by 10 points or less since Leitao returned in 2015. 
DePaul is a fundamentally poor free-throw shooting team, as they went 12-of-23 from the line on Saturday, and that isn't going to miraculously change at this point of the season. Leitao's teams have proven that when games get tight towards the end, they only wilt beneath the pressure instead of making big plays. After nine conference games, DePaul is trying to tell everyone with each passing game that they aren't a very good basketball team. 
"Got to make free throws," Leitao said. "Got to practice and got to practice them even more. Got to make free throws."
When Marquette took their first lead of the game with 1:22 to play, 72-70, Leitao called a timeout to draw up a play — the result, a turnover. Then, DePaul gets a stop and junior forward Paul Reed gets fouled with 10 seconds to play and a chance to tie the game, but missed his first free-throw. After Markus Howard hit a pair of free throws to put his team up 74-71 with eight seconds left, Moore went to the foul line for two shots — and, of course, clanked the first one. 
This is who the Blue Demons are in the Big East, when asked to make big and important plays down the stretch of games they choke. And that is the story of Leitao teams in his second tenure, as he is now 17-68 in the conference since returning in 2015.
The only number that matters is their 1-8 conference record, which positions them comfortably in last place. Their only win against then-No.5 Butler, 79-66, looks more of a bad game from the Bulldogs than anything the Blue Demons did well. And DePaul's 12-1 non-conference is starting to scream more of an arbitration than anything significant. 
"Just gotta figure it out," Moore said. "We always start off good, have a good first half, the second half we start out pretty well. At the end of the game, it's something down the stretch that we got to get. I think we can get it up."
Moore, who 21 points, eight assists and six rebounds against the Golden Eagles, has to believe his team can still fix this mess with nine regular-season games to play. But throughout Leitao's last five years at DePaul, his teams have never shown they get better later in the season. Their issues just become bigger and bigger, and it results in last place finishes in the Big East – exactly where they are headed again this season.