DePaul women's basketball junior guard regains confidence on team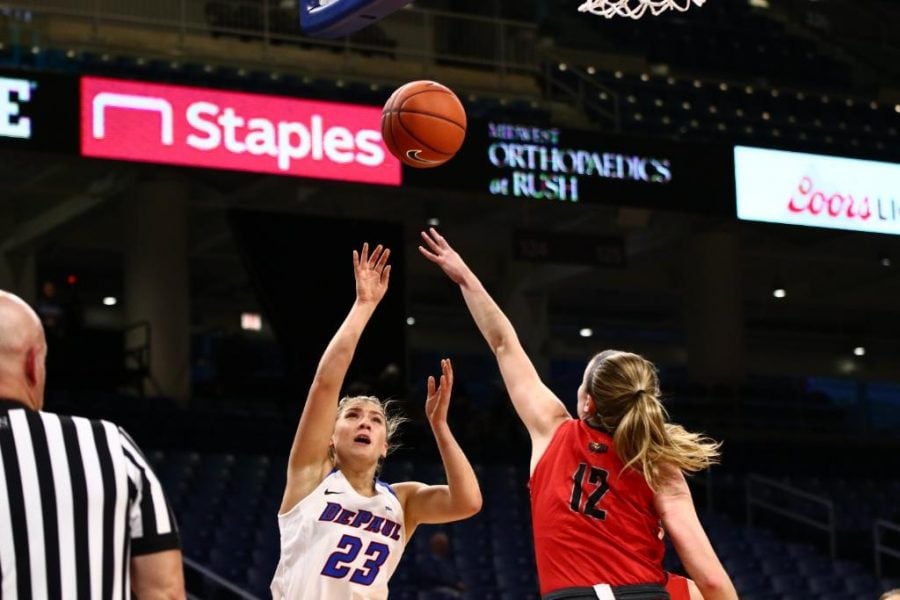 Playing well can be linked to plenty of factors; scoring a bunch of points, playing a lot and being a good defender are all reasons to having good games that translate into productive seasons. But having the ability to do all of that at a high level is connected to having confidence in your skill set. 
For junior guard Dee Bekelja, her confidence was low when she got to DePaul. She didn't like how she was playing during her freshman and sophomore seasons and it forced her to work harder over the summer to get back to a place where she felt proud of her game. 
"In my freshman year and even into my sophomore year, I just did not feel like myself, or I had very, very low confidence," Bekelja said. "And that's really showed on the basketball court and I did not like how I was producing or playing, or how I was envisioning myself. I'm just really happy and proud of the way I stuck with it. After talking to people around me, having the support of my family and friends, being able to stick with it and into this year, I'm just really happy with how things have turned out."
Coming from Solon, Ohio, it took Bekelja some time to adjust to a new city and make the transition from high school basketball to elite competition in college. During her high school career, she was named the Gatorade Ohio Girls Basketball Player of the Year and led Solon to back-to-back state tournament semifinal appearances. 
Bekelja possessed the skillset to be an impactful player right away in college, but the transition from high school to college took Bekelja some time to figure out. 
"I think it's my confidence that has helped me to have the year I'm having because in years past, I was not as confident in myself just because of the transition from high school to college was kind of hard on me," she said. 
While it took Bekelja some time to adjust to a new city and team, Head Coach Doug Bruno spotted her talent right away. From the second that Bruno recruited Bekelja, her instinctive ability to score and that she was a winner really stood out for the Hall of Fame finalist. 
"That she is a winner," Bruno said. "What stood out on the floor was her instinctive ability to score in weird ways. What stood out off the floor was the fact she was a winner. Her program always won, they were always fighting for the state championship in the state of Ohio."
When she played for her high school team, Bekelja was a starter and led the team in various categories. At DePaul, however, her role has changed and is less defined from her earlier playing days. 
This season, she came off the bench before an injury to junior guard Deja Church opened a spot for Bekelja and put her into the starting lineup for a handful of games. With Church back to full strength, Bekejla is back to coming off the bench, but still providing the team with valuable minutes on offense and defense. 
"I'm good with being what the team needs me to be," Bekelja said. "They need me to be a starter, then I'll start. They need me to come off the bench, I'll come off the bench. I'm kind of flexible – I don't care if I'm a starter or not. I just want the team to win and to help the team win, so whatever the team and coaching staff feels that I need to do, I'm able to fit into that role."
Not having a defined role can be hard on some players because it's hard to develop a rhythm when they don't know how many minutes they will play from one game to another. Bekelja, on the other hand, has flourished during the season even with her minutes luxating from game to game. 
When the team went on the road to face Notre Dame, Bekelja ended up playing 28 minutes and dropped a career-high 20 points in a 106-95 win. Nearly a week later against UConn on Dec. 16, she played 35 minutes that resulted in 12 points, four rebounds and three assists. And when her minutes are down, like it was against Providence with only 24, she was an efficient 9-of-16 from the field with 20 points. 
"She's really done a great job of being a professional, even though she is an ametur college player," Bruno said. She brings a professional approach to her role. She never complains, it's always about what is necessary to win. She doesn't let situations outside of her control negatively affect her, she brings the same professional approach whether she is starting or coming off the bench. She brings this positive energy to the team, and positive energy is infectious."
While fans can see Bekelja's growth on the court and see what she brings to the team, there is another side to her that the players and coaching staff get to experience off the court. Bruno describes her as a "fun-loving person," while senior guard Kelly Campbell says she has "lively personality."
"Off the court, she's definitely very funny, out-going," Campbell said. "She's got a really lively personality. Dee has matured a ton since her freshman year and she's definitely grown over the years. She's become more indented off the court, but on the court, she's really excelled."
With DePaul off to a perfect start in the Big East, the team is playing with extremely high confidence, and some of that can be attributed to Bekelja's improvement as a player. Confidence has been the key to DePaul's success in the past, and it has helped to unlock another special player in Bruno's system: Dee Bekelja.