DePaul has no answers for Xavier, loses 67-59 for 9th Big East loss of the season
DePaul has had its share of disappointing losses this season, but after Tuesday's performance against Xavier, there is no question that the beating the Blue Demons took for 40 minutes against the Musketeers at Wintrust Arena was their most disappointing and deflating loss of the season. 
Xavier rushed out to an early lead and never looked back en-route to a 67-59 win over DePaul. The final scoreline makes it seem like the Blue Demons were in the game throughout the 40 minutes, but the actual performance on the court spoke otherwise. 
"This is not an easy thing to kind of figure out," DePaul head coach Dave Leitao said after the game. "And what we have to do, not just day-by-day but game-by-game, to get over the hump. I thought our energy was very low. And when your energy is low you're playing one-to-two passes behind every possession."
In the first half, DePaul scored a grand total of 16 points, didn't score in the final eight minutes of the half, shot 6-of-20 from the field and 2-of-9 from the 3-point line. Before the Blue Demons could blink, the Musketeers already had a double-digit lead and their fans were making most of the noise behind the away bench. 
After DePaul took an early 6-5 lead behind two 3-pointers from junior Charlie Moore and senior Jalen Coleman-Lands, Xavier exploded on a 10-0 run and forced Leitao to take his first timeout of the game. The Musketeers, who came into the game ninth in the Big East in 3-point shooting, hit four 3-pointers to take a 16-6 lead with 14:45 to play in the first half. 
Even after the timeout from Leitao, his team couldn't find a consistent groove on offense, while Xavier kept their onslaught coming on offense. After getting up 20-8 with under 13 minutes to play in the half, Xavier tallied off three straight 3-pointers to increase their lead to 29-12. 
"I'm going to kinda reiterate what coach touched on as far as energy, because at that point, when we came out in the first half kind of dead," Coleman-Lands said. "It didn't matter what strategy we were playing, what play we drew up, we wouldn't be able to execute because of the lack of energy." 
The Blue Demons would add another four points and got them back within 14, 30-16 with 8:23 to play in the first half — but that proved to be the final time DePaul would score in the first 20 minutes. DePaul would go to miss their final 10 shots and turn-it-over four times before the intermission; Xavier, on the other hand, added another six points and took a 35-16 lead into the break. 16 points in a half is the least amount of points DePaul has scored since 2010. 
"We didn't have the same kind of energy that we normally do," Leitao said.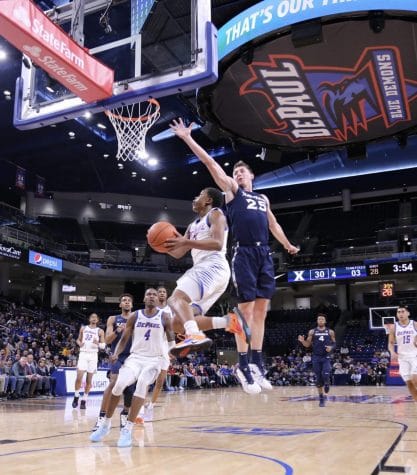 DePaul began the second half by scoring the first six points thanks to a dunk from junior Jaylen Butz and two 3-pointers by Coleman-Lands, but Xavier quickly restored order by pouring in the next six points to build their lead to 17, 41-24. 
Xavier, who hit eight 3-pointers in the first half, didn't make one shot from behind the arc in the second half and only made eight total shots — but managed to keep enough distance between themselves and DePaul by knocking down 16-of-22 free throws. DePaul, on the other hand, only attempted 10 free throws in the entire game and made five of them. 
"I don't care who we are, all 10 teams should never have a game where you only take 10 free throws," Leitao said. "That's a very clear indication that you are not in attack mode and we weren't. We weren't in attack mode most of the game."
It took the Blue Demons until the 3:41-mark in the second half to get a double-figure scorer, and junior forward Paul Reed broke through with a 3-pointer to cut Xavier's lead to 16, 55-39. 
DePaul shot better in the second half, going 17-of-37 from the field, 6-of-16 from the 3-point line and scoring 43 points. The Blue Demons gave Xavier a scare in the final two minutes when they were able to get a couple of steals and turn them into dunks for Reed. Coleman-Lands also hit his fifth 3-pointer of the night to cut the deficit to nine, 59-50, with 2:14 to play in the game. 
Even though the Musketeers had five turnovers in the final two minutes, their lead was too big for them to give away in the closing stretch of the game. Xavier had four players finish in double-figures — Tyrique Jones, KyKy Tandy, Quentin Goodin and Paul Scruggs. DePaul, on the other hand, only had Moore, Coleman-Lands and Reed finish in double-digit scoring. The three Blue Demon players combined for 45 of the team's 59 points. 
"How do I repeat myself, we didn't have the same kind of energy," Leitao said. "And therefore what we normally do something like a closeout, or help or help-the-helper, we were a step late to. So, they played one pass ahead and got open shots.
DePaul is now 13-10 on the season and falls to 1-9 in the Big East, the Blue Demons will next travel to face Georgetown on Saturday. The next home for DePaul is Feb. 19 when the No. 10 Villanova Wildcats come into Wintrust Arena.