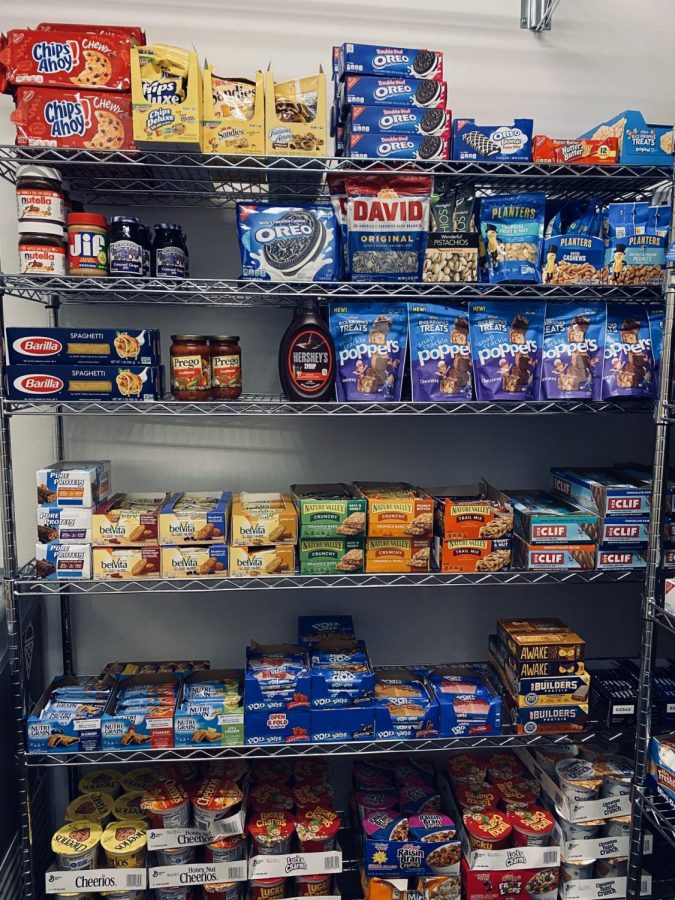 Maria Garcia | The DePaulia
The DePaul Student Center and Chartwells collaborated to open a new student food pantry on Tuesday, Feb. 3 to provide resources for food insecure students. This pantry is located in Room 316 of the Lincoln Park Student Center and will be open every Tuesday and Friday from 10 a.m. to 7 p.m.
The pantry was originally designed to help food insecure students not currently on a university meal plan. Towards the end of Fall 2018, students were given the opportunity to donate unused swipes on their meal plans. Those donated swipes were transferred into a monetary value and the money was placed in a separate account and used to set up the pantry.
The food is available to any DePaul student. The Student Center and Chartwells staff is in charge of maintaining and stocking the pantry, which includes non-perishable items as well as easy to warm frozen meals.
The pantry has been in the planning stages since the Fall of 2018.
"We felt this was a need for our campus and specifically for DePaul students who might have food insecurities." said Rick Moreci, director of Housing, Dining and Student Centers at DePaul University. "We wanted to provide a resource and a means to get food for those students."
The use of rollover meal plans has been helpful in raising necessary funds as well as maintaining internal support.
"We have provided these similar donation opportunities at the end of each quarter since and have collected a nice savings," Moreci said. "That money is now being used to fund the pantry. It can therefore be said that this pantry is for the students and funded by students which is so great."
The U.S. Department of Agriculture defines food insecurity as a lack of consistent access to enough food for an active, healthy life. The USDA reports that in 2018, an estimated 1 in 9 Americans were food insecure – equating to over 37 million Americans, including more than 11 million children.
Additionally, a New Hope Survey has found that many students in two and four-year schools have faced food insecurity within the past 30 days, meaning their ability to get nutritionally adequate and safe food was limited or uncertain.
In the same report, the survey had found that 7 percent of two-year students and 5 percent of four-year students said they had skipped eating for a full day because there was not enough money for food.
Some believe that this hunger is heightened by the fact that many students are ashamed to admit this insecurity.
"We're raised to believe being middle-class affords us access to the 'American Dream' and the ability to satisfy most needs and wants." said Larry W. Mayo, a professor of anthropology. "If a college kid admits to being insecure about food, it means they are not middle-class, cannot reach the goals in the American Dream."
This identity as middle class has fostered a culture of shame surrounding food insecurity, Mayo thinks.
"In class-conscious American culture, the attitude of some at the top is that those who fail have only themselves to blame – it is on them, and not the structure of society," he said. "This is the kind of 'shaming' most wish to avoid."
While this pantry is still new, the future looks promising as they plan to have it open during all academic quarters during the year. They hope to eventually add nonfood items and start accepting outside donations.