COMMENTARY: DePaul men's basketball is a joke, Dave Leitao is the punchline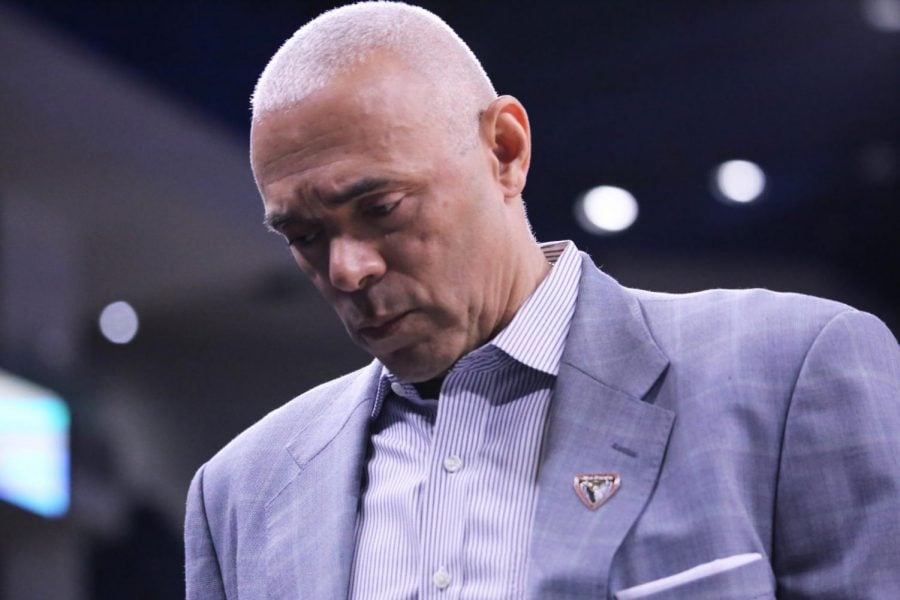 Albert Einstein is famously credited with coining the phrase, "the definition of insanity is doing the same thing over and over again and expecting different results."
Welcome to the world of DePaul men's basketball, where the opponents change, the final scoreline is different, but each performance is a replica of the previous game. And without fail, the season ends in a familiar place: the bottom of the Big East.
This season, however, there was real hope that the Blue Demons would escape from the cellar and emerge as a contender for the NCAA Tournament – which they haven't participated in since 2004. DePaul jumped out to a 12-1 record in their non-conference games, knocking off Texas Tech, Iowa and Minnesota and rose all the way to No. 27 in the AP Poll in late December.
The groundwork was laid by the Blue Demons to make a run for an at-large bid in the NCAA Tournament, and all they needed to do was channel their non-conference success into conference play. The talent was there for DePaul to compete with the best Big East teams — and it still is. The head coach, however, is not in place for the Blue Demons to make any noise in such a deep conference.
We've seen enough. Five years of disastrous basketball is enough evidence for DePaul to make another head coaching change. DePaul should not wait until the end of the season to let Leitao go, they should fire him immediately and let an interim coach try to salvage something out of this disappointing season. In the very least, fans deserve to see this team play without him at the helm, holding them back.
Leitao is now overall 61-93 and 17-65 in the Big East, including a 1-10 record in the conference this season, in the nearly five years since he returned to DePaul in 2015. When Athletics Director Jean Lenti Ponsetto decided to bring Leitao back in the spring of 2015, the decision was met with skepticism because the Massachusetts native was far from a hot commodity at the time.
Five years later, that decision has proved to be a colossal error, and the only right decision to make at this point is to fire Leitao right now. When Lenti Ponsetto decided to move on from Oliver Purnell and bring in Leitao, she said the goal was to "win now."
"We don't see that as a rebuilding project, but an opportunity to take the next step in the process," Lenti Ponsetto said in 2015. "Our expectation is to win now. We have talent here that needs to be re-engineered. It was clear to our search committee that Dave Leitao was our No. 1 choice."
Well, Leitao failed to win immediately, as his team went 5-31 in the Big East in his first two seasons. But that was somewhat understandable considering  the talent was not good enough to compete at a high level in the Big East. In 2020, there is no excuse for the Blue Demons to be 1-10 in the conference and still the premier laughingstock of the Big East — and that falls on the shoulders of the highest paid person at the university, Leitao.
Leitao has brought in good and talented players this season to make a push for the NCAA Tournament, with five former four-star recruits – Charlie Moore, Jalen Coleman-Lands, Romeo Weems, Markese Jacobs and DJ Williams – and two potential future NBA players, Weems and Paul Reed, on the roster. But those players can only do so much if their coach is not putting them in a position to succeed on a game-to-game basis.
DePaul's Big East games have played out similarly this season: compete hard for the first 35 minutes and then crumble when the game gets tight in the final five minutes. But the last two games for the Blue Demons should be the writing on the wall for Lenti Ponsetto to fire Leitao; against Xavier on Feb. 4, DePaul scored a grand total of 16 points in the first half, and then followed that embarrassing performance by choking against an injured Georgetown team on Saturday.
The Hoyas entered the game with their leading scorer Mac McClung out, then they lost their center Omer Yurtseven in the second half and then Jamorko Pickett fouled out. Leitao still found a way to lose that game, as his team once again wilted beneath the pressure. That recurring problem starts in once place: their head coach's inability to call the right plays in the second half.
If there was ever an award for the best 35-minute team in the country, DePaul would probably emerge as the winner. But if there was an award for the worst final five-minute coach in America, Leitao would run away with it.
Even some of his players have voiced their displeasure with Leitao on Twitter after losses. After a loss to St. John's on Jan. 4, Reed retweeted multiple tweets that criticized Leitao and called him  a bad coach before the junior took down those retweets and issued an apology. Jacobs has also liked several tweets in the past month that have called out Leitao's coaching. In the Big East, Jacobs has only played in six games and is averaging 6.1 minutes per game.
The issue down the stretch of games becomes the lack of offensive execution from the Blue Demons. According to KenPom, in conference games, DePaul is now last (10th) in the Big East in 3-point percentage (27.7 percent), 10th in turnover rate (19.8 percent), ninth in overall offensive efficiency and eighth in effective field-goal percentage (44.8 percent). The talent is too good for the Blue Demons to struggle this much on offense. Leitao doesn't seem to have an answer.
DePaul went 7-11 in the Big East last season, finished in last place and lost the first game in the Big East Tournament. That season still provided an opportunity for Leitao to use as momentum for this season.
"To be [7-11] and to be in position to have won some other games was progress, but we don't feel like we have arrived we still have room to grow and room to get better," Lenti Ponsetto said in an interview with The DePaulia last year. "It was a really good foundation laid this year for the team moving forward next year."
The 2018-19 season was capped off with a run to the CBI Championship series, which resulted in a game three loss to South Florida. But after the game, according to a source in the locker room that day, Lenti Ponsetto told the team this was a milestone in program history. If you isolate the history of DePaul men's basketball to her own tenure as athletics director, sadly, she is right. DePaul men's basketball has been a joke for almost two decades now and Leitao has only strengthened the punchline.
After the deflating 67-59 loss to Xavier, Leitao was asked if his players are still as focused as they were to begin the season, he responded with "mh-mmm."
DePaul University, DePaul fans and most importantly, the players, deserve better than a coach who specializes in losing. The Blue Demons have the talent to be successful, they just need to be re-energized with a better head coach.