DePaul softball preview 2020
The hunters become the hunted. After being predicted to finish fourth in the Big East last season by the coaches, DePaul is going into the 2020 season as the favorites to win their fourth straight conference title.
With Tracie Adix-Zins taking over from previous head coach Eugene Lenti, the Blue Demons won 35 games, swept through the Big East Tournament and won a game in the NCAA Tournament. Now in Adix-Zins' second season at DePaul, the expectation is for the Blue Demons to continue their winning tradition inside the Big East.
"You kind of know how the season unfolds here in the Big East," Adix-Zins said. "Year two is always the hardest though, for any new stuff, anywhere I've been a part of a new staff it's just kind of that myth of year two is always the hardest because now people know you a little bit more. We added to our roster, but people just know you now. So, you got to kind of evolve and figure out how to make the team better."
DePaul has been off for nearly 10 months, so for Adix-Zins and her team, it's now about getting out there and playing against someone that isn't from your own team.
"We're excited, we're just ready to go," Adix-Zins said. "I think the whole month of January in the gym, it's like okay we're done, we're ready to go play. So we are excited for it."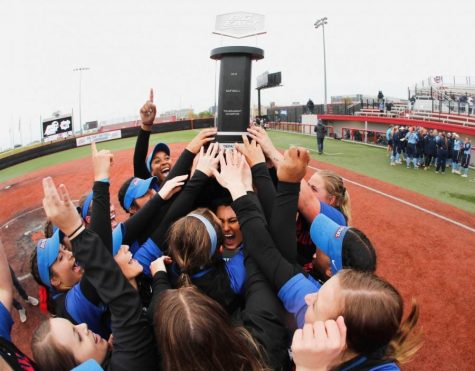 Going into their second season under Adix-Zins, DePaul has added new players to the roster and bolstered their thin pitching staff going into this season. In 2019, the Blue Demons only had two pitchers on staff and had to rotate between them throughout the entire season.
This season, however, the Blue Demons have seven pitchers on their active roster and expect to use a wide variety of them throughout the four-month season.
"I think our pitchers are very excited about that," senior outfielder Angela Scalzitti said. "It's not too many games on their arms. I think this year is more managing now that we know if someone is in trouble on the staff that they can lean on other people and someone can come in for them. And it's a relief for the pitching staff, I'm happy for them."
While the team has added more players to the roster, it also means there are younger, inexperienced players on the team this season. Luckily for Adix-Zins and her coaching staff, they have many older players that can help guide the freshmen early on and help them get acclimated to a new system. One of those players is Scalzitti, who is now entering her sixth collegiate season.
"I'm a sixth-year senior, so I have a lot of experience," Scalzitti said. "I'm used to being in that role but luckily, even though we have a lot of new kids, we still have a lot of returners who are multi-year starters. So, they have a ton of experience as well. We have probably like three or four kids who are going to crack that starting lineup who are new, but I think everyone is a leader on the field because everyone's been playing for a while."
For players like Scalzitti and the older players, it's about showing the younger players the winning tradition at DePaul. The Blue Demons have won the last three Big East Championships, but their mission is to continue their dominance of the conference heading into their last season at DePaul.
"Last year we were able to win two games at Regionals and we do want to go further than that this year, so that's always a goal to make it as far as we can," senior infielder Erin Andris said. "Especially this is our last year for the seniors, so we want to go out on top."
Key Returners
Natalie Halvorson, Senior, P
Angela Scalzitti, Senior, OF
Erin Andris, Senior, 2B/SS
Jessica Cothern, Senior, C/3B
Gabby O'Riley, Sophomore, C/3B
The Rundown
– Won the Big East regular season title last season
– Finished 35-15 overall, 11-5 in conference in 2019
– Picked to finish 1st in the Big East in 2020
– Has four freshmen