Blue Demons at C2E2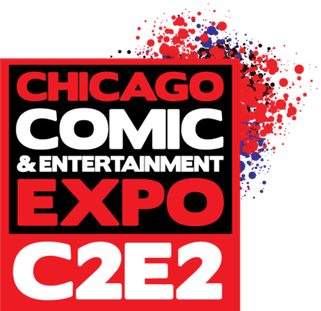 In the words of the great Stan Lee: "Face front, true believers!" C2E2 is back. The Chicago Comic and Entertainment Expo returned to McCormick Place last weekend and there's excitement in the air. C2E2 is one of the biggest comics and entertainment conventions in the Midwest as people from all over gather to meet industry titans, trade comics and collectibles and just enjoy the company of other fans. 
Over the last two years, C2E2 has become something of an event for many DePaul students, staff and alumni, as the school has hosted panels at the convention for many interested parties. Alongside hosting the Gaming Zone in partnership with I Play Games!, which allowed convention goers to play "Rocket League" and "Super Smash Bros. Ultimate," DePaul also hosted two panels about various topics in the gaming field.
The first of the panels hosted by the university was titled "Careers in Esports & Gaming" and was held in Room S502A on Feb. 28. The panel included Courtney James, DePaul's director of student involvement, Kevin Fair, CEO of I Play Games!, Kurt Melcher, executive director of esports at Intersport and Kevin Ryan, the program development lead for the DePaul High School sports program. James explained her involvement with DePaul's esports program and her hopes for the panel. 
"We opened the doors [of the DePaul Esports Gaming Center] in April 2018 and the Office of Student Involvement was tasked with overseeing all components of the co-curricular experience for students engaging in esports," James said. "I serve as the main staff member overseeing those efforts." James added that the idea behind the panel was to promote DePaul's esports program to potential students and attendees as well as show people what kinds of jobs they can go into in the field of esports. "For the panel, we will have panelists in the field of education, event planning, operations and more. There are so many ways for people to get involved with esports."
The panel was moderated by Samantha Close, a professor of communication at DePaul. Close also explained how she became involved with the panel and DePaul's esports program. "I got involved with esports after seeing how passionate students were about it when the Loop gaming center opened up," Close said. "I've been playing video games all my life, but I usually focus on single-player games and RPGs so esports has been a very different world. Since then I've been looking at esports both as a researcher, more generally, and as someone helping to build esports at DePaul, specifically, and it's been incredibly interesting."
Like James, Close also spoke about her hopes for what the panel will do for not only DePaul students and potential attendees, but for those just attending C2E2 for the fun of it. "Broadly, I hope that con attendees realize DePaul's strength as a center for popular culture research and teaching, from our yearly hosting of the Fan Studies Network North America annual conference to the Fandom Studies minor program in Communication and beyond," Close said. 
"I also love that students can volunteer to work at the convention or even to be on a panel, since this gives them valuable experience for pursuing a career in esports or any other pop culture-related field. The industry is also just beginning to establish itself and figure out its protocols, so there will be a lot of careers in league management –perfect for students like organizational communication majors." 
Both James and Close expressed their wish for esports to become a more welcoming and inclusive place for everyone. "Currently, 78 percent of our community identifies as male while 22 percent identify as female," James said. "That's a bit better than industry standards, but we want to have more women involved.  We have worked with groups like HerCDM to host Gaming Lunch & Plays and have seen a lot of success with those programs." Close echoed this sentiment. 
"I would love to see the industry and subculture be more welcoming to women, queer folks, people of color, people with disabilities, and beyond," Close said. "It's difficult to really be part of an industry when you're the target of continued harassment, so I see the issue not as women not getting involved but as the ones who are involved getting pushed out."
After this first panel on finding your niche in the esports industry, DePaul hosted a panel on Feb. 29 showed convention goers how to build their own gaming computers. The panel was hosted by Phil Wisniewski and Manny Grewal, both from DePaul's Information Technology Operations. Like usual, there was always something cool to find at C2E2.