Analysis: Illinois governor's race a dead heat two weeks from election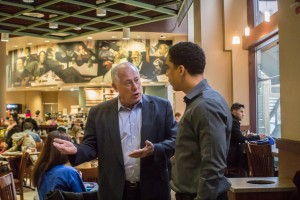 Gov. Quinn spoke to DePaul students, staff, faculty, and other constituents at the DePaul Center last Monday. It was his second trip to DePaul in a two week period.
Gov. Pat Quinn (D-Chicago) and challenger Bruce Rauner (R-Winnetka) remain in a dead heat as Election Day quickly approaches.
Most polls show Quinn slightly ahead, but within the margin of error. This is a reversal from most of the summer, where polls showed Rauner with a healthy lead.
Quinn crawled back by attacking Rauner for what many perceive as his strenth: his record as a bussinessman.
And several unforced errors, including gaffes on the minumum wage, have hurt Rauner.
Quinn, however, is not a beloved figure by any means. Illinois' debt, credit rating, high taxes, and an unemployment rate that remains higher than the national average all drag him down.
Rauner, too, has gone after his opponent's perceived strength: his honesty and integrity.
Quinn's troubled anti-violence program, called a slush fund by Republicans, has allowed for Rauner to paint the governor as a typical Springfield hack, as well as tie him to his two immediate predecessors, both convicted felons.
Rauner has tried to siphon off black support, a key Democratic constituency, from the governor. However, polling has shown no meaningful progress on that front.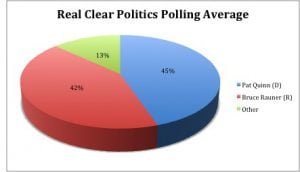 As of now, the edge in this toss-up goes to Quinn. Despite Rauner's money, the governor has been able to stay competitive by taking a populist approach on issues such as the mininum wage, while also relying on a slew of politicians coming in to stump for him.
This race is so close, however, that it will probably come down to turnout. Who will get more of their people to the polls? Voters in midterms tend to skew older, and more conservative, which should favor Rauner. However, Quinn won in a heavy Republican wave year in 2010, so he can not be underestimated.
In addition to the governor's race, several other statewide races are contested. While it appears that Attorney General Lisa Madigan and Secratary of State Jesse White will coast to re-election in their respective races,  the treasurer and comptroller's races are both competitive. In the comptroller's race, incumbent Judy Baar Topinka (R) faces Lt. Gov. Sheila Simon (D), who decided against running on the ticket with Quinn again.
Topinka is well-known in the state, having previously served as the state's treasurer for 12 years before running unsuccessfully for governor in 2006.
She is a moderate Republican who supported the marriage equality bill Quinn signed this year. Because of that, she has appeal that crosses party lines.
Simon, on the other hand, is not as well-known despite being the daughter of former U.S. Senator Paul Simon.
Topinka is the favorite in that race.
In the treasurer's race, former Illinois House majority leader Tom Cross (R) faces off against State Sen. Mike Frerichs (D).
Cross has said that he would sue the governor, regardless of party, should they sign an unbalanced budget into law. Frerichs counters that he is the only one who truly wants the job and has a background in government finance.
Cross was orginally going to run for Attorney General, but changed his mind once Madigan announced her re-election bid.
Despite this, Cross is a moderate who has appeal to suburban voters.
This race is a true toss-up, and the result may be tied to the governor's race more than any of the aforementioned races.
View Comments (1)