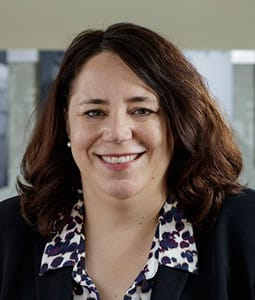 DePaul University
Kathryn Stieber was appointed by DePaul's Board of Trustees as secretary of the university, effective July 1. In addition to her role as secretary of the university, Stieber was recently appointed by DePaul President A. Gabriel Esteban to serve as vice president and general counsel.
"The Office of the Secretary oversees the fulfillment of legal requirements for reporting and record keeping for DePaul University," according to its website. "It manages the work of the board of trustees and the members of the corporation to facilitate their services to the university."
Stieber first joined the Office of General Counsel for DePaul in 2005. She later served as deputy general counsel in 2007, interim vice president for human resources in 2012, then as assistant university secretary in 2019. 
Stieber provided leadership, counsel and crisis management assistance in a number of areas including employment, contracts, compliance and litigation, amongst other legal issues affecting the university and higher education as a whole.
"Throughout her time at DePaul, Kathy has demonstrated a consistent talent for leading in a diverse range of areas at the university, all the while providing excellent counsel based on her extensive legal experience," Esteban said in announcing her appointment. "I am grateful for her willingness to serve as general counsel, and I look forward to working closely with her as DePaul continues to deliver our students a transformative education, grounded in our Catholic and Vincentian values."
Stieber received her J.D. from Southern Methodist University School of Law in Dallas, and earned her bachelor's degree in political science from Northwestern University.
Stieber will relieve José Padilla, who served as DePaul's general counsel since 2005 and secretary of the university since 2019. Padilla is leaving DePaul to serve as vice president, general counsel and secretary to the board of regents at the University of Colorado.
"I am very grateful for this opportunity to serve the university in a new capacity and to lead the outstanding teams in the Office of the General Counsel and the Office of the Secretary," Stieber said in a press release provided by the university. "Both offices are dedicated to supporting the university in its vision to be unequaled among urban universities in the United States, ensuring the success of a diverse community of leaders."