ePaul: 'D' needed after inter-squad scrimmages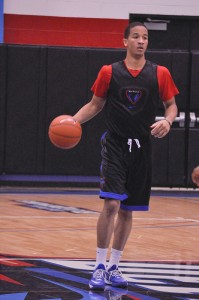 There are 12 days until DePaul men and women's basketball teams take the floor at McGrath-Phillips Arena for their first exhibition game.  In that time frame, head coaches Oliver Purnell and Doug Bruno will both be working to correct the defensive flaws they saw Saturday.
Both teams scrimmaged separately Saturday at McGrath-Phillips Arena and Purnell and Bruno each said afterward that their teams had a long way to go defensively.
"We were terrible," Bruno said. "We have to get a lot better, fast. People don't realize we normally do a good job defensively. But we need to get it cleaned up in three weeks."
Bruno watched his team scrimmage against each other, mixing up different lineups and switching players between the blue and white teams. Bruno said he was concerned, but added, "we'll get it cleaned up."
On the men's side, Purnell had hoped for a large defensive jump after the team's open practice Oct. 18. After the scrimmage, Purnell said his team still had a lot to improve on.
"We have a ways to go out defensively as you would expect, but I like this group," Purnell said. "There was a jump, but I wouldn't say there was a big jump."
Purnell cut the scrimmage short because of injury concerns that were suffered throughout. Originally, the scrimmage was supposed to be split into three parts with Purnell and his staff getting looks at different units. However, Purnell and his staff decided to end it during the second set before any more injuries occurred.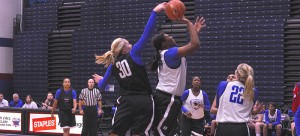 DePaul forward Rashaun Stimage left prematurely with a foot injury and guard Darrick Wood was helped off when his head hit the floor after a collision. Wood returned shortly after. Sophomore guard Billy Garrett Jr. felt tightness in his hamstring near the end as well, he said.
But the Blue Demons also took away positives from the event.  There was good news for the women's team as senior forward Megan Rogowski briefly played. Rogowski, who averaged 15.7 points per game last season, has been dealing with tendonitis in her heal since August and has been limited in practice.
"It felt good. It's been feeling really good this week," Rogowski said. "I still have to get back into game shape, but it felt good for the most part. We have it under control."
For the men's team, Purnell was able to experiment with various lineups, including who would play next to Garrett. Junior Durrell McDonald started the game on the black team, but at halftime, guard Aaron Simpson played next to Garrett.
Garrett, who was very efficient at attacking the rim and displayed a more consistent jump shot, said he thought the lineups were smooth.
"Aaron and I both take pressure off each other," Garrett said. "We both can shoot the ball and handle the ball. I really like the chemistry out there."
But like Purnell, Garrett said the team has to get better on the defensive end.
"There's always room for improvement," Garrett said. "We didn't like where we were last year. We've really been working on the half-court defense throughout, so we'll see where it takes us."