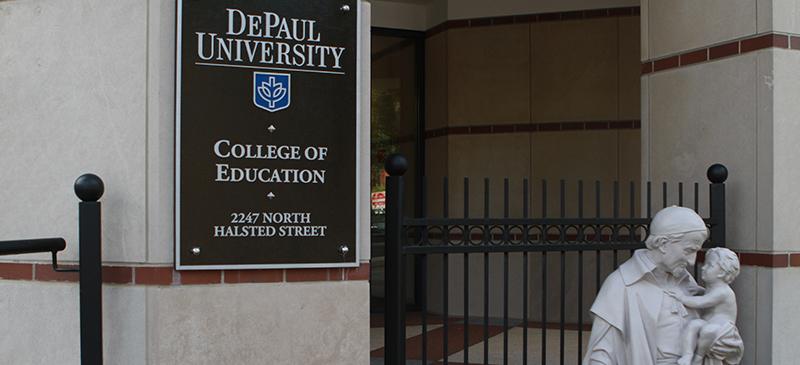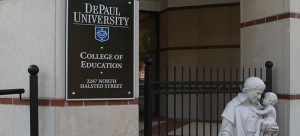 William H. Wells Community High School on Chicago's West Side does not have a soccer field for its student-athletes. They are forced to play in a different neighborhood where just a block over there was recently a shooting as the boys' soccer team was playing. 
According to Principal Rita Raichoudhuri, flares could be seen and the incident is something the school normally has to deal with.
In a DePaul College of Education Fall Education Issues Forum hosted last Wednesday, Raichoudhuri and three other Chicago Public Schools principals came to speak about an ordinary day in their schools, such as the one the boys soccer team dealt with at the high school, and some of the basic struggles they deal with on a day-to-day basis.
Principal Michael Beyer of Donald L. Morrill Math and Science School talked about how one boy had just come to his school on that day, after attending six different schools in the last five years.
"You can imagine what he's gone through," Beyer said.
Beyer said situations such as these make the school question how it can deal with them and how they can make the transition easier for students who go through this type of thing normally.
Beyer said one of the struggles his school constantly has to deal with is how to make the students stay, because out of a group of 100 students who attended, 30 are predicted to leave by the end of the year.
Raichoudhuri struggles with the same problem at her school, where four charter schools within walking distance surround it, causing the high school to lose a lot of students.
"The threat of being closed down is ever looming," Raichoudhuri said. "It's hard to keep the morale up when the staff is constantly worrying about whether or not they are going to lose their jobs."
In addition to talking about some of their main concerns within their schools, the principals also talked about the leadership skills it takes to be a principal and the impact of education policies on their institutions, as well as how to be an effective advocate for those policies.
One of the major policies the CPS principals discussed involved their teachers.
Troy LaRaviere, principal of Blaine Elementary School, said the best performing systems in the world prepare their teachers and attract them with higher salaries. According to LaRaviere, teachers are likely to make the same salary as an architect or an engineer relative to other high-performing professions in that nation.
Two other major factors that cause the best-performing systems in other nations to score so high are that they confront the opportunity gaps to lead to the achievement gaps, and they only have one track for everyone.
This means those schools do not have a higher or lower track for students. When LaRaviere came to Blaine, he "slowly, but surely" deconstructed that curricular track so every student had the opportunity to perform at a higher level. To do this, LaRaviere used the help of supporters called intervention specialists, which helped the students who were going to struggle without that lower track option.
As an education major at DePaul, sophomore Megan Pietz found a lot of what LaRaviere and the other principals said to be very helpful in her goal of becoming more aware of what it takes to be an effective educational advocate.  She walked away from the forum feeling "invigorated" to get out into the field.
"I'm really interested in being an educational advocate," Pietz said. "I feel like a majority of students in the college of education aren't aware or present at these events. I want to make sure that I'm continually educating myself because as a future teacher, I'm worried about what I'm getting into and (want to) prepare myself as much as possible."