Biden, Trump arrive in Kenosha in the aftermath of Jacob Blake shooting
KENOSHA- Nine days after a police officer shot Jacob Blake in Kenosha, WI, President Donald Trump arrived there to meet with business owners, law enforcement and tour damage areas from protest  as part of his "law and order" visit. 
This comes after the Wisconsin Governor Tony Evers and Kenosha Mayor John Antaramian asked Trump to reconsider his decision, as his presence might create a division and invoke violence in a community trying to heal. In a letter to Trump, Evers said "I am concerned your presence will only hinder our healing."
Tip McGuire,  House of Representative from District 64, said Kenosha needs time to rebuild in regards to Trump's visit. 
 "As a community, we need to heal and breathe during this tragedy," McGuire said. "So many people have been hurt, lives have been lost, there's been damage to Kenosha and we need time to heal. If the president would like to be helpful, there are ways he can do that, we will appreciate FEMA assistance, we would appreciate assistance from the small business administration for our local business as we seek to rebuild."
Trump responded to Evers by saying his presence, on the contrary, could increase patriotism and respect for the country. His supporters gathered along Sheridan Road wearing MAGA hats and red, white, blue clothing items awaiting the president's caravan. 
Angela Wojtak, a lifelong Kenosha resident and Trump supporter, said she never expected riots and violence to occur in her hometown. 
"It's just really really sad the whole situation," Wojtak said. "I watched all the coverage in Seattle and Portland, and you never think that something like this will happen here, ever. I never thought it would reach to destroying people's property. They say build to rebuild but it's not the same, new is great but it's all gone now."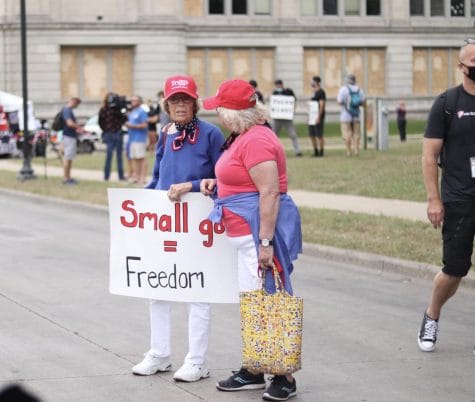 After days of unrest in the community due to protest, looting and a shooting that killed two people and injured another, Trump took credit for the reduction of violence in Kenosha by adding an increase in law enforcement and National Guard presence. 
On Monday, Trump did not condemn the actions of 17-year-old Kyle Rittenhouse, who is accused of shooting and killing two Kenosha protestors, and said he acted in "self-defense." Trump further said Rittenhouse "probably would have been killed" if he hadn't used his gun. 
Trump did not meet with Jacob Blake's family, as they refused for Blake's shooting to be used as a "political prop." Blake's family instead hosted a Justice for Jacob community celebration at 28th Avenue and 40th Street where the shooting occurred. The celebration, which consisted of healing circles, a voter registration booth, barbeque and community clean-up, was meant to support and heal the community of Kenosha.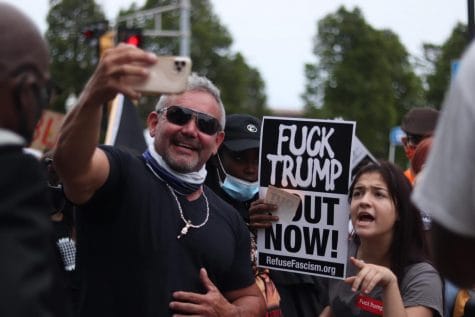 A day after Trump's arrival, Democratic presidential nominee Joe Biden announced he and his wife Jill Biden would be visiting Kenosha Thursday to meet with Jacob Blake's family. 
The Bidens met with Blake's family and his attorney privately after arriving in Milwaukee. Biden's and Trump's visits to Wisconsin, a swing state, come weeks before the presidential election in November. 
According to Biden's public schedule, the Bidens will be holding a community meeting with community leaders "to bring together Americans to heal and address the challenges we face" at the Grace Lutheran Church in Kenosha .
A spokeswoman for Evers and Antaramian did not respond to questions about Biden's visit as the community continues to reckon with the shooting. 
Residents of Kenosha said both Biden's and Trump's visits come too soon for a community that is still contending with the aftermath of violence and civil unrest.