The electoral battleground: National midterms 2014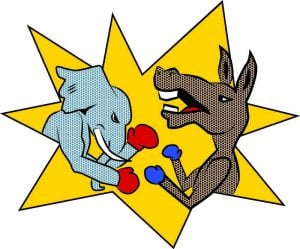 This year's Nov. 4 midterm elections will occur across a heated political battleground. Currently, Republicans hold a majority in the House, while Democrats hold a slim majority in the Senate with key seats in states traditionally hostile to Democrats. Additionally, 29 states have Republican governors versus 21 Democrat governors.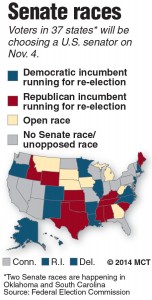 Although most pundits don't predict the House majority to change, many are watching the Senate intently because of the very real possibility that the Democrat majority will flip; Ramussen Reports' rates six Senate races as a toss up with five other races leaning slightly toward one party. Additionally, there are many important governor races throughout various states; many of these gubernatorial elections have strong ramifications for both state and national policymaking. A real flipping of colors may occur once elections are over.
Here are a few of the most important governor and Senate races that you should be following.
GOVERNOR RACES
Florida — Incumbent Rick Scott (R) vs. Charlie Crist (D)
This is perhaps the tightest of all races; an analysis from FiveThirtyEight.com gave each party's candidate an even 50 percent chance of claiming governorship.
Crist unsuccessfully ran for Senate in 2010 and served as governor from 2007 to 2011, previously doing so as a Republican. He has since found himself alienated by the rise of extreme-right factions such as the tea party, instead embracing moderation on social and economic fronts. For instance, he has criticized Republicans for being too harsh on abortion policy while simultaneously maintaining an A minus rating from the NRA.
Scott has been known for pushing hard conservative policies. In 2009 he founded Conservatives for Patients' Rights, a major interest group opposing the implementation of Obamacare. Although Politico reported that Scott only had a 40 percent approval rating as of April, the Miami Herald reported that he has since outspent his opponent by more than $30 million on political advertising, helping tarnish Crist's image.
Don't be surprised to see a similar situation to the 2000 election, when a few hundred votes determined the state's presidential decision. The margin is hair-thin this time around too.
Arizona — Fred DuVal (D) vs. Doug Ducey (R)
The governorship of Jan Brewer — characterized by the creation of some of the most controversial anti-immigration policies in the United States — comes to an end because of Arizona's term limits for governors. The state now faces a political race characterized by uncertainty.
Ducey, a former businessman, received backing from national tea party figures such as Sarah Palin. If elected, he would likely continue some of his predecessor's policies. As to immigration policy, he has criticized the Obama administration for "offering amnesty" to illegal immigrants, while his official website said, "Any progress on illegal immigration starts with controlling our border and stopping the flow of illegal immigrants here."
DuVal, on the other hand, previously served on the Clinton administration. He was known for helping develop federal workfare programs for low-income workers. Regarding immigration, he has urged a moderate stance, encouraging heightened border security in tandem with other policies such as expanded visas for immigrant workers.
Recent polls from realclearpolitics.com showed Ducey with an 8 percent lead.
Wisconsin — Incumbent Scott Walker (R) vs. Mary Burke (D)
Incumbent Walker has come under fire in one of the most high-profile smear campaigns in America. The American Federation of State, County and Municipal Employees (the United State's largest public-sector union) has been infuriated with Walker since his adaptation of policies that effectively ended collective bargaining by public unions. "We have a score to settle with Scott Walker," Lee Saunders, president of that union, said to the Washington Post.
It's difficult to overstate how influential union actions have been in this race. The director of the AFL-CIO, another labor union, predicted that national labor unions would spend more than $300 million combined in 2014 campaigning, with much centered on Wisconsin.
Supporters from Walker's camp claimed union reforms have saved state taxpayers approximately $3 billion since 2011, with PolitiFact Wisconsin verifying this claim as "mostly true." However, these facts haven't deterred many voters' frustrations, and he now faces an even more polarized public and a serious challenge from Burke, once considered a dark-horse candidate.
The race is still extremely close, and Politico polls showed each candidate receiving 47 percent of the vote, with 4 percent uncertainty among polled voters.
SENATE RACES
North Carolina — Incumbent
Kay Hagan (D) vs. Thom Tillis (R)
Hagan sits on one of the most vulnerable Senate seats; she is a Democrat in a state that flipped Republican by giving Mitt Romney a narrow 50.39 percent of the vote in the 2012 Democrat elections. RealClearPolitics.com showed Hagan's advantage drop from 5 percent to as low as 1.6 percent within the last month, and Politico referred to the race as "perhaps the key Senate race in the country."
According to Rasmussen Reports, Hagan currently has the backing of 80 percent of the state's Democrats, while Tillis is currently the Speaker of the North Carolina House and receives overwhelming support from his party. Undecided voters will be vital here.
Additionally, this has been the most expensive Senate race. The Economist reported that about $87 million, or $9 per state resident, has been spent total for both sides' campaigns.
Colorado — Incumbent Mark
Udall (D) vs. Cory Gardner (R)
Udall faces a tough feat on Election Day; polls from realclearpolitics.com showed him trailing Gardner by 4 percent. Once considered a relatively safe Democrat seat, Udall's approval rating has been dropping, and the Washington Post reported that Udall lost much of his sway with traditional Democrat voter bases such as women. This is perhaps the likeliest place where a Democrat could lose his seat in a largely liberal state — Colorado backed Obama in both 2008 and 2012.
Pundits at Politico reported that Jefferson County — a swing suburban county west of Denver that holds the most registered voters in the state — could be the key both for Colorado and potentially for the national Senate picture, especially in a state with an otherwise sharp urban Democrat/rural Republican divide. Considering the national implications of Colorado's race, expect a lot of attention to be invested in Colorado's swing counties.
Kansas — Incumbent Pat Roberts (R) vs. Greg Orman (independent)
This race stands as a unique opportunity in that an independent candidate has a strong chance of winning a major political seat. Original Democratic nominee Chad Taylor withdrew in September because of weak fundraising and poor support from his fractionalized party.
Orman is characterized on his website as "fiscally responsible and socially tolerant," and claimed to hold Ronald Reagan as a childhood hero. Holding a 49 percent to 44 percent advantage against Roberts (based on Pulse Opinion Research), it will be interesting to see Kansas' response to Orman's novel blend of fiscal conservatism and social liberalism if elected.
Georgia — David Perdue (R) vs. Michelle Nunn (D)
Incumbent Republican Senator Saxby Chambliss announced his retirement earlier this year resulting in a wide-open race for both parties.
Perdue, a former business mogul, received support from the strong southern Republican establishment. However, he came under heavy fire from Nunn based on research showing that he outsourced jobs during his business career. In a state that currently ranks second to last among U.S. states in employment, this insight hit voters hard. Within the last week, realclearpolitics.com now projected a 1 percent advantage for Nunn after supposedly being behind in the race throughout the whole year. This race boasts the highest likelihood of the Democrats picking up a new Senate seat.
An interesting fact about Georgia law is that if no candidate receives more than 50 percent of the vote (perhaps due to vote diversion from minor independent candidates), the Senate seat will be determined by a Jan. 6 runoff election. With such a close race — both within the state and nationally — Georgia presents the possibility that the U.S. Senate may not be determined until next year.