Student Government Association elects new vice president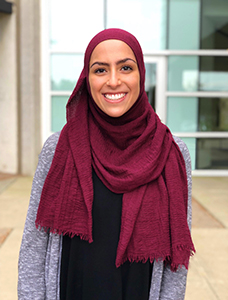 Voting members of DePaul's Student Government Association (SGA) elected Watfae Zayed to become vice president after Thursday's general body meeting.
Zayed served as senator for Commuter Students this year before running for vice president. In addition, Zayed works as an EMT and serves as a Chicago Quarter Mentor at DePaul.
During SGA's Meet the Candidate event at Thursday's meeting, Zayed said she believed she is fit for the role of vice president as she has conducted leadership training at her mosque serving in different leadership positions.
"In my role as manager there, I was the treasurer, the chief of staff, the facilitator [and] the president," Zayed said. "I kind of had to do it all including taking notes, planning our budget [and] assigning tasks. So in terms of understanding cabinet, I kind of understand how most of the positions on cabinet run because I had to do them all in one, and I am currently still doing that at my mosque."
Zayed said if students come to her with issues important to them, she would listen to them and ask them how they want the problem solved to better advocate for their needs. 
"I know I can never walk a day in anyone else's shoes in this room," Zayed said. "Similarly you can't walk a day in mine, and when you bring an issue to me, I want to know how you want to see it solved and what you think I should do to advocate for you because it's not my place to call the shots on how things should be done."
Zayed added she was interested in the vice president position to better represent Palestinian students and minority students at DePaul as she is Palestinian. 
"Palestinian students, especially these past three years have been extreme targets at DePaul," Zayed said. "I want to do everything I can to use this platform to help Palestinians and all students at DePaul, but Palestinian students haven't been really given that voice or the respect by the university and I think that's something that needs to change."
Zayed has also worked with Students for Justice in Palestine (SJP) since her freshman year and has been involved in campaigns to support Palestine outside of DePaul, adding that she has protested and advocated for Palestine "since I could walk."
When asked how she would advocate for LGBTQ students at DePaul, Zayed said she would meet with those students to understand their concerns to better advocate for their needs. 
"I want to be able to meet with you [the president of Spectrum DePaul] and Spectrum DePaul and whoever else is interested and hear what needs to be done and have all the facts [and] everything I need to move forward and have your voice included in that conversation," Zayed said. 
In addition to Zayed, two other candidates ran for vice president: Misael Alejandre, SGA's chief of staff, and Wesley Janicki, SGA's executive vice president of operations.
The vice president's position fell vacant earlier this month after former SGA President Gisselle Cervantes resigned from the position making Alyssa Isberto, the former SGA vice president, the new president. Isberto has been a part of SGA for three years serving in several different positions including executive vice president of student affairs. 
Besides holding a Meet the Candidates event for those that ran for vice president, SGA discussed other items on its agenda.
SGA will hold elections this quarter to fill vacant positions. Starting Sept. 30, SGA will hold an informational session for students to attend and three additional sessions afterwards on Oct. 2, Oct. 5 and Oct. 9. Afterwards, candidate materials will be due on Oct. 14 at 5 p.m. 
Jane Pallos, SGA's elections coordinator, said she wants to ensure students applying to run for a position on SGA have time to plan.
"The reason that I have things going from the beginning of October until when their materials are going to be due is because I want people to have enough time to really think over what their platforms are going to be, not having to rush to whether or not they want to run," Pallos said. 
Elections will begin on Oct. 19 at 9 a.m. until Oct. 22 at 12 p.m. On Oct. 20, SGA will hold a Meet the Candidates event at 5 p.m. 
SGA President Alyssa Isberto announced the resignation of two SGA senators: Andrew Keil, senator for the College of Law, and Jenna Dahbur, senator for Community and Government Relations. These positions are vacant and up for election in October. 
SGA is planning to create an SGA Guidebook that would explain the functions of committees and other aspects of the university to help SGA members and others at DePaul better understand these areas.
SGA will have several guests attending its general body meeting in the coming weeks. Kathryn Statz, the director of Gender Equity and Title IX coordinator, will attend SGA's Oct. 1 meeting to speak about updates to Title IX. DePaul President A. Gabriel Esteban will attend SGA's meeting on Nov. 5.
SGA Advisor Courtney James said SGA is in the process of migrating its old website to a DeHUB page. James said SGA's old website is "outdated" due to the process of trying to make updates to the website. "[The new website] is managed by DeHUB so it pulls all of the information that we put into DeHUB already in so that it will automatically make updates for you," James said. 
James added that the new site through DeHUB is much easier and faster to edit and add information to. The site includes information about SGA's upcoming meetings and events, meeting minutes and videos of SGA's previous general body meetings. 
James encouraged students to register to vote and added students can useTurboVote to register.
View Comments (3)