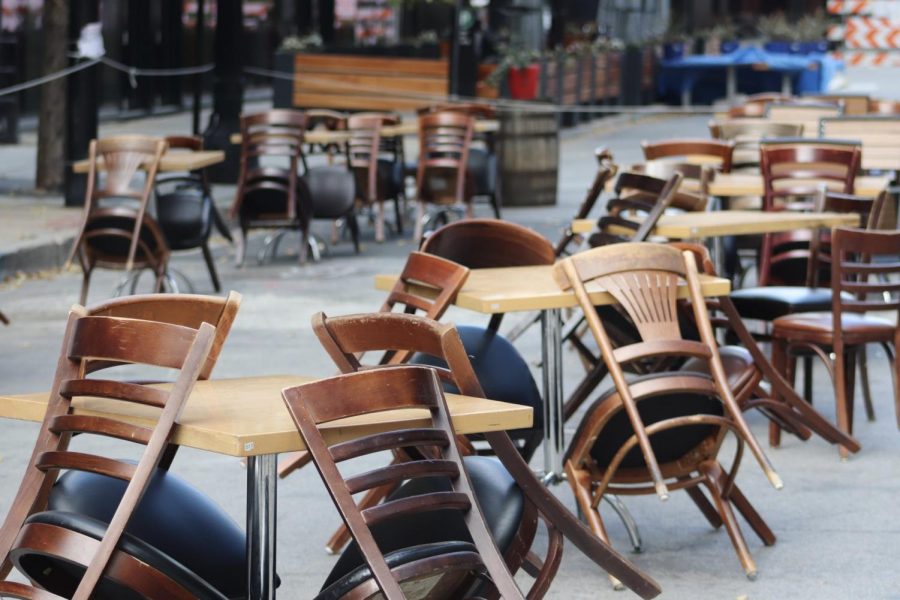 Eric Henry
As the days get colder and winter draws closer, many Chicago restaurants are faced with a looming question: what's going to happen when it gets too cold to serve people outside? Currently, indoor dining is permitted at up to 40% capacity, but some people are still skeptical. "I'm still pretty cautious to go to restaurants," said DePaul student Cat Garcia-Goetting. "I definitely prefer to get takeout right now."
Outdoor seating has been an option for more space so far, but that's going to get trickier soon. Just last year, Chicago reached record lows in temperature, reaching up to negative 23 degrees in January. Losing that additional seating is going to hurt business, so local restaurants need to find ways to keep their doors open while also keeping people safe.
Recently, the city of Chicago released guidelines for restaurants to follow regarding how to continue to provide outdoor seating when it gets colder.
Outdoor Dining Guidance_091820 by DePaulia on Scribd
The document is broken into three parts: structures, heating devices and safety considerations. This document gives us an idea of what outdoor dining is going to look like in the coming months. 
The "structures" section of the document tells us that temporary outdoor structures like tents or bubbles will be allowed, with certain regulations. Anything restaurants are planning to hold multiple parties in must have 50% of the sides open for air flow and must be secured to the ground. Any enclosed structures will only be allowed for individual parties and must have proper ventilation. If severe weather occurs, temporary structures may be prohibited if they become unsafe.
Some local establishments like Kelly's Pub near DePaul's Lincoln Park campus have worries about these guidelines, though.
"In December, January, February, it gets very, very cold oftentimes," said Kelly's employee Dustin Cardinal. "Even with a heater like ours out back going, that's probably going to be not enough. You would still need to have on a winter coat. And when you're trying to eat your food and all that, you don't necessarily want to have your winter coat on." 
Kelly's currently has a back patio open with a tent and heater that they plan to keep open until late November, but they worry about what will happen after that. 
"Because our bar is really small, we will probably have to shut down," Cardinal said. "We'll only be allowed to have 22 people inside and at that point it's kind of not even worth it. Yeah, we will probably have to shut down for at least a couple of months while it is very, very cold."
Homeslice, a pizza restaurant in Lincoln Park, is planning to keep its two back door patios open through the winter for people 21 years old or older. One of them is covered already and they are planning to cover the other if its permit continues. Their third sidewalk patio, which is available to people under 21 years old, will also be covered. The indoor capacity is also going to be limited, and will change as the night goes on. "Before Covid, we had to reduce the max capacity to about 25%, so we had to send a lot of staff home early that day," said Homeslice employee Nico Aoandy. "Now as the night goes on in general, we have to decrease our max capacity from 25%. It changes throughout."
As of July 24, nearly 16,000 restaurants have had to close permanently due to the pandemic, according to Yelp data. Having to reduce capacity is severely hurting their businesses, and on top of that, the CDC states that both indoor and outdoor dining in restaurants are high-risk activities. In fact, adults that have tested positive for Covid-19 are twice as likely to have reported going out to restaurants, bars, or coffee shops in the past 14 days than those who tested negative.
While dining may not be the safest, there are ways to help local restaurants stay open.
"We've already seen a ton of success from restaurants that have expanded their takeout and delivery options, some are even offering meal kits, drink kits, cooking classes and pivoting their use of technology," Justin Norman, vice president of data science at Yelp told ABC News. Ordering food for delivery and getting takeout are great ways to support local businesses while keeping yourself and restaurant workers safe.