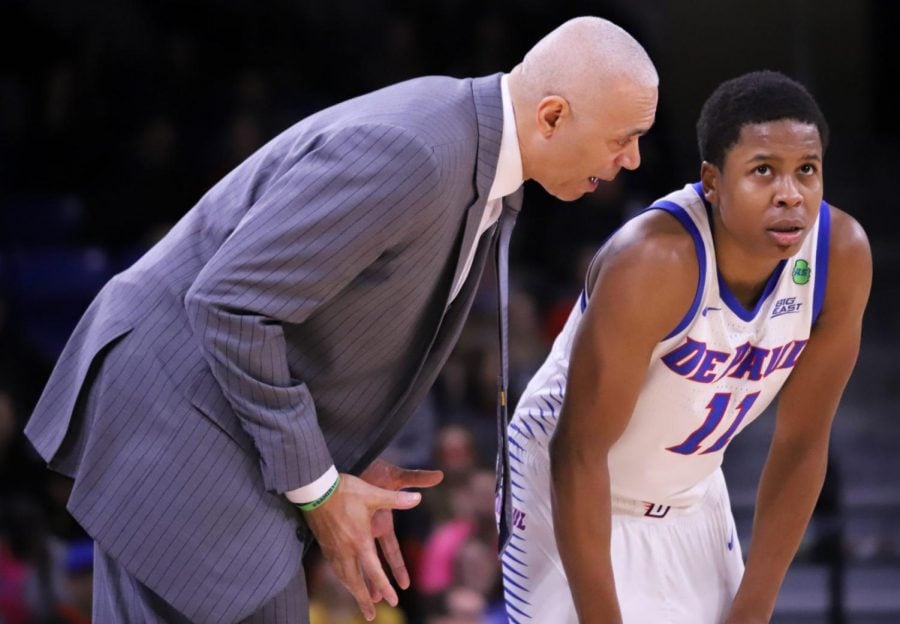 Alexa Sandler | The DePaulia
With now less than a month to go until the start of the 2020-21 college basketball season, the Big East held its annual Media Day on Wednesday. But due to the ongoing Covid-19 pandemic, the event took place virtually over Zoom.
Prior to the start of the event, the conference released its preseason coaches' poll, player of the year, freshman of the year and the first and second teams. DePaul was picked to finish in 10th place by the coaches in a now 11-team league with the return of UConn. 
But the surprise of the morning was that senior guard Charlie Moore was selected to the Big East Preseason First Team. Moore was the only player in the conference last season to finish in the top-10 in points, assists and steals. The Chicago native led the Big East in assists and finished in second in points per game. 
"It's an honor," Moore said. "Just knowing that all my hard work is paying off. The Big East is a tough conference, I still got to go in and actually play the games and put the work in. It's a blessing to be named first team, but I know there's still more work to be done." 
The Big East also released its conference schedule for the month of December. DePaul will start conference play by visiting Seton Hall on Dec. 11 and then traveling to face Villanova Dec. 14. The Blue Demons will have their conference home opener on Dec. 18 when Xavier comes to Chicago, with UConn paying a visit five days later. 
The rest of DePaul's schedule is still up in the air, with the only non-conference game confirmed so far being at Iowa State on Dec. 6 in the Big 12-Big East challenge. The Blue Demons are supposed to also play Northwestern and Loyola, but it's still not certain if and when those games will happen 
"We are just at the point where we are finishing our non league schedule [and] kind of roll it out in the days and weeks to come," DePaul men's basketball head coach Dave Leitao said. "But with all the things that are going on with Covid-19, safety measures, we try to limit the amount of travel we have … We are trying to play teams at home as best as we can. We will play in the Big 12 challenge with details to come very soon. … We are at the final stages of determining all those things." 
Big East commissioner Val Ackerman did acknowledge that there will probably be disruptions this season due to the pandemic. Marquette's men's basketball team has already had to quarantine for 14 days after a player tested positive for Covid-19, which has raised questions about whether it's possible to play a full season if teams will have to quarantine for two weeks.
Since there are questions about playing 20 conference games, Ackerman and other Big East coaches have left the door open to have multiple bubbles during the season. According to Brendan McGair, DePaul is one of four schools to have put in a bid to host a bubble. 
Ackerman also said that the conference will use a mix of PCR and antigen testing, with the NCAA recommending that teams conduct tests three times per week when the season starts. The Big East commissioner also said it will depend on each jurisdiction if fans are allowed into arenas. 
"When it comes to the season, what I've tried to emphasize with [the players] is two things: at the end of the season it may not be the best team that wins this league, it may be the healthiest who has persevered through the challenges the best — the second part, tomorrow there is going to be something that is going to come up that we haven't dealt with," Leitao said. "So, you have to be open minded to be able to adjust when adjustments are necessary. It can be travel, it can be game postponements or cancellations, it can be without players, it can be a lot of different things. We have to be razor sharp and be focused on the moment, and do what we need to do today to prepare ourselves physically and emotionally."
DePaul is going into this season with a lot of newcomers, notably four transfers that have come into this team. The Blue Demons are still trying to get waivers for Javon Freeman-Liberty and Courvoisier McCauley so they can play this season. 
But DePaul is also going to need sophomore forward Romeo Weems to take the next step in his game, especially on the offensive side. Last season, Weems was more known for his defensive abilities, but he was starting to grow on the offensive end towards the end of the season. 
Going into this season, however, Weems is looking to increase his confidence, which will allow him to be more aggressive with and without the ball. 
"I feel like I prepared for this season and I'm waiting for the challenge ahead," Weems said. "Last year, I was guarding the best players every game or a lot of times. Now I'm just ready to give my second push and hope for a better season."