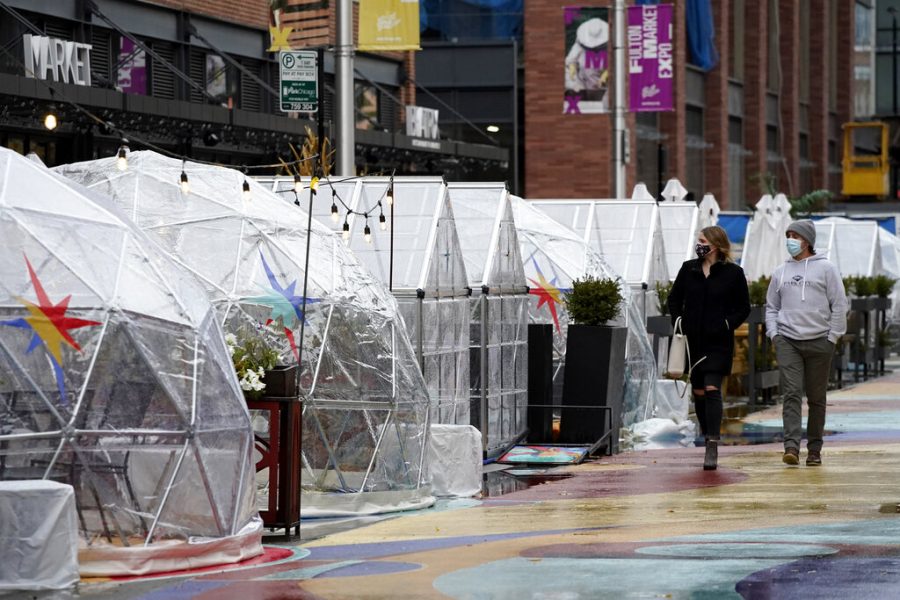 AP
Gov. J.B. Pritzker announced new Covid-19 restrictions that will impact bars, restaurants, and capacity of groups.
Restaurants will no longer be able to serve customers indoors, which brings up the question as to how restaurants will be able to sustain themselves as the cold winter season is around the corner. Restaurants are considered to be a spot of moderately high risk during the Covid-19 pandemic due to the nature of eating and the social elements of the setting.
"Gathering in indoor spaces is riskier than outdoor spaces," said Craig Klugman, health sciences professor at DePaul University. "Plus, restaurants are where people gather, often closer than six feet distance, and they take off their masks to eat and drink and sometimes to talk. All of those increase the risk of infection. So restaurants are places where people behave in ways that happen to be risk factors for Covid transmission."
In addition, restaurants and bars are required to make their customers have a reservation in advance before coming to their establishment. The restrictions also include all outdoor dining to conclude at 11 p.m.
These restrictions are also accompanied by a restriction to how a guest can wait for their table. Customers are not able to congregate indoors or outdoors while waiting for their table or exiting the area and tables must be positioned six feet apart.
Social gathers have been limited to 25 guests or 25 percent of the facilities' capacity. The social gatherings sections also call for casinos to close at 11 p.m. and follow the same rules as restaurants and bars if applicable. 
"[Covid-19] Region 11, [City of Chicago],is now averaging more than twice as many Covid-related hospital admissions per day as it was a month ago, with a positivity rate that has almost doubled since the beginning of October," Pritzker said in a press release. "So, starting on Friday the City [of Chicago], too, will begin operating under our resurgence metrics, with a closure of indoor restaurant and bar service and a restrained gathering cap limit of 25 people. We can't ignore what is happening around us — because without action, this could look worse than anything we saw in the spring. So please, no matter where you live, what your politics are, where you work or who you love: Illinois: mask up! And we'll get through this together." 
Restaurants were under strict restrictions earlier this year which resulted in many businesses getting creative or venturing into new avenues of serving their customers. 
"We've been amazed by how many of our restaurants have diversified in the face of these challenges," Robin Hammond of the Lincoln Park Chamber of Commerce said. "We've seen restaurants really build out their takeout and carry out business. One example is Geja's Cafe. They're now offering a full fondue experience — with equipment — in your home! It's been exciting to see how businesses have accepted and responded to the challenge."
These restrictions have been placed in some areas outside of the city as well. Not all places have been keen on enforcing these restrictions. 
Two examples of mayors not enforcing these restrictions include Mayor Don DiMaria of Morton Grove and Mayor Keith Pekau of Orland Park. 
"A majority of us small town mayors feel that it is vital to keep restaurants open," DiMaria told ABC 7.
Health sciences professionals, such as Klugman, say that these restrictions are needed to help reduce the spread of Covid-19.
While these restrictions may be unpopular in some regions of the state where these regulations have been implemented, there are ways that these restrictions might reduce the spread.
"All of the restrictions are about minimizing the risk of transmission," Klugman said. "With the numbers increasing so dramatically, there is a need to limit the opportunities for spread, so what we can do is limit places where we gather and increase uses of masks and physical distancing."