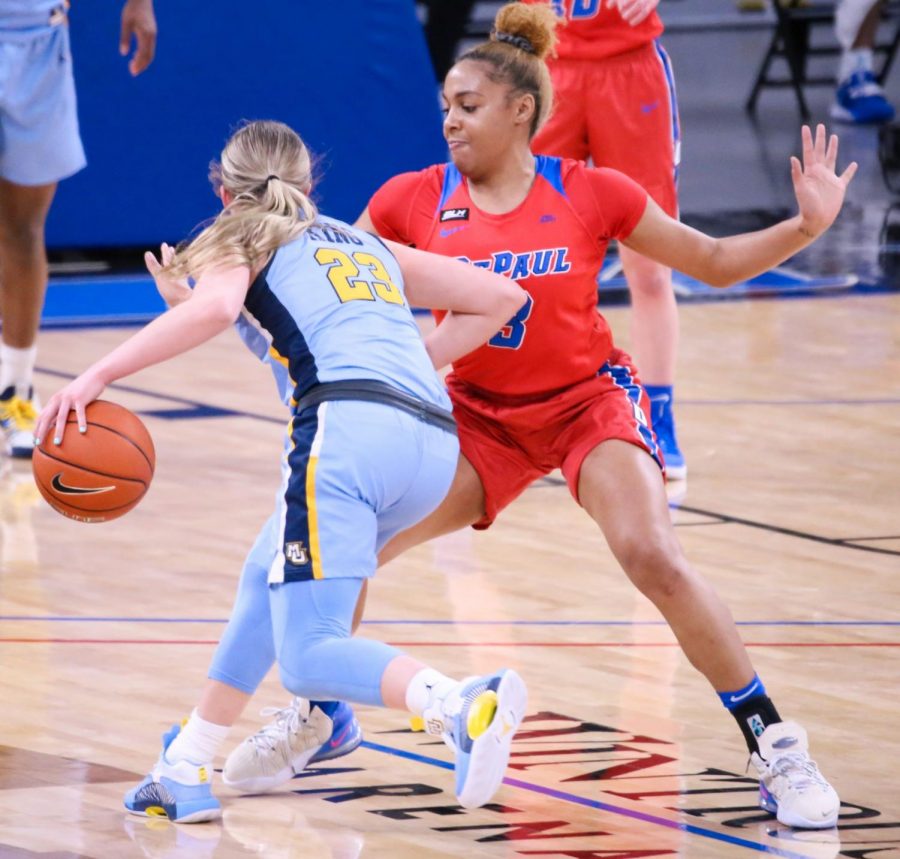 Alexa Sandler
The DePaul Blue Demons snapped their two-game losing streak when they beat the Providence Friars, 75-49. The win put a nice cap on what was an otherwise frustrating week.
Prior to the win against Providence, DePaul had lost to the Creighton Bluejays and the Marquette Golden Eagles at Wintrust Arena. The win should not overshadow the struggles in their two prior games.
What went wrong for DePaul is not hard to see, especially when looking at the numbers from those two games. 
DePaul features a high-tempo offense where players have the green light to take a shot if they have a good look. What happens when those shots don't go in?
The Blue Demons shot 29-of-76 (38.2 percent) and 28-of-72 (38.9 percent) against Creighton and Marquette, respectively. It was not a case of not getting enough shots, rather a case of not converting on those field goal attempts.
"When you allow your team to shoot freely and you have nights when you don't make shots and you don't defend and you don't rebound, you're creating for yourself a recipe for disaster," said head coach Doug Bruno following the loss to Creighton. "So if I'm going to let my players shoot as freely as I do, the price they must pay for that is defending and rebounding for the nights that they don't make shots."
DePaul lost the rebounding battle in both losses. Creighton outrebounded them 47-21 and Marquette outrebounded them 57-20. Against Marquette, this resulted in the Golden Eagles having 20 second chance points to DePaul's nine. 
Losing the battle on the glass gives the opponent more looks at the basket, which hurt DePaul because they had to play catch up in both those games. It makes cutting into a deficit much more difficult when you're both giving a team more opportunities or being unable to rebound to give yourself another shot.
For better or for worse, at times, DePaul lives and dies by the three. Before the game against Providence, the Blue Demons had attempted 507 shots from three compared to 322 by their opponents. When the 3-point attempts are going in, everything is rosey. But when they're not, they can become a liability, especially when trying to mount a comeback.
In the loss to Creighton, DePaul shot a dismal 6-of-28 (21.4 percent) from beyond the arc. The Blue Demons' poor shooting continued against Marquette — at least in the first half. After attempting 10 shots from three in that first half, in the second, they only attempted four. Despite attempting half the shots as in the previous game, their conversion rate was no better.
On the other end of the court, DePaul's high-pressure defense was taken to task. If you can't make a stop in crucial moments of the game, it's going to be tough to win. It happened to DePaul too often where it looked like they were on the verge of mounting a comeback only for an opposition player to sink a three or drive up the court and respond immediately. 
"We have to be able to focus and lock in on defense," said junior guard Lexi Held. "That's what travels well. That's what can be a consistent factor in a game."
What they were consistent in, defensively speaking, even in defeat, was forcing turnovers. DePaul won the turnover battle in both games. However, against Marquette, the Golden Eagles got 20 points off DePaul 13 turnovers whereas the Blue Demons only got 16 points off 18. 
They managed to only score four more points off turnovers, 16-12, against Creighton, despite the Bluejays turning the ball over 11 more times than DePaul.
Playing during a pandemic is difficult. DePaul is one of the few programs in the Big East that has not had to pause this season. Other teams have. Fatigue can be considered a factor in DePaul's losses the past week.
"Deja Church is out there playing on an ankle that she sprained, unfortunately," Bruno said after the Marquette loss. "You got a group of players here that haven't had 24 days of rest, and that's life in the pandemic." 
"It's a crazy year for everybody and we're no different than anybody else. It's something that we're going to have to work through. It's a tough couple of losses," he said. "We got a good group of women and I really am proud of what our women at DePaul have done and gutted through this pandemic."
DePaul's style of play is a double-edged sword. When it's working, it's like the old saying goes, "If it ain't broke, don't fix it." When it's not, you get results like the ones DePaul got last week. But it's the way DePaul has been playing all season and it would make little sense to shift away from it when the regular season is about to end.
The loss against Marquette perhaps did not come as a shock considering the Golden Eagles sit second in the Big East standings. Creighton is a different story, considering they sit in fifth and have a losing record in the conference.
This past week may end up being simply a blip on the radar, but it should serve as a wake-up call. The focus from DePaul has to be there on both ends of the court even when one isn't working. It's something they're going to have to improve on, as they did against Providence, if they want to make a deep run in both the Big East and NCAA tournament.