DePaul students party for St. Patrick's Day as pandemic persists
Correction (3/18/2021): A previous version of this story included the headline 'DePaul students throw St. Patrick's Day party as pandemic persists.' The headline has since been updated to reflect that DePaul students have not been confirmed to have been the hosts, though many DePaul students have been confirmed to be in attendance. Barrett Desotell was also incorrectly named as a current DePaul student and the host of the St. Patrick's Day party that occurred on March 13 and written about in The DePaulia on March 17.  While our reporter confirmed with several sources that he was the host of the party, it has become apparent that sources gave our reporter inaccurate information.
Desotell provided time-stamped video evidence to The DePaulia that he was not in any way involved with the party and was out of state when it occurred. In light of this information, we have removed several paragraphs of the story. The DePaulia regrets the error.
Editor's note: This story has further been updated to change the language "Greek life" to "Fraternity & Sorority Life" after a reader indicated the former language is outdated. 
This St. Patrick's Day weekend, people across the city gathered to celebrate — including DePaul students, who threw a party on Saturday, March 13 that violated Covid-19 safety guidelines, numerous sources confirmed to The DePaulia. While many of the attendees can be seen wearing green, none were wearing masks. 
Multiple DePaul students posted photos and videos of an outdoor party, gathered in large groups and not social distancing. Members from DePaul fraternities Sigma Alpha Epsilon and Sigma Chi were in attendance. 
Angel Flores, a member of Sigma Alpha Epsilon, was one of the party goers who posted a video from the backyard. Flores' video shows a bagpipe player serenading the crowd from the deck above.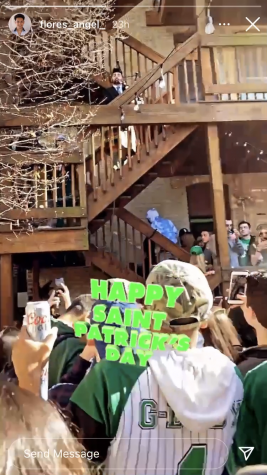 Other DePaul students posted similar videos and images from the party. Their posts show the numerous activities that took place, including an outdoor beer pong table. 
The photos and videos also show just how large the party was, far exceeding the ten people limit  as is recommended, per CDC guidelines. While the party did take place outside, which is recommended over indoor gatherings, numerous guidelines were not taken into consideration including DePaul's health and safety practices. 
According to DePaul's guidelines, "The health and safety of everyone at DePaul depends on the cooperation of all who come to campus. By taking care of yourself, you protect the entire community."
On March 2, Chicago Department of Public Health Commissioner Dr. Allison Arwady advised against celebrating the holiday as the country passed the one year anniversary of the pandemic.
"We are in a much better place than we were a few months ago, right? You saw we were able to expand bars and restaurants to 50% capacity, some expanded hours there, but we've got to keep the Covid precautions in place and I would just ask people – not the year yet for a big celebration," Arwady said. 
The city's annual St. Patrick's Day parade was canceled for the second year in a row to encourage people to stay home.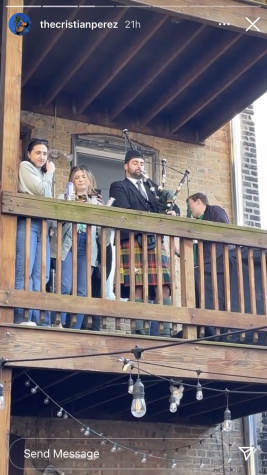 Although the state's Covid cases have decreased as more vaccines are being administered, residents still need to uphold Covid safe guidelines, even if they are fully vaccinated.
"All vaccinated individuals still need to follow other Covid-19 public health measures, such as masking, social distancing, and washing their hands," the Ccity of Chicago website reads,   "A person is 'fully vaccinated' when it has been more than 2 weeks following receipt of the second dose in a two-dose Covid- 19 vaccine series or more than 2 weeks following receipt of 1 dose of a single-dose Covid-19 vaccine."
Illinois health officials confirmed 1,484 new cases of Covid, and 19 additional deaths as of Sunday, bringing the state's total to over a million cases and 20,943 fatalities since the start of the pandemic.  
DePaul previously announced that it plans to reimplement in person classes this upcoming Fall term. 
DePaul President Esteban said in a promotional video, "We pledge to maintain a healthy campus and to help slow the spread of Covid-19… while we continue to practice health and safety guidelines… please continue to take care of yourself, take care of each other, and take care DePaul."
Clarification: This story has been updated to indicate that prior to the article's publication, numerous sources confirmed to The DePaulia that the party in question took place on March 13, 2021. 
Correction 3/17/2021: This story has been corrected to reflect that the party was thrown by DePaul students who were formerly fraternity members. Fraternity and sorority members were in attendance at the party, but the hosts are not members.